Master in Strategic Corporate Finance
Program Description
Programme Overview
Key Advantages
Our master's programme is meant for those who want to gain a deep understanding of finance, while simultaneously obtaining a broad professional vision. The key focus of the SCF programme is corporate finance. Our program provides a unique combination of deep knowledge of modern financial theories and essential practical skills, thereby equipping our graduates with a competitive advantage in the market.
At the same time, the programme is built in such a way that it allows students to gain a broad spectrum of knowledge in other areas of finance and economics as well. Aside from corporate finance, our students study macroeconomics, microeconomics, econometrics, asset pricing, venture capital, value-based management, behavioural finance, and much more. Our graduates work in consulting and at leading investment banks, M&A advisory firms, and investment funds. Some become strategy consultants, and others – buy-side analysts and portfolio managers. Some develop their own business, conduct academic research, or build a career as a CFO in companies of the real sector. Our alumni live mostly in Moscow or London, but there are also those who have gone to New York, Amsterdam, Berlin, and even Sydney.
Agenda
The Strategic Corporate Finance programme is taught by leading Russian academics, visiting international professors, and finance practitioners from major global companies. Students gain qualitative theoretical knowledge that will open a broad range of future professional opportunities, as well as practical skills that will set them apart from other candidates in the early steps of their careers. Core courses in macroeconomics, microeconomics, corporate finance, risk management, and corporate governance give students a strong foundation in finance theory, principles, and methods. A variety of practice-oriented courses in business valuation, M&A deals, financial modelling, and venture capital, for example, are carried out with the help of staff from KPMG, EY, PricewaterhouseCoopers, and other consulting firms and financial specialists with extensive experience in emerging markets.
Research Opportunities
The programme is unique in that it is a financial programme where learning is closely intertwined with the work of a research centre – the Corporate Finance Laboratory, which was created in 2006. Over the course of two years, students are given a broad range of unique academic opportunities. Eight years ago, the co-founder of the SCF programme, Tenured Professor Irina Ivashkovskaya, created the journal Corporate Finance. Several dozen of the journal's articles were written by graduates of our programme (see cfjournal.hse.ru). Publishing in a peer-reviewed journal is an excellent opportunity to display the quality of your education to an employer.
Career Tracks
The SCF programme is a programme with a history. In our almost 10 years of work, many students have completed the programme as highly educated financiers. Our graduates have worked and do work for companies such as Goldman Sachs, Morgan Stanley, ING, Accenture, Oliver Wyman, BCG, Roland Berger, ATKearney, Gazprombank, VTB Capital, Sberbank CIB, Renaissance Capital, Rusnano, and an entire host of other companies and funds. It is not uncommon for our alumni to hire our students, being familiar with the high level of preparation that takes place within the SCF programme.
The recent financial crisis showed:
how important it is to understand the structure of financial markets, the interconnection between different markets, and the stimuli of the players on these markets; and
how important it is to make the right investment and financial decisions in both the financial and the real sector, given the complexity of the modern world.
Our programme dives headfirst into these areas.
Syllabus
Courses offered in English
Macroeconomics, Advanced level
Microeconomics, Advanced level
Econometrics, Advanced level
Corporate Finance, Advanced Level
Advanced Corporate Valuation
Behavioral Finance
Mergers, Acquisitions and Restructuring of a Firm
Corporate Governance
Сorporate Risk Management
Consolidated Financial Statements
International Financial Reporting Standards
Strategic Corporate Finance
Asset Management
Theory of Finance
International Tax Planning
Fundamentals of Financial Investigations
International Finance
Courses offered in Russian and English
Research Workshop in corporate finance
Courses offered in Russian
Financial Modelling in a Firm
Investment in shares in inefficient markets
Venture Capital
Requirements
Passport - required;
Abstract of your undergraduate thesis - if you completed one as part of the honour programme or a graduation requirement;
Diplomas and academic transcripts (if you have not yet received your Bachelor's diploma, please include an official copy of your most recent academic transcript) - required;
Letter of motivation (describing your reasons for applying in the context of your long-term career goals and background, 500 words) - required;
Resume/CV (including information about your education, professional, and research experience, as well as language proficiency and other skills) - required;
Exam results confirming language proficiency - required for those whose native tongue is not English and they did not complete undergraduate programme in an English speaking country;
Letters of recommendation - required for scholarship consideration;
GRE or GMAT test scores are highly advisable.
Last updated Feb 2020
About the School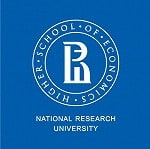 Consistently ranked as one of Russia's top three universities, the National Research University Higher School of Economics (HSE University) sets itself apart by its internationally-minded, research-dr ... Read More
Consistently ranked as one of Russia's top three universities, the National Research University Higher School of Economics (HSE University) sets itself apart by its internationally-minded, research-driven approach to higher education. Based in the vibrant centre of Moscow, with campuses in St. Petersburg, Nizhny Novgorod and Perm, HSE offers outstanding academics at all levels and includes more than 40 English-taught Master's programmes and 8 English-taught Bachelor's degree programmes.
Read less