Master in Socioeconomic and Political Development of Modern Asia
Home ›
Master ›
Master in Socioeconomic and Political Development of Modern Asia
Program Description
Programme Overview
The MA programme has the distinction of being the only one given in English for Asian Studies in Russia, using written materials in the languages of the area as the basic research resource.
What are the benefits of the programme?
As will be seen, the programme is transparently formulated to allow our students to enhance their career prospects internationally in academics, diplomacy, non-governmental and governmental corporations. Our partners – with either formal contracts allowing credit exchange or informal relationships developed over the decades – receive our students with great anticipation, knowing our reputation and glad to have such dedicated academics contributing to international research.
So come with us on a short exploration of each aspect of our programme, then contact us with the assurance that if you are interested in graduate work in Asian Studies, this is the place to be! Master's Programme "Socioeconomic and Political Development of Modern Asia" is aimed at training researchers to conduct interdisciplinary research and to use internationally recognized methods of study in the areas of politics, economics, sociology, culture, ethnicity, religions, and linguistics with regard to Asian countries and peoples.
What will I study?
Modern world order and Asia, the processes of globalization and modernization,
Socio-economic and political transformation of Asian societies,
Systems of modern public administration, hierarchy, political regimes and clan interactions,
National and religious identity in Asia,
Principal challenges in modern Asia: ethno-religious conflicts, ecological problems, water resources, inequality in socio-economic development,
International relations in Asia, international organizations, traditional systems of interstate relationships,
Policy of Russia in Asia and basic forms of interactions between Russian and Asian partners.
In our programme, we emphasize the research element, and that enables the students to produce masters' papers conforming to the international level in terms of quality and thus the response of the academic community:
Give the students key skills which are adequate to today's global needs, as Asian countries are more and more playing stronger roles,
Form in the students the habit of systematic analysis, necessary in various fields, such as economics, politics, and finance.
Where will I work?
Students, who graduated from our Master's programme, are highly demanded in:
Governmental organizations which are closely related to the countries of Asia and Africa. (Ministry of Foreign Affairs, Ministry of Economic Development, Ministry of Education and Science, Governing Institutions of the Regions);
International and intergovernmental organizations, in particular, the departments of the SCO and the UN;
Expert, industrial and governmental research organizations, which are involved in the analysis of the political and economic environment of the East;
Institutions of the higher education associated with the countries of Asia and Africa;
Informational agencies and mass media. (ITAR-TASS, RIA-Novosti, "The Voice of Russia", VGTRK, "Russia Today" etc);
Organizations of the science and research: Institute of Oriental Studies (of the Russian Academy of Sciences), Institute of Far Eastern studies (RAS), IMEMO etc.);
Large companies that have an economic interest in broadening our cooperation with the East. (Gazprom, Lukoil, Transneft etc.).
Requirements
Portfolio Components:
Diploma and academic transcripts,
Academic Honours and Awards,
Letter of motivation (1000-2000 characters),
Demonstrated knowledge of Asian language skills,
Language study or academic scholarships in Asia,
Essay (10,000-12,000 characters),
Participation in research activities,
Publications,
Letter of Recommendation.
If you have participated in a programme organized by HSE (Olympiad, Summer School, Winter School, etc.), please note the programme and your dates of participation.
Last updated Feb 2020
About the School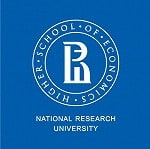 Consistently ranked as one of Russia's top three universities, the Higher School of Economics (HSE University) sets itself apart by its internationally-minded, research-driven approach to higher educa ... Read More
Consistently ranked as one of Russia's top three universities, the Higher School of Economics (HSE University) sets itself apart by its internationally-minded, research-driven approach to higher education. Based in the vibrant center of Moscow, with campuses in St. Petersburg, Nizhny Novgorod and Perm, HSE offers outstanding academics at all levels and includes more than 25 English-taught Master's programmes and 8 English-taught Bachelor's degree programmes.
Read less