Master in Simulation Based Engineering Sciences – Applied Computational Mechanics
Home ›
Master ›
Master in Simulation Based Engineering Sciences – Applied Computational Mechanics
Program Description
Program Overview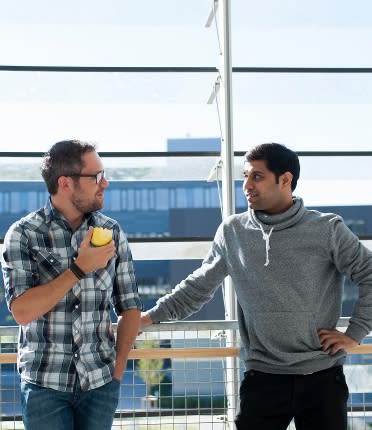 2005 marked the first time the part-time master's degree program Applied Computational Mechanics was offered jointly by the universities of applied sciences Landshut and Ingolstadt as well as CADFEM. Since then many engineers and scientists have been successfully studying through the part-time master's degree program Simulation-based Engineering Sciences (SBES), focusing on Applied Computational Mechanics.
Possible Degrees

Master's (M.Eng., 90 ECTS-credits)
Module studies

Recognition of competencies, that participants already acquire at work
The yearly program starts in September. Those with specific background knowledge may have the possibility to enroll later.
Flexible Scheduling: Master's degrees usually take four semesters to complete. With a reduced course-load, it will take longer.
Comprehensive combination of modules as needed
Experienced professors from different universities and from industry
The language of instruction is English
Lifelong learning: Even after degree completion, you can take module coursework.
Participant Group
The ideal candidates are college graduates, who have already collected professional experience in engineering or science, and who are interested in a professional or managerial career in the field of product development with a focus on simulation. Since the study is supervised individually, it also takes into account the interests of newcomers as well as experienced professionals who wish to transfer from other applications. Thus, the offer is also open to professionals who have been contemplating a diploma, bachelor's, master's or even a doctoral degree.
Module Course Offerings
Structure Mechanics
Solid Mechanics*
Finite Element Method*
Geometrical Nonlinear and Contact Analysis*
Materials and Material Models*
Computational Dynamics*
Fatigue and Fracture Mechanics
Multi-Body Systems
Mechatronics
Interdisciplinary Topics
Acoustics
Mathematics and Computational Methods*
Experimental Validation
Modeling Techniques
Optimization and Robust Design
Scientific Programming
Simulation Management
Management of Product Development
Project Work*
Additional Themes
Our partner universities offer modules from other areas of simulation-based engineering sciences such as fluid dynamics or human medicine. Information material with a complete module summary can be ordered by us.
*Compulsory master's program modules
Master of Engineering (M.Eng.)
The career-integrated program is a module-concept and contains 90 ECTS-credits total. Successful graduates will earn their Master of Engineering degree (M.Eng.), which enables them to apply for their doctoral degree thereafter.
Time Period
The study is divided into in-person and self-study phases. The classroom includes lectures, seminar-like classes, and practical exercises. Overall, you need to plan for about 45 days of in-person attendance within two-years, as well as eight to ten hours per week for independent study. The classroom teaching takes place at one of the two universities, usually on Friday and Saturday. Thus, the program is specifically tailored to the needs of those who are working, and it can also be completed with longer travel distances.
Sequence of Study
Participants in the master's program must first have their university degree, as well as at least one year of professional experience in the field of engineering or natural science.
In the initial semester, method-oriented and application-specific modules are at the forefront, of which you may select three yourself. As part of your previous employment or as part of your higher education, you probably already acquired some of these necessary on-the-job skills. Therefore, you may receive credit for the first semester modules if evidence of comparable skills is displayed after an individual examination. This can reduce the study period from five to four semesters for many students.
Over the next three semesters, at least nine specialized modules must be completed from the module listing, including seven compulsory modules. The elective courses can be selected from the module catalog of the master program or from a range of cooperating higher education institutions, so long as they are equivalent. We are happy to provide personalized advising concerning the aspects of the first semester, and the possibility to earn credit through individual modules.
The master thesis generally involves the scientific processing of a task for the student's company. The final program component takes place through a master's thesis defense at the university.
Module Studies
Each of the modules offered by the program can be taken individually. In order to achieve optimum learning, you should take note of the recommended prior knowledge. A module comprises 5 ECTS points and concludes with an examination. Under certain circumstances, the combination may be useful along with another module.
Time Period
The study is divided into in-person and self-study units. The live classroom portion will usually be on Friday and Saturday at one of the two universities and generally includes 9 to 10 half-days. For self-study, you should plan another 70 hours. Upon successful completion, you receive a certificate of academic achievement.
Module Study Offerings
The current course offerings are available under the Module Overview tab. We would gladly fulfill personal requests for module descriptions, module specific requirements, and schedules, and are happy to advise you individually.
Technische Hochschule Ingolstadt
5,300 students in 42 technical and economics courses, 126 professors in three faculties, two central institutions, 98 international partner universities and a modern administration - these numbers represent our university. So what is behind these numbers? First, it is the quality of our practical, hands-on teaching. The power of innovation in applied research also plays a big role. Finally, we have a campus with an attractive environment in the center of which is our students. The Technische Hochschule Ingolstadt has taught in the fields of Education Sciences since its founding in 1994, and always puts its graduates in a position to apply scientific methods in professional practice. The excellent amenities create the conditions for a short length of study coupled with and a rate of success.
Landshut University of Applied Sciences

Teaching and learning, research and development and training, to ensure lifelong learning—these principles have guided the work of University of Landshut since its founding in 1978. The five faculties Management, Electrical/ Industrial Engineering, Computer Science, Mechanical Engineering and Social Work offer 30 courses of study. Nearly 5,100 students will benefit from the practical relevance of teaching, as well as the individual support and modern equipment. These include a unique library, with the possibility to check-out books around the clock, as well as the data center and the well-equipped technical laboratories. In such an optimal environment, the graduates can fully concentrate on their studies.
Last updated Jan 2018
About the School

CADFEM esocaet fosters career qualifications in the field of simulation through seminars, online learning, and university coursework. Therefore, our educational advancement opportunities allow you to ... Read More
CADFEM esocaet fosters career qualifications in the field of simulation through seminars, online learning, and university coursework. Therefore, our educational advancement opportunities allow you to strengthen your skills for a wide variety of CAE-responsibilities, regardless of the simulation software you use. To this end, we cooperate with professors and respected industry specialists, who bring expertise from a variety of universities and professional fields.
Read less