Master in Procurement and Supply Management
Home ›
Master ›
Master in Procurement and Supply Management
Program Description
MASTERS IN PROCUREMENT AND SUPPLY MANAGEMENT
Procurement is a key function of any organization, public or private and in an era of globalization with the advent of entrepreneurial organizations, management of purchasing and supply in private as well as in public sectors has gained more prominence. Moreover, with increasing focus and debates on governance issues, the functions of purchasing and supply requires capacity building to acquire and implement international standard procurement practices. With that context in mind, BRAC University designed a Masters programme on Procurement and Supply Management.
The main purpose of the Master's programme in 'Procurement and Supply Management' is to sensitize and build up the capacity of officials of the public sector, NGOs as well as officials and executives from the private sector on procurement and purchasing and supply management issues. It is expected that the programme will enhance their understanding of the procurement issues and sharpen their decision-making capabilities. This programme is designed to give advanced knowledge and understanding of international as well as local procurement issues faced by officials/executives to come to sound decisions.
The Masters in 'Procurement and Supply Management' is targeted for public sector officials, NGO officials as well as executives from the private sector working or interested in procurement related area. The Masters is designed to offer over a period of 3-6 semesters with twenty-five participants in each batch.
The courses are taught by BRAC University faculty members and external faculty from other academic institutions, and practitioners of procurement, purchasing and supply management.
Programme Structure
The Master's programme is structured in two streams, with one stream doing the Foundation, Core, and Elective courses and finishing off with Capstone Integrative Course resulting in a Report/Practicum. The second stream is required do the Core and Elective courses and then undertake a non-credit Research Methodology course and finish off with a Dissertation. This is allowing a wider variety of participants to take the programme as they will have the option to choose the stream they are interested in.
Foundation Courses (3 credits each)- 15 Credits
PSM-501 Sourcing and Procurement
PSM-502 Negotiation and Contracts in Supply Chain Management
PSM-503 Performance Measures for Supply Chain Management
PSM-504 Managing Purchasing and Supply Relationships
PSM-505 Supply Chain Flow Planning and Network Planning
The Core Courses are:
PSM-521 Management in the Purchasing Function
PSM-522 Risk Management and Supply Chain Vulnerability
PSM-523 Improving Supply Chain Performance
PSM-524 Leading and Influencing in Purchasing
PSM-525 Strategic Supply Chain Management
The Elective Courses are:
Electives: Choice of any four (3 credits each) – 12 credits
PSM-601 Marketing for Purchasers
PSM-602 Storage and Distribution
PSM-603 Supply Chain Operational Management
PSM-604 The Machinery of Government
PSM-605 Contracting in the Public Sector
PSM-606 Sustainable Procurement
PSM-607 Advanced Project Management
PSM-608 Finance for Purchasers
PSM-609 Strategic Public Sector Programme Management
PSM-610 Public Sector Stakeholders and Governance
Capstone Integrative Course: 6 credits
PSM-665: Supply Chain Management in Practice – Report/Practicum
Dissertation
PSM- 666: Research Methodology (non-credit)
PSM- 667: Dissertation (6 credits)
Last updated May 2018
About the School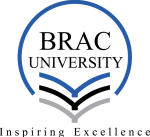 BRAC University (BRACU) was established in 2001. It follows a liberal arts approach to education which nurtures fresh ideas and gives new impetus to the field of tertiary education. It ensures a high ... Read More
BRAC University (BRACU) was established in 2001. It follows a liberal arts approach to education which nurtures fresh ideas and gives new impetus to the field of tertiary education. It ensures a high quality of education and aims to meet the demands of contemporary times. Building on BRAC's experience of seeking solutions to challenges posed by extreme poverty, BRACU hopes to instill in its students a commitment to working towards national development and progress.
Read less