Master in Physical-Chemistry and Chemical-Physics (PCCP)
Home ›
MSc ›
Master in Physical-Chemistry and Chemical-Physics (PCCP)
Program Description
This international Master program focuses on the fundamental aspects of physical chemistry and then leads on to specialized topics so that graduates may be integrated within both academic and industrial fields.
Program factsheet
Academic cooperation: University of Bordeaux (UBx, France), Universidad San Francisco de Quito (USFQ, Ecuador), Université de Namur (Belgium), Universidad del Pais Vasco (Spain), Universiteit Leiden (The Netherlands).
Admission requirements: Hold a Bachelor's degree in Science in Physical-Chemistry, Chemistry, Physics or an equivalent degree.
Program duration: 2 years (120 ECTS).
Language requirements: Master 1, some classes are taught in English and Master 2, all classes are taught in English.
Level:

Master of Science in Chemistry (specialization in Physical-Chemistry and Chemical-Physics).
Specific agreement with USFQ for a double degree: UBx-USFQ.

Tuition fees: University registration fees of 400€.
Program outline
The PCCP program aims to integrate Master students within the academic and industrial fields of fundamental physical chemistry. Various aspects are concerned: a study of matter and its transformations, analysis, and control of physical and chemical processes, light-matter interactions and spectroscopy techniques, modeling of physical and chemical processes from molecular to the macroscopic scale. Applications cover scientific fields ranging from nanotechnologies, photonics, optoelectronics, and organic electronics, to environmental sensors and detection systems.
The PCCP Master is supported by high-level educational and research partners, represented by the consortium of universities engaged in the program. Students follow their courses within a challenging, international environment. Annual summer schools, organized by the consortium partners, complete the students' training by offering a focus on several topics relative to PCCP.
Program structure
The first year of the Master's degree is focused on the fundamental aspects of Physical Chemistry (thermodynamics, quantum chemistry, spectroscopy, and numerical tools). International aspects of the program are introduced progressively during the first year, with some courses taught in English. A remote research project is also programmed to promote collaboration between students of the partner universities within the context of international scientific project management.
The second-year is dedicated to specialized topics (advanced spectroscopy and imaging, photonics, computational chemistry, environmental sciences). All courses are taught in English and international mobility is mandatory (at least during the second semester for the Master thesis work), thus strengthening the international dimension of the degree. Numerous mutualized lectures are carried out featuring high-level, local research activity. Practical aspects are emphasized to favor the future integration of the student within the working world.
Master students following the specific UBx-USFQ double degree program spend between five and nine months in Quito (Ecuador) to complete the Master thesis. During this period, assistant professor positions at the USFQ are available for Master students of the program.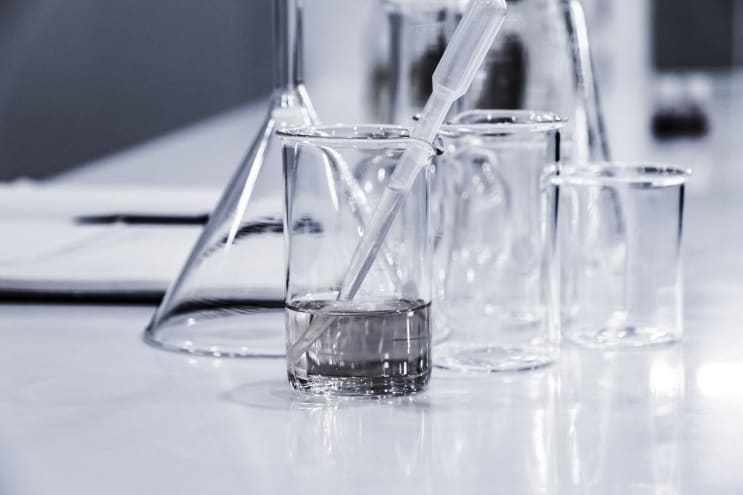 Hans Reniers / Unsplash
Year 1 to 2: Content
Year 1: Courses are in French, except when international students are attending.
Numerical methods (6 ECTS)
Thermodynamics (6 ECTS)
Quantum mechanics (6 ECTS)
Inorganic materials or structural analysis (6 ECTS)
Theory of chemical bond (6 ECTS)
Solid-state physics (6 ECTS)
Analytical chemistry (6 ECTS)
Spectroscopy (6 ECTS)
Quantum Chemistry and molecular simulation (6 ECTS)
Remote research project/English (6 ECTS)
Year 2: Courses are in English.
Photonics, lasers, and imaging (6 ECTS)
Dielectric and magnetic properties (6 ECTS)
Large scale facilities or auto-assembly, polymers, and surfactants, or hybrid and nano-materials (6 ECTS)
Computational chemistry or energy, communication, and information (6 ECTS)
Research project/English (6 ECTS)
Professional project (6 ECTS)
Master thesis/internship in one of the universities of the consortium (24 ECTS)
Strengths of this Master's program?
High-level educational and research environment, proposed by the partner institutions.
Master students acquire project management skills at an international level.
Mobility during the second year offers access to a wide range of courses and training.
International mobility facilitates integration within both academic and industrial domains.
Supported by the International Master program of the Bordeaux "Initiative of Excellence" program.
After this Master's program?
After graduation, students are fully prepared to pursue doctoral studies and a career in research. They may also work as scientists or R&D engineers within the industrial field.
Associated business sectors:

Chemical analysis
Chemistry of the atmosphere and environmental science
Energy and photovoltaic technologies
Nanotechnologies
Aeronautics and space
Chemical industries, pharmaceutical technologies
Fine chemicals and cosmetics
Forensic science and artwork restoration
Molecular modeling and simulation

Academic research domains:

Spectroscopy/analytical chemistry
Astrochemistry
Properties of materials, solid-state physics, reactivity at the interfaces
Nanotechnology
Imaging, bio-detection
Organic electronics, optoelectronics, and photonics
Theoretical chemistry, molecular modeling, and simulation, etc.

Other possible activities:

Teaching, education, and dissemination of scientific knowledge
Linking public and private actors in research, development, and marketing
Participating in the purchase and investment of scientific equipment
Last updated Oct 2019
About the School

The University of Bordeaux was newly established in 2014 following the merger of three universities. Ranked among the top universities in France for the quality of its academic courses and research, i ... Read More
The University of Bordeaux was newly established in 2014 following the merger of three universities. Ranked among the top universities in France for the quality of its academic courses and research, it was awarded the "Initiative of Excellence" by the French government in 2011.
Read less