Master in Organizational Psychology
Home ›
Master ›
Master in Organizational Psychology
Program Description
The study program Organizational Psychology is designed to prepare a psychologist capable of applying current knowledge and methods in psychology, research, consultation and counseling skills based on sound scientific and ethical principles that will promote psychosocial well-being and organizational effectiveness within the context of economic and social change.
Upon completion of the program, a student is qualified a Master in Social Sciences, specializing in Organizational Psychology.

Competencies acquired
Upon completion of the program the graduates will have acquired the following competencies:
Describe, critically evaluate and apply modern psychological theories explaining the behavior of an organization, person or group.
Evaluate and analyze the psychological aspects and problems of functioning of organizations.
Carry out research on the basis of modern scientific methodology, to interpret the results properly, be able to present them appropriately, and give recommendations.
Consult organizations on leadership, personnel management, an organization of work, career counseling and promotion of psychological well-being of employees.
Elaborate and improve psychological intervention programs (personnel education, health maintenance, and promotion, team formation, employees' adaptation, and socialization, etc.), provide help in their implementation and be able to evaluate their effectiveness.
Work following Labour Law regulations and principles of professional ethics.
Work individually and in teams, exchange information and professional experience.

Career opportunities
Organizational Psychologists will be able to work in diverse organizations, career consultation centers, job centers, and personnel training centers. Also, masters in Psychology degree gives the opportunity to pursue Doctoral studies in Psychology or other fields of Social sciences.

Requirements
Students applying for a Master's in Social Sciences, specialization in Organizational Psychology, degree are required to have:
A Bachelor in Social Sciences (important: specialization in Psychology) degree diploma and follow the contest procedure.
Proof of English Language: applicants have to present a document proving B2 level of the Common European Framework of Reference for Languages (TOEFL 87 iBT/534, IELTS 5.5 or any other document proving B2 level) if the applicants had not received education in English. After admission, all students will be tested for English language level at the Institute of Foreign Languages at Vytautas Magnus University.
Admission score is counted based on the formula: K=0,6A+0,2B+0,2D, when

A - Arithmetic average of bachelor degree diploma supplement all subjects;
B - Evaluation of bachelor thesis or final examination;
D – motivational interview.

Possibilities
Exchange studies
Bachelor and Master Degree students have a possibility to take part in various exchange programs (Bilateral exchange, Erasmus+) for studies and internships and get monthly scholarships of 300 – 700 Euro.
Minor studies
Vytautas Magnus University provides international degree students with a great possibility to choose Minor studies.

Application
Step 1 – Choose a study program at VMU.
Step 2 – Pay the application fee.
Step 3 – Apply online.
Step 4 – Assess your education documents.
Step 5 – Get ready for an interview with the coordinator of the VMU International Cooperation Department.
Step 6 – Get confirmation of admission.
Step 7 – Sign the Study Contract.
Step 8 – Book accommodation in VMU dormitory.
Step 9 – Pay the tuition fee.
Step 10 – Check information for a visa.
Step 11 – Get original documents.
Step 12 – Register for an appointment at Lithuanian Embassy.
Step 13 – Arrange your arrival; get mentor support.
Step 14 – After arrival: register at VMU International Cooperation Department.
Last updated November 2019
About the School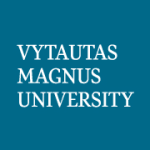 Ranked in QS World University Rankings 2018 as a leader in the country by its internationality, VMU is the only public higher education institution in Lithuania and one of the few in the region where ... Read More
Ranked in QS World University Rankings 2018 as a leader in the country by its internationality, VMU is the only public higher education institution in Lithuania and one of the few in the region where a wide liberal arts education is imparted. This means that students can change and organize their schedule freely, minor in one field and major in another, travel abroad on international exchange and get ready for those trips by taking some of the available 30 foreign language courses. As a reflection of global academic trends, more and more lectures (separate courses and even whole study programs) are taught in English, many of them by professors from abroad. VMU offers 21 Master degree along with 12 Bachelor degree programs, which are entirely taught in English. Every semester university gathers the colorful international community, which unites representatives from nearly 50 countries around the world.
Read less