Program Description
Master in Nuclear Physics
The Faculty has successfully updated its accreditation of the Master Program. It is a full-time program extending for 2 years (4 semesters). The students are expected to attend lectures, practicals, and seminars throughout the semester.
Candidates for the degree program are required to pass an entrance examination, following which they can choose an accredited degree course, which can often be an extension of the undergraduate program.

Fractal Hassan / Unsplash
The Master Program offers:
Interesting lectures by professionals from the Czech Republic and abroad;
Participation in scientific teams after admission to the program;
Accredited supervisors;
Long-term study stays and internships at partner universities and international research centers;
Qualifications and requirements to be met by the prospective student:
Must hold a Bachelor's degree from a technical university or engineering school in the Czech Republic or abroad;
Must successfully pass the master course entrance exams (FNSPE CTU graduates can be exempt from candidacy examination if they intend to extend their education in the same field and have performed well in the Final State Examination).
Upon attainment of the required number of credits (120), successful completion of coursework in all courses, submission and defense of the Master's Thesis, and successful passage of the State Final Examination, the student is awarded a Master's Degree (Mgr., the title of Ing. in Czech) at a graduation ceremony in the Bethlehem Chapel. This is a prerequisite for entering the Doctoral Program or pursuing employment or a career in e.g. research. Many graduates start their careers in the ČEZ Group (ČEZ), Proton Therapy Centre Czech, ELI Centre, IBM, in banks, or hospitals.
Fields of Study
Dosimetry and Applications of Ionizing Radiation
The master's degree course in Dosimetry and Applications of Ionizing Radiation is oriented towards engineering, natural sciences, and other applications of nuclear sciences using nuclear energy, radioactive substances, and ionizing radiation in science, industry, and biology. The course trains personnel in nuclear and radiation safety of nuclear power plants and in environmental protection and builds on the previous degree program. Therefore, the course is focused on extending the scope of the students' knowledge in the relevant fields and provides further insight into the state-of-the-art of the field. The course includes specialized laboratory practicals and independent student projects on a chosen topic. Every student thus acquires good writing and presentation skills, and the project results are often accepted for publication in scientific journals. The course lectures provide information on radiation and its interaction with matter, radiation detection methods, personal dosimetry, environmental dosimetry, dosimetry of nuclear facilities, radiation metrology, and spectroscopy. In addition, considerable attention is paid to computational methods enabling monitoring interactions of radiation with matter and evaluation of biological effects of radiation based on the determination of relevant dosimetric quantities.
Experimental Nuclear and Particle Physics
The master's degree courseis orientedtowardsnuclear physics and elementary particle physics, i.e. fieldsprovidingfundamental knowledgeof thestructureof matterand basic interactions between elementary particles.Considerableknowledge andmanymethods, however, have now escaped boundsof physics and are applied in various fields of human activity. Study plansfor the degree courseare based onthe Faculty's core coursein physics, mathematics and chemistry.
Thedegree course consistsof a course insubatomicphysics andinquantumfields, including lectures in theoretical and quantum physics.They are complementedby lectures in the theory of electro-weak interactions, neutron physics, nuclear spectroscopy, quantum chromo-dynamics, and experimental methods in nuclear and sub-nuclear physics.Part of thecoursealso consists oftwo-semesterpracticalsin experimental nuclear physicsdataprocessing using computer technology,andphysical interpretation oftheexperimentaldata obtained. Independent work in a laboratory constitutes an important part of the course, where an individual approach is preferred. Students aregraduallyinvolvedin thesolution of research programs to beprepared for modernteamwork in research. The academic program utilizes the departments close cooperation withinstitutions outsidetheFaculty(Czech Academy ofSciences, Faculty of Mathematics and Physics; CERN, Geneva; BNL, Brookhaven; FNAL, Chicago; GSI, Darmstadt;etc.).
Nuclear Engineering
Students of the master's degree course in Nuclear Engineering are prepared for both theoretical and experimental work in reactor physics and nuclear power engineering. This training is important for nuclear and radiation safety of nuclear power plants and environmental protection. This degree course is strongly oriented towards engineering practice. The courses are focused on furthering the knowledge gained in the lower course and provide a deep insight into the state-of-the-art developments. The curriculum comprises specialized laboratory courses and independent student projects on a topic of student's own choice. These projects enable each student to acquire excellent orientation within the given topic and they usually result in original findings publishable in scientific journals.
In degree course contains courses in the theory and construction of nuclear reactors, reactor physics, nuclear safety, fuel cycle, reactor electro-technics, control of nuclear power plants, and experimental reactor physics.
Radiological Physics
The master's degree course in Radiological Physics was accredited as the first course of its kind in the Czech Republic on the 15th of December 2005, offering a medical program according to Act 96/2004 Coll. on non-medical support staff. A similar bachelor's degree course stresses engineering, here the graduate's competencies lie in radiological physics, namely in the competence to perform the profession of a radiological physicist. Education is based on the original curriculum prepared for the former degree course in Radiological Physics in Medicine. However, the adapted curriculum has been complemented by several professional and medical subjects and extended to include on-the-job experience and training in medical centers. The degree course centers around applications of ionizing radiation and radionuclides in radiodiagnostics, radiotherapy, and nuclear medicine and is designed to provide knowledge of basic mathematics, physics and informatics, and more profound knowledge of nuclear physics, physics of ionizing radiation, detection and dosimetry of ionizing radiation with a view to health care. The students also familiarise themselves in detail with the use of ionizing radiation for diagnostic and therapeutic in health care, the physical and technological principles of modern imaging techniques in medicine and advanced radiotherapy using radionuclides, radionuclide irradiators, linear accelerators, and other specific radiotherapy equipment. Moreover, due to the course orientation towards health care, medical disciplines such as anatomy, physiology, human body biology, biochemistry, and pharmacology are also part of the course.
Close contact with the latest trends in the field is assured by research for the master's thesis done in cooperation with outstanding institutions in the Czech Republic. Graduates also get a broad overview of the principles of legislation related to radiation protection and handling and operating ionizing radiation sources in terms of human health. The course work places emphasis on independence in tackling problems and quick adaptability to arising problems. The graduates are ready to apply for positions of radiological physicists in departments of radiology, nuclear medicine, and radiotherapy or in the departments of medical physics and/or radiation protection in hospitals. They closely collaborate with the medical staff and health professionals in administering diagnostic and therapeutic procedures, namely in the physical and technical aspects. The course program trains students for positions focusing on nuclear safety and radiation protection.
An integral part of the degree course is also professional visits to health care institutions and on-the-job experience, introducing students to the responsibilities of radiological physicists. After passing practice at health clinics and follow-up further non-degree training the graduates acquire the professional status of radiological physicists in radiodiagnostics, nuclear medicine, or radiotherapy.
The course program is designed in accordance with and complies with the standards and recommendations of the European organizations of medical physics.
Entrance exam
Yes (written and interview)
Fields of Study
Dosimetry and Applications of Ionizing Radiation
Experimental Nuclear and Particle Physics
Nuclear Engineering
Radiological Physics
Entrance Requirements
Application form
Completion of secondary or secondary technical education and graduation from a Bachelor or Master Study Program in an equivalent or similar branch
Submission of the Secondary School Leaving Certificate
Nostrification of Diploma
English Language (min. B2)
No more than one application for the study program in the past
Application fee: EUR 32
Level of English
An examination certificate proving English language competence at a level not below B2
Last updated Feb 2020
About the School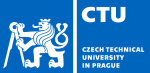 Czech Technical University in Prague is the oldest technical university in Europe, founded in 1707 and is currently a leading technical research university within the region and in the Prague Research ... Read More
Czech Technical University in Prague is the oldest technical university in Europe, founded in 1707 and is currently a leading technical research university within the region and in the Prague Research cluster. CTU offers undergraduate, graduate and doctoral programs at 8 faculties: Faculty of Civil Engineering, Mechanical Engineering, Electrical Engineering, Nuclear Sciences, and Physical Engineering, Architecture, Transportation Sciences, Biomedical Engineering, Information Technology and programs at MIAS School of Business. Moreover, CTU offers free sports courses, you may visit and study in the National Library of Technology and feel the international community in the Campus Dejvice in the heart of Europe.
Read less