Master in Modern International and Transnational History
Program Description
Why choose this program?
Is the world moving closer together or is it drifting apart? History as a discipline has been increasingly reaching out beyond the limits of the nation-state in order to study this question. This new program challenges its students to explore international and transnational processes, institutions and movements from multiple perspectives.
Building on the broad range of thematic competences present at Department of Archaeology, Conservation and History and the inspiring environment provided by the University of Oslo and the city, students are encouraged to study the forces that connect and separate people across national borders.
By focusing on international and transnational history from the mid-19th century to the recent past, the program offers a broad and global historical perspective on political, cultural, social and economic processes both between and beyond nation-states. It includes a combination of closely integrated core and specialized courses. Over the first three semesters, students will be thoroughly prepared to write their final master's thesis through a practically oriented "horizontal" course module.
Modern International and Transnational History (MITRA) aims to raise students international profile both with a view to the academic and non-academic job market. In order to reach this goal, the program offers two options for the 3rd-semester field term: Students can choose between an internship with an international organization, institution or enterprise abroad or a history project which will involve archival research outside of Norway.
The program welcomes applications from students with an interest in studying in a challenging and welcoming international environment. Please explore these web pages for information on the program's structure, learning outcomes, application requirements as well as courses on offer. The master's program in Modern International and Transnational History is structured for full-time students and is not suitable for part-time students.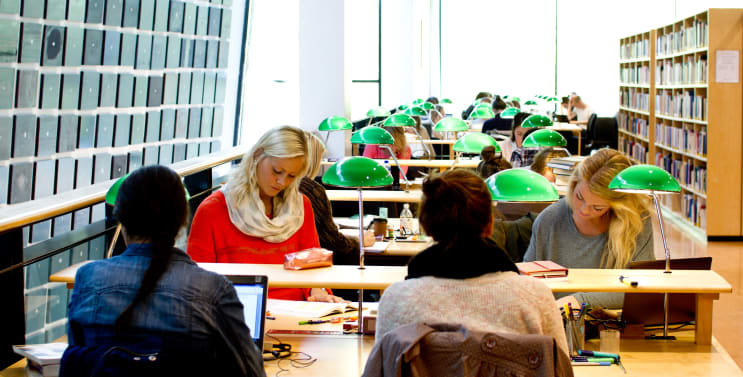 From the main library at Blindern campus. Photo: Lars Lørdal/University of Oslo
Learning outcomes
Learning outcomes for graduates of the Modern International and Transnational History program:
Knowledge
Possess advanced knowledge in the field of international and transnational history and a deepened awareness of the global dimension of modern historical processes
Have acquired profound knowledge of methodological and theoretical approaches relevant for the study of international and transnational history such as "links and flows" and understanding the difference between transnational history and the historiography structured around the nation-state
Can apply knowledge to current challenges within the field of international and transnational history
Skills
Can conduct, under supervision, an independent research project on a modern international or transnational historical topic of the student's own choice
Are able to analyze historical problems and formulate research questions independently and to choose as well as to apply adequate historiographical methods to answer them; all with a sense for the potential multiplicity of perspectives on a given subject
Are able to identify, assess and use relevant primary material and scholarly literature from a diverse set of local and international sources on a historical problem
Are equipped to conduct historical research projects based on international archival research
Can meet the formal requirements for the conduct of academic research within the field of history and employ the appropriate ethical standards and code of conduct
General competence
Are able to present adequately, in English, the results of their research in written, oral or visual form in ways suited for diverse audiences
Can analyze and communicate how international and transnational processes works and to what extent they correspond with national interests
Are enabled to take a full part in international academic conversation through articles, presentations, reviews or other media communication on topics of historical research
Are prepared to apply their knowledge as well as the results of their research and render informed contributions to relevant debates both within academic environments and vis-à-vis the general public
Possess advanced knowledge of the academic environment in history as well as in neighboring disciplines, and are accordingly acquainted with all stages of the research process and are able to use this competence to work on major research projects both independently and in cooperation with others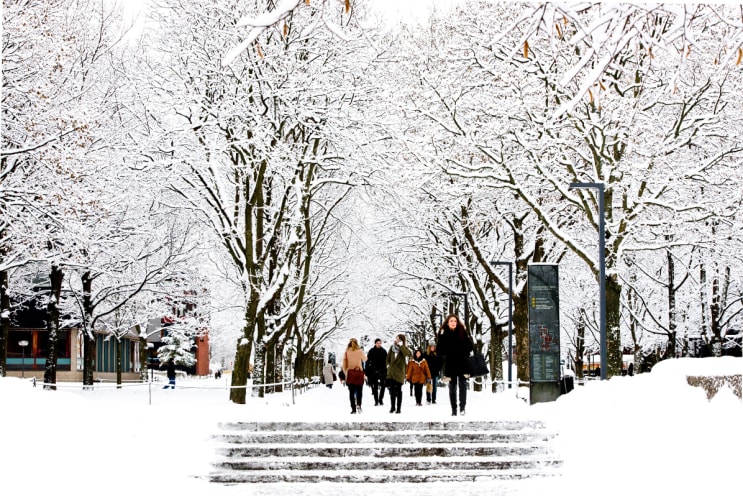 Winter has arrived at the University of Oslo. Photo: Anders Lien/University of Oslo
Career opportunities
Candidates with a degree in Modern International and Transnational History will be attractive for both the public and private sector, especially for businesses and organizations that have an international outlook. The candidates will have a greater understanding of transnational processes and will be able to identify and work with the opportunities and challenges that often are unique when working across borders.
Program specific details
All students will have finished either a field term abroad, worked with an international organization in Oslo or completed a research-oriented History Project abroad. This important part of the program will let the students apply their knowledge in a work environment, create networks and prepare them for a career after a finished degree. Both the field term and the master's thesis will create career opportunities for our candidates, either in academia or in the public and private sector.
Possible fields of expertise for candidates with a master's degree in Modern International and Transnational History are:
Project management and project work
Administrative procedure and various administrative tasks
Counselling and guidance
Research
Management
Organizational work
A broad range of possible business sectors are:
Public services and public administration
Private organizations and enterprises
Special interest groups and NGOs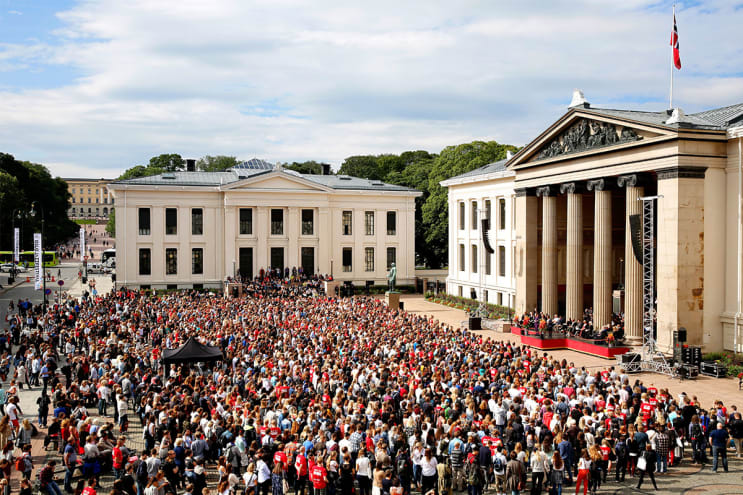 The welcoming of new students at the City center campus. Photo: Terje Heiestad/University of Oslo
Admission
This study program starts in August
When to apply
Non-EU/EEA applicants: from 1 October until 1 December
EU/EEA/Swiss applicants: from 1 February until 1 March
Nordic citizens and applicants with a permanent or renewable residence permit in Norway: from 1 February until 1 March
How to apply
Available places
20
Price
There is no tuition fee. However, students will have to pay a semester fee of approximately NOK 300–600 each semester.
Admission requirements
Admission to master's degree studies requires:
Higher Education Entrance Qualification and a completed bachelor's degree comparable to a Norwegian bachelor's degree. Applicants with foreign education, please refer to the country list.
a specialization defined by the program
a minimum grade average of C (in the Norwegian grading scale) or equivalent from the specialization in your degree.
a language requirement documented by one of the tests/exams below:
a) Passed examination in English foundation course (140 hours/5 periods per week) with a minimum grade of 4 in Norwegian upper secondary school (or an equivalent grade from a Nordic upper secondary school) or passed examination in English from second and/or third school year in Norwegian upper secondary school, or
b) An internationally recognized English language proficiency test.
Required specialization
A specialization of at least 80 ECTS credits within humanities or social science.
A minimum of 30 ECTS credits in modern history courses, either as a part of the specialization or in addition to it.
Documentation
You have to upload all required documents in UiO's online application portal.
Letter of motivation: We ask all applicants to the program to add a Letter of motivation/Statement of purpose where you elaborate on your interest in modern international and transnational history, either from work or studies.
Ranking of applicants
Applicants are ranked according to their grade average in the specialization of their degree. Applicants who cannot be ranked according to their grade average will be ranked on the basis of an individual assessment.
Admission to this program is usually highly competitive. Please note that even if you fulfill the minimum grade requirement, this does not guarantee you a study place in the program.
You normally cannot be admitted to a master's degree program or study option within the same subject area as a previously completed master's degree at the University of Oslo.
The grade point average and counting of grade points are made on the basis of 80 credits as follows:
30 ECTS credits in modern history courses
The best grades from the specialization within humanities or social science amounting to 50 ECTS credits (80 ECTS credits if the modern history courses are a part of the specialization).
For students with a specialization in history or students with a bachelor's degree in International Studies from the University of Oslo, the grade point average will be taken from the specialization equal to 80 ECTS credits (International Studies equal to 90 ECTS credits).
Recognition of prior education
If you have previous higher education, you may apply for specific recognition of this education as part of your degree. Education from both Norwegian and non-Norwegian higher education institutions may be recognized. Recognition depends upon whether the education meets the specific requirements of your degree. Read more about recognition of prior education.
Student life in Oslo
In Oslo, you will find more than 60 000 fellow students, 450 student associations and a great variety of activities for you to join. You will get student discounts on public transport and activities, and as an international student, you will be prioritized by the Student welfare organization when you apply for student housing.
Oslo is a friendly and exciting city where you can find everything you need within a short distance from the downtown area. Oslo offers all the cultural activities one expects to find in a modern capital, but what really makes Norway's capital stand out from others is the proximity of the surrounding nature.
The city of Oslo lies at the end of the 100 km Oslo Fjord and is surrounded by sea, forests, and hills. With public transport, you can fast and easy reach Oslomarka, the forested and hilly areas surrounding Oslo which are perfect for skiing, hiking, and bicycle trips.
Coming to the University of Oslo is a great opportunity to experience the beautiful nature and outdoors of Norway.
Last updated May 2020
About the School
The Department of Archaeology, Conservation and History (IAKH) is comprised of three disciplines which in different ways study the past. The department has internationally oriented archaeologists, the ... Read More
The Department of Archaeology, Conservation and History (IAKH) is comprised of three disciplines which in different ways study the past. The department has internationally oriented archaeologists, the only conservation program in Norway and the biggest group of historians in Scandinavia.
Read less