Program Description
The joint master's program in Mathematics is a collaboration between KTH and Stockholm University (SU). The program stems directly from the prominent research groups at KTH and SU, taking full advantage of the broad spectrum of expertise available at both universities.
Mathematics at KTH
The courses in the program are organized into three blocks: basic, profile and broadening. The basic block provides an in-depth education in Mathematics at an advanced level. Within this block, it is mandatory to take one course in each of the following areas: algebra and geometry, analysis, topology, and discrete mathematics. In the profile block, courses are chosen freely to specialize and prepare for the master's degree project – the subject is regarded in a broad sense, including mathematical statistics, optimization theory, and theoretical computer science. The broadening block contains courses on theory and methodology of science, communication of mathematical subjects and a half term of freely elective courses.
The partnership with SU makes this program unique and allows us to offer courses in a broad selection of topics within mathematics.
Degree project
The degree project will typically be carried out within the specialization chosen, either internally with a research group at KTH, SU or externally at a company. The results are presented in a master's thesis, as well as in a seminar.
This is a two-year program (120 ECTS credits) given in English. Graduates are awarded the degree of Master of Science. The programme is given mainly at KTH Campus in Stockholm by the School of Engineering Sciences (at KTH) and at the Stockholm University campus.
Career
Mathematics is becoming increasingly important in society, and one key function of this program is to educate tomorrow's industrial mathematicians. Problem-solving and logical thinking are important qualities that employers look for, and training these abilities lies at the heart of our program. In the basic block, students will be given the opportunity to take their general skills to an advanced level by studying core subjects in mathematics. More specialized or interdisciplinary areas of expertise can be studied in our profile and broadening block, giving the student the necessary means to adequately prepare for the job market. The job prospects are outstanding and most students find good jobs relatively shortly after graduating. Many find jobs as a data analyst, financial analyst, and software engineering at a variety of companies, including Google.
Stockholm's mathematical community hosts world-leading experts and research groups in different areas. Students will have the opportunity to interact closely with these researchers, providing a platform to those who consider continuing to a doctoral degree at KTH, SU or another internationally renowned institution. Several of our students pursue doctoral studies after graduating.
Students
Find out what students from the program think about their time at KTH.
Markéta Sluková, Czech Republic: "KTH is an amazing choice given the friendly atmosphere and nature of the programs."
Sustainable development
Graduates from KTH have the knowledge and tools for moving society in a more sustainable direction, as sustainable development is an integral part of all programs. The three key sustainable development goals addressed by the master's program in Mathematics are:
Industry, Innovation, and Infrastructure: Studying mathematics is excellent preparation for being able to deal with a variety of complex systems that feature in research environments, industries or where these two meet. Abstraction is an important tool for understanding and solving difficult concrete problems, and it can lead to unexpected and innovative ideas. As a consequence of the general training provided in our core courses and the more specialized training in the profile block, our students will further develop a wide palette of the skills and the creativity needed to tackle modern challenges.
Quality Education: A badly presented solution to a problem with no solution at all. Mathematicians have pride in maintaining a high standard in the presentation of their arguments. Through multiple homework assignments and presentations, we place particular emphasis on how to present your solutions in a way that is understandable, both in writing and in speech. This will effectively develop your skills in communicating your results to fellow experts, as well as educating future generations.
Partnerships for the Goals: Mathematical breakthroughs are rarely made by mathematicians on their own, but are typically the result of close and intense interactions within a mathematical community. Through homework assignments and group work, you will quickly find that you will learn more and achieve a higher level of understanding through interaction with your peers. Even the program itself is a partnership, and our combined efforts and our differences allow us to deliver a diverse and high-quality program.
Last updated Apr 2020
About the School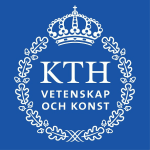 KTH Royal Institute of Technology has served as one of Europe's key centres of innovation and intellectual talent for almost two hundred years. Recognized as Sweden's most prestigious technical univer ... Read More
KTH Royal Institute of Technology has served as one of Europe's key centres of innovation and intellectual talent for almost two hundred years. Recognized as Sweden's most prestigious technical university, KTH is also the country's oldest and largest. With over 12,000 students and an international reputation for excellence, the university continues to nurture the world's brightest minds, helping to shape the future.
Read less