Master in International Project Management for Business Leaders
Home ›
Master ›
Master in International Project Management for Business Leaders
Program Description
International Project Management for Business Leaders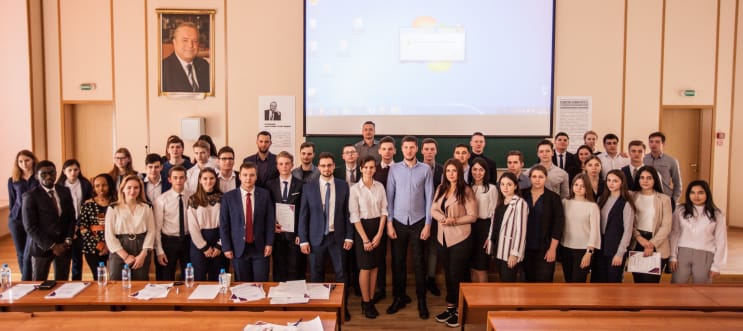 photo courtesy of the State University of Management
General Information
Pace: full-time
Duration: 18 months
Language: English
Application deadline: 31 May 2020
Study type: campus + dormitories
Tuition fee: 300 000 per an academic year
Earliest start date: Sept 2020
What is needed: to pass the exam in Management, documents on higher education (not less than Bachelor / Specialist) + English knowledge (not less than B2).
Background
Nowadays in European, Asian countries and Russia there is a high demand for specialists for dynamically developing countries able to analyze domestic and foreign markets and identify potential business needs, assess political and economic opportunities and risks of doing business in different countries and regions, provide the necessary data to guide strategic planning, to model the project/program, to evaluate the effectiveness of investments in the project/program, to monitor the quality of the project/program.
Goals
Training of highly qualified and competent specialists who will be effective managers of projects, programs, project portfolios in all spheres of business, economic activity and social sphere both in Russia and abroad.
Mission/Vision
Our mission is to bring together representatives of different countries from all over the world to create a unique project environment that facilitates the exchange of experience, knowledge and the formation of new professional competencies in a cross-cultural environment.
Curriculum
Basic part:
International business management in the European area
Research methodology in management
Foreign language for professionals
Business communication
International law
Economic development and business management in East Asia
Project management methodology
Organizational tools and techniques of project management
Strategic project management
Management of socially responsible projects
Eco-technology and lean management
Information and software support of project management
Professional skills of project Manager: conducting negotiations and presentations
Marketing and advertising in project
Neuro project management
Elective courses:
Digital technologies in project and program management / Project management of technological innovation
Competitive start-up / Digital business ecosystems
Management of programs of complex development of territories / Management of federal and regional programs
Management of investment and construction programs / Management of agricultural development programs​
Practices:
Academic practice: practice to obtain primary professional skills
Pre-diploma practice
Organizational practice: research work
Organizational practice: practice for acquiring professional skills and experience (including teaching practice)
Organizational practice: practice for acquiring professional skills and experience (including technological practice)
Key success factors
Author program, developed and provided by a highly professional team of teachers of the State University of Management and partner Universities from Europe and East Asia, who have a great experience in teaching, project management, business planning, international certification, digital technologies.
The IPMBL program is accredited by the International Project Management Association (IPMA), which is the biggest professional certification body in the world.
The program is developed and based on universally recognized international and national standards such as ICB IPMA, PRINCE2, P2M, PMBOK, C- PMBOK, ISO 21500-2014, GOST R 54869-2011, 54870-2011, 54871-2011, which are the basis for training and certification of managers worldwide.
The program is focused not only on obtaining knowledge in the field of business education, international management, project management, but also on the development of future business leaders' organizational practical skills and competencies demanded by international, state institutions and business.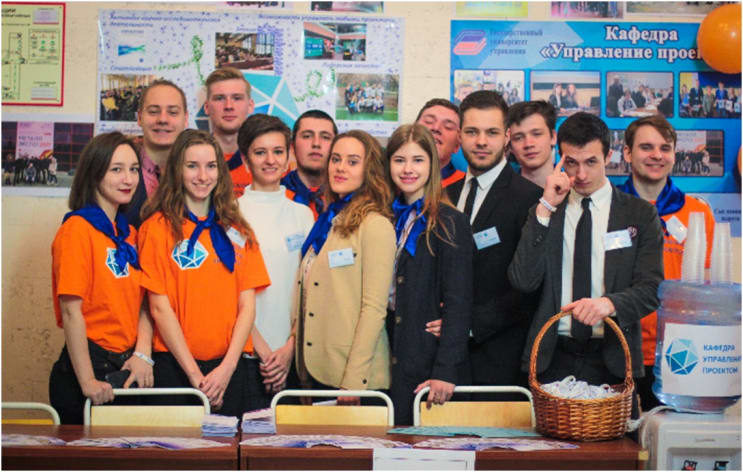 photo courtesy of the State University of Management
Academic milestones
Education is modular. At the end of the module, students pass tests or exams or defend the project.
Faculties
Department of international manufacturing business & Project management department
Pedagogic approach
There is a high proportion of interactive classroom work using digital communication technologies in the educational process.
Program director
Ekaterina Khalimon - PhD in Economics, Assistant Professor of Project management department at the State University of Management, Certified project manager (Level C IPMA), a current member of the Young Crew project management Association, a current member of the Council for the development of the professional project management in higher education and scientific organizations in Russia, a current member of the New economic association (NEA).
Student life
Two high-rise dormitory buildings are located on the University campus to accommodate foreign and nonresident students. The territory of the University is protected. There are also more than 5 food places in the University buildings: from vending machines to canteens with hot meals. The University provides wide opportunities to take part in various educational, scientific, social and cultural events organized on its basis or with partners, and also supports the initiative of participating in the organization and conduct of such events according to the wishes of students.
Sports
There are two sports centers on the University campus where students can practice such sports as swimming, basketball, volleyball, table tennis, badminton, boxing, and aerobics. In addition, there is an open ice hockey rink to play hockey in winter.
Libraries and/or student resources
All students of the University have free access to a big library and a co-working centre that are situated at the University. In addition, the University offers free Wi-Fi and access to the University's electronic library.
Employment rate
Start your own business, public authority, project-oriented companies, project departments, international companies, companies of the real sector of economy, banking sector, social security institutions, IT-companies, and others.
Last updated Feb 2020
About the School

Established in 1919, the State University of Management is one of the largest state universities in Russia, specializing in training managers. It has more than 10 000 Russian and international student ... Read More
Established in 1919, the State University of Management is one of the largest state universities in Russia, specializing in training managers. It has more than 10 000 Russian and international students in all departments and courses.
Read less