Master in International Management - Aviation
Home ›
MA ›
Master in International Management - Aviation
Read more about this program on the school's website
Program Description
Scholarships available until September 30th, 2020
"We believe that everyone with the desire and qualifications to study at IUBH should have the opportunity to do so. Therefore, all applicants by September 30th, 2020 will receive a 2.500€ scholarship from IUBH University of Applied Sciences. The amount of scholarships is limited and only available for the first 100 accepted applicants. Apply today and receive the scholarship!"
Due to COVID-19, all lectures at IUBH University of Applied Sciences will occur in a virtual classroom until further notice. We aim to ensure that the current special circumstances will not result in students being disadvantaged in their course of study.
General management know-how perfectly combined with expertise in aviation
Getting customers and goods to their destination quickly and safely – that's the key thing in aviation management. But the company's market position and efficiency are also in your hands when you are in upper management.
That is why we provide not only important specialist knowledge but also relevant general management know-how in our International Management Master's degree program with a major in Aviation Management. There are attractive top positions in interesting aviation professions for our graduates, especially at the management level.
You will learn about the main drivers for airline profitability – network planning and revenue management –, acquire knowledge about environmental issues such as noise and emissions, deepen your knowledge of airline and airport financing, and also deal with issues such as human resources, financial accounting, and marketing.
Facts & Figures
Degree:
Study model:
Duration:
Master of Arts (M.A.)
on Campus
4 semesters
Intakes:
Tuition
Admission
Bad Honnef: March, September
Berlin: April, October
from 5,290 EUR per semester
Bachelor's degree,
proof of English language skills
A brief explanation from IUBH Professor Leibold
Aviation Management | A brief explanation from IUBH Professor Leibold from IUBH on Vimeo.
What you will learn from us
The Master's degree program prepares you specifically for challenges you face as a leader in the aviation business:
You learn how to apply strategic and operative management concepts specifically to international airlines and infrastructure providers.
You deepen your knowledge of the structure and success factors for value-adding business models in aviation.
You deal intensively with regulations and measures in the aviation industry.
Course of study at a glance
1st Semester
Advanced Research Methods
Applied Statistics
Service Operations Management
Performance Measurement and Management
International Business
Corporate Governance in an International
International Economic Policy
Foreign Language A
(Arabic/French/Italian/Spanish/Chinese/German/Russian)
2nd Semester
Electives (Choose 4 out of 6):
International Organizational Behaviour
Advanced International Human Resource Management
International Management Accounting & Control
International Marketing
International Financial Accounting
International Financial Management
Regular courses:
Leadership
Negotiation Skills in an International Context
Foreign Language B (Arabic/French/Italian/Spanish/Chinese/German/Russian)
3rd Semester
Strategic Aspects of the Service Industry
Strategic Product Planning
Aviation Policy
Aviation Simulation Game
Applied Marketing Research
Aviation Seminar
Controlling Airlines and Airports
4th Semester
Master Thesis & Colloquium
Soumya Ranjan / Pexels
How does the course of studies work?
In the third semester of your Master's program in International Management, you choose your major and set your personal focus.
Where you will be studying
You can pursue your Master's degree at the two German campuses in Bad Honnef and Berlin.
Career Possibilities
Air Freight Procurement Manager
As a Procurement Manager (or Procurator), you are primarily responsible for everything related to the purchase of materials or services in a company. You plan processes with suppliers, negotiate and conclude contracts, keep track of costs, plan and optimize the supply chain, monitor the deadlines for agreed manufacturing milestones, and coordinate transportation and storage for one or more sites. You must have a comprehensive understanding of the market, always be informed about new developments or possibilities for subcontracting and, if necessary, be able to initiate and manage changes.
Corporate Strategy Developer
As a Corporate Strategy Developer in aviation, you coordinate the corporate strategy process for a company. You lead strategy projects, develop strategies for entering new business areas, create market and technology analyses, lead internal innovation teams, publish studies, and create decision-making templates for management.
Process Management Consultant
Clearly defined and optimized processes are of the utmost importance in the aviation industry because it is the only way to work efficiently and ensure all resources are used effectively. As a Process Management Consultant, you offer relevant consulting, analyze processes, compare existing processes with best-practice examples, and provide the necessary ideas and change strategies to optimize, streamline, or redesign processes.
Last updated Apr 2020
About the School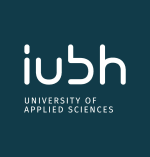 IUBH Campus Studies at IUBH University of Applied Sciences offers on-campus degree programs that have a strong international focus: all courses are taught in English, the curriculum is aligned to the ... Read More
IUBH Campus Studies at IUBH University of Applied Sciences offers on-campus degree programs that have a strong international focus: all courses are taught in English, the curriculum is aligned to the future needs of international companies. Professors and students from over 85 nations meet and work together on–campus.
Read less