Master in International Management (CEMS MIM)
Home ›
Master ›
Master in International Management (CEMS MIM)
Program Description
Founded in 1988, CEMS MIM is the only truly global, top-ranked Master's in Management in the World (FT 2005-2015 & 2017) with;
32 Member Schools across 5 continents
65 Corporate Partners (multinational companies)
6 Social Partners (NGOs)
1279 MIM students of 72 nationalities. 50/50 male/female ratio in 2017-18
12 033 alumni of 85 nationalities, working in 75 countries
The CEMS Master's in International Management consistently ranked in the top 10 of the FT Global Master in Management ranking 2005-2015 & 2017. In 2017, 4 out of the top 10 programmes were part of the CEMS Global Alliance.
For the inaugural ranking of The Economist's Master in Management Ranking 2017, the CEMS MIM was ranked 9th.
97% are employed or continuing their studies, 49% are working outside of their home country, 50% have worked for a CEMS Corporate Partner.
97% would recommend the CEMS experience to others.
Koç University is the Turkish National Head Office of CEMS Alliance Master's in International Management (MIM) Program which brings top academic institutions, leading multinational companies, and outstanding students together from all around the world to educate future global business leaders.
CEMS MIM is the most internationally and culturally diverse graduate program, which provides a unique blend of top-level education and professional experience for multilingual, multicultural postgraduate students. CEMS MIM enables students to develop their management skills, broaden their multicultural knowledge and career prospects through international study and internship/work experience.
During the program, students are exposed to interdisciplinary problems in an international context and are encouraged to adopt an analytical and critical attitude in lectures, discussions, and projects.
What does CEMS MIM offer during the program?
A diversified curriculum that allows students to focus on their own field of interest
International study (for one semester) in a member academic institution
A practical learning environment where students are exposed to real life situations
A network of best academic institutions and global companies
International internship experience in a company
What are the components of the CEMS MIM?
– Semester Abroad
Koç CEMS MIM students spend one or two academic semester(s)studying abroad at one of the Academic Partner(s). Students are integrated in a very international cohort of students and exposed both inside and outside the classroom to multi-cultural learning experiences.
– Block Seminar
Koç University CEMS MIM students start their international management degree with a week long, intensive seminar called Block Seminar. Block Seminars are academically and culturally intensive, and the experience is the ideal starting point into the program.
Students acquire in-depth knowledge of the chosen topic in a very short period of time. There is also an important social aspect to the Block Seminars as this is often the first opportunity for incoming CEMS MIM students to meet and exchange with their new classmates. Block Seminars are open to CEMS MIM students at other CEMS universities.
Koç University offers a Customer Relationship Management (CRM) Block Seminar that focuses on using information about customers to create marketing strategies that develop and maintain desirable customer relationships. By increasing customer value over time, organizations try to retain and increase long term profitability through customer loyalty. In this 5 day Block Seminar, we will blend academic perspectives with case analysis and corporate experience to provide well-rounded insights and understanding into a timely business topic.
– Management and Business Communication
CEMS MIM is designed to give future international managers the skills they need to succeed in global markets. Speaking the relevant foreign language is essential if managers are to work effectively abroad. The program is thus rigorous in its testing of language abilities, ensuring students are ready to live, and work, and communicate effectively in different cultures. In a business context, this means that CEMS graduates must be able to perform certain important tasks at a professional level. CEMS graduates are expected to be fluent in English and have proficiency in a second foreign language by the time they graduate.
– Skill Seminars
Skill Seminars exemplify the managerial and applied foci of CEMS. Skill Seminars are training seminars in practical skills. They are the essential skills required to start in an effective professional career and fundamental to adjusting easily to an international management environment.
These shorter seminars are held throughout the semesters and often in close cooperation with CEMS corporate partners.
Students have to attend four Skill Seminar days in total (1 Koç Credits) (1 day = 8 hours = 0.25 Koç Credits), of which at least two days must be in "Business Communication".
– Business Projects
Each CEMS student is required to complete a Business Project during Term 2. This amounts to 7,5 Koç Credits. Student teams present the results in a final report and make an oral presentation to a corporate and academic audience.
Business projects reinforce the CEMS partnership between universities and companies in jointly shaping the student learning process in international management.
Business Projects are designed as a real life learning experience for students. International student teams, comparable to mini-consultancy teams, solve a real life business problem supervised by both a corporate and an academic coach.
– Internship Abroad
Internship abroad provides students with a real life professional learning experience by integrating them into an organization's culture and processes outside of their home countries. An eight-week international internship must be completed to fulfil the requirements of CEMS MIM. Students have the opportunity to complete this internship either before starting the courses, between semesters or at the end of semester 2 or 3. The main objective is to turn academic experience and theoretical knowledge into a professional, multicultural experience.
The admissions will be managed in three main assessment phases. In the first phase the application files and their conformity will be evaluated. Candidates whose applications are accurate will be invited to interview (panel and case study).
All selections are conducted locally and include the participation of representatives from corporate partners.
The criteria for CEMS Admissions are as follows:
To have a Bachelor's degree from a recognized university;
TOEFL (IBT100);
GMAT or GRE score tests. The scores should be sent to institution number 0163;*
Having proficiency in a second foreign language is an asset.
To complete the application form as specified;
To submit an official academic transcript from the undergraduate institution;
To submit at least two reference letters;
To submit the application fee payment slip;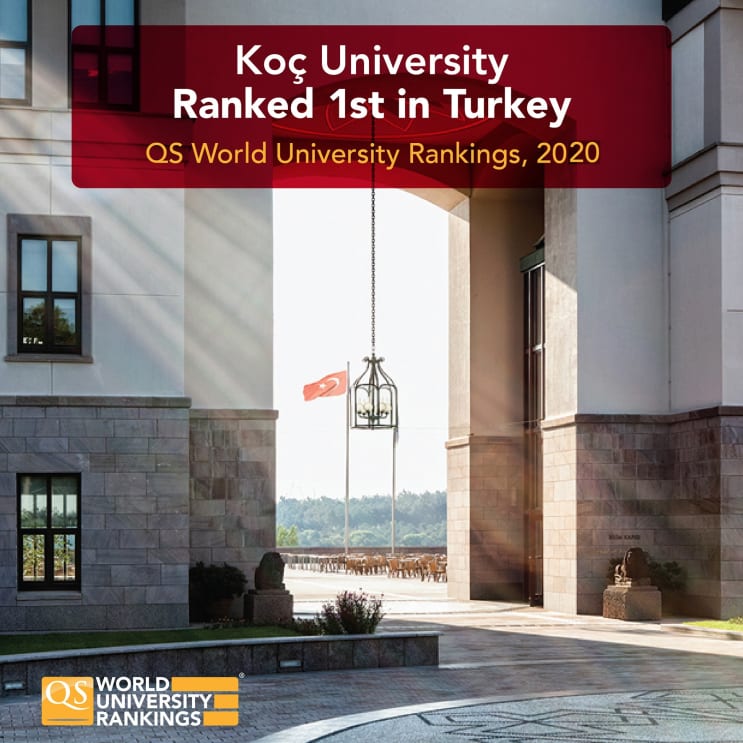 Last updated Feb 2020
About the School
Koç University is a leading research and liberal arts university located in Istanbul, Turkey that offers all its programs in English. Recognized globally for facilitating cutting-edge research in its ... Read More
Koç University is a leading research and liberal arts university located in Istanbul, Turkey that offers all its programs in English. Recognized globally for facilitating cutting-edge research in its full collection of Colleges—including Administrative Sciences & Economics, Engineering, Natural Sciences, Humanities & Social Sciences, Law, and Medicine—Koç University has been distinguished by its notable contributions to the elevation ofeducation, knowledge, and service, both domestically and beyond. International admission details can be found at https://international.ku.edu.tr/
Read less