Master in International Business
Program Description
New programme. First intake in 2020.
This programme trains managers, who are capable of utilizing the best management practices for new generation firms, as well as larger companies in traditional sectors, which now face challenges brought by digital transformation. A key component in the programme is its practical side – in close collaboration with top companies and firms, students have the opportunity to directly take part in consulting projects. This helps students develop their abilities to find creative solutions, relying on new business models with a global focus.
The programme also employs a wide-ranging international format, based on best practices in business education, while also including a compulsory short-term study trip and a term abroad, as well as an international project seminar with a particular focus on the problems faced by dynamically developing segments of the global business value chain.
Requirements
International applicants to this Master's degree programme should meet the
General Graduate Admission Requirements
Programme-specific requirements:
1) This programme requires a high proficiency in English language and that shall be demonstrated through either of the following means:
Valid international English test certificate: IELTS/TOEFL iBT or PBT/CAE/CPE/BEC Vantage/BEC Higher
Native English speakers and International applicants whose previous degree was received completely in English language (the diploma or transcript) are exempt from this requirement
2) GMAT or GRE are not mandatory required but will provide great advantage to an applicant by the competition. For international applicants pretending to get a "quota" (government-funded place) the certificate is obligatory.

3) Application form (please read How to Apply)

4) Bachelor's (Specialist's or Master's) diploma and official transcripts of previous educational studies. (if you have not yet received your Bachelor's diploma, please include an official copy of your most recent academic transcript).

5) CV, which confirms your professional experience (please indicate your position and the list of duties) or scientific activity in the Programme Engineering field of study, including educational internship.
6) Letter of motivation in English (~500 words).
7) Certificates of prior achievements in academic Olympiads and business-games.
8) Certificates or any other documents confirming your prior experience in project activity, professional achievements, volunteer's activity or other evidence of your professional background.
This is no mandatory, but we welcome your professional experience and work in projects and consulting activities, as well as a high level of motivation.
How to apply
Prospective students interested in applying to the programme should submit a portfolio. As the programme is taught in English, applicants are required to take a test in English proficiency before they can enrol.
During your studies
Students will complete basic courses in management (Research Methods and Managerial Economics) and subjects focused specifically on international management (e.g., Global Strategies and New Business Models, International Financial Management, HR Management in International Companies, and International Marketing).
Coursework will also focus on the modern context of the global economy, especially as it relates to sustainable development. Courses include Digital Business Transformation, Business Ethics and Sustainability, Corporate Responsibility and Social Entrepreneurship, and one elective course from another Master's programme related to global challenges.
Students can choose one of two tracks to prepare for a comprehensive consulting project.
The first track includes courses in
Digital Marketing in Creative Industries (CIs),
E-business and E-commerce in CIs,
Sharing Economy and Innovation Management in CIs.
Courses in the second track include
Global Supply Chain Management (SCM) and Logistics,
Business Analytics in SCM,
Digital Transformation in SCM.
Partners
Project and consulting work form the core of the programme, with projects carried out in small groups during the entire period of study. A number of top Russian companies serve as partners of the MIB programme for this project work, including:
Yandex
Lenta
Baltika
Gazpromneft
Pulkovo Airport
State Hermitage Museum
Expoforum
Career opportunities
Graduates will have opportunities to build careers in companies operating in global markets. Positions held by graduates will likely include project managers, business consultants, and development directors focused on introducing new business models in the context of companies' digital transformation.
Last updated Feb 2020
About the School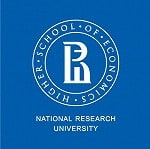 Consistently ranked as one of Russia's top three universities, the Higher School of Economics (HSE University) sets itself apart by its internationally-minded, research-driven approach to higher educa ... Read More
Consistently ranked as one of Russia's top three universities, the Higher School of Economics (HSE University) sets itself apart by its internationally-minded, research-driven approach to higher education. Based in the vibrant center of Moscow, with campuses in St. Petersburg, Nizhny Novgorod and Perm, HSE offers outstanding academics at all levels and includes more than 25 English-taught Master's programmes and 8 English-taught Bachelor's degree programmes.
Read less