Master in Industrial Management
Program Description
The master's program in Industrial Management is designed for students with a profound engineering background who aim to take leadership positions in industrial and technology-based organizations.
Industrial Management at KTH
The main focus of the program is understanding the creation of value for customers. We address this issue at three different levels. Firstly, the industry level, where the focus of attention is the economic and technical transformation in national and global markets. Secondly, the firm level, which focuses on the management of value-creating functions and processes such as research and development, operations and sourcing and marketing and distribution. Thirdly, the individual level, which focuses on the people leading change.
The program consists of a number of tailored courses exclusively provided for the program. They will provide a detailed understanding in relation to each of the three levels, as well as the interrelation between them. The learning process throughout the program is enhanced by the integrated design of the compulsory courses – where case assignments, problem-based learning, and interaction with the industry are of central importance. The program is designed around a number of mandatory courses covering theoretical knowledge and skills related to the management of key functions in industrial organizations. Furthermore, the individual and the industrial level of analysis are also covered, providing students with the capability of handling industrial challenges based on a systems perspective. Through the elective courses, students can specialize in a number of areas such as management, control, supply chain, project management, economics, and leadership.
The program takes pride in having close contact and frequent interaction with industry leaders and their organizations. For example, all courses have guest lecturers from the industry. Moreover, interview assignments, study visits, and industrial projects are core activities in the curriculum, preparing all students to take on leadership positions in industrial and technology-intensive organizations after completing the program.
This is a two-year program (120 ECTS credits) given in English. Graduates are awarded the degree of Master of Science. The program is given mainly at KTH Campus in Stockholm by the School of Industrial Engineering and Management (at KTH).
Career
The master's program in Industrial Management offers a unique opportunity of combining and developing comprehensive engineering knowledge with advanced management and leadership skills. This particular combination is very attractive for most industrial businesses worldwide. After completing the program, the student will have developed suitable skills to take on a technology/management consultant role or a functional/project managerial position in international technology-based firms.
Students
Find out what students from the programme think about their time at KTH.
Lorenzo Servedio, USA: "I chose KTH because I had a burning desire to move to Stockholm, Sweden, for its culture, nature, and endless opportunities. KTH provided education and roadmap in order to accomplish my goal of working in Sweden."
Sustainable development
Graduates from KTH have the knowledge and tools for moving society in a more sustainable direction, as sustainable development is an integral part of all programs. The three key sustainable development goals addressed by the master's program in Industrial Management are:
Gender Equality

Industry, Innovation, and Infrastructure

Responsible Consumption and Production
The overarching approach to sustainable development in the program is based on three design principles:
Creating a common knowledge base among all students at the start of the program. This part is based on materials and content from the KTH Sustainability Office.

Integrating sustainable development in mandatory courses in order to equip students with knowledge about and expertise in sustainable development close to the application area of each subject area (for example supply chain strategy).

Applying a strong focus on sustainable development in the program's integrative courses, projects, and degree project. Making sustainable development a mandatory part of research conducted by students at the master-level represents the program's core strategy in going beyond "studies about sustainable development" towards "studies in sustainable development".
Among the 17 sustainable development goals, the three goals listed above represent central focus areas related to the different levels of the program – the individual, functional and industrial. As early as in the first course of the programme you will conduct a case study focused on gender and diversity. Here you will meet researchers who specialize in this field, discuss with industry experts and conduct a case-based investigation related to the individual level. There is also a focus on the footprint of production activities in, for example, the subject area of operation and supply chain strategy, where sustainable development is part of both casework and game activities – representing typical challenges at the functional level. Finally, the sustainability goals of industry, innovation, and infrastructure represent areas where engineers and industrial companies must take a dominant role in investigating how we can transition our society toward a sustainable future. In courses such as industrial dynamics and technical change and managing research and innovation, the pressure for change, for example from global warming, represents a starting point for how we need to transform industrial activities, business models and leverage innovation to meet climate goals.
Courses
The two-year master's program in Industrial Management consists of three terms of courses and one final term dedicated to the master's degree project. Each term consists of approximately 30 ECTS credits. The courses presented on this page apply to studies starting in autumn 2020.
Year 1
Mandatory courses
Project Management: Leadership and Control (ME2016) 6.0 credits

Team Leadership and Human Resource Management (ME2063) 6.0 credits

Finance and Control in Industrial Organizations (ME2064) 6.0 credits

Operations and Supply Chain Strategy (ME2065) 6.0 credits

Strategy and Industrial Marketing (ME2066) 6.0 credits

Industrial Transformation and Technical Changes (ITTEC) (ME2067) 6.0 credits

Perspectives on Industrial Management (ME2501) 6.0 credits
Year 2
Mandatory courses
Research Methods in Industrial Engineering and Management (ME2003) 7.5 credits

Managing Research and Innovation (ME2069) 6.0 credits

Degree Project in Industrial Economics and Management, Second Cycle (ME210X) 30.0 credits

Change Project in Industrial Management (ME2502) 12.0 credits
Admission requirements
To be eligible for the program, you must have been awarded a bachelor's degree, be proficient in English and meet the program-specific requirements.
Bachelor's degree
A bachelor's degree, equivalent to a Swedish bachelor's degree, or equivalent academic qualifications from an internationally recognized university, is required. Students who are following longer technical programs, and have completed courses equivalent to a bachelor's degree, will be considered on a case-by-case basis.
English proficiency
English language proficiency equivalent to (the Swedish upper secondary school) English course B/6 is required. The requirement can be satisfied through a result equal to, or higher than, those stated in the following internationally recognized English tests:
TOEFL Paper-based: Score of 4.5 (scale 1-6) in written test, a total score of 575.
TOEFL ITP is not accepted.

TOEFL iBT internet-based: Score of 20 (scale 0-30) in written test, a total score of 90

IELTS Academic: A minimum overall mark of 6.5, with no section lower than 5.5

Cambridge ESOL: Cambridge English: Advanced (CAE) Certificate in Advanced English or Cambridge English: Proficiency (CPE) (Certificate of Proficiency in English)

Michigan English Language Assessment Battery (MELAB): Minimum score of 90

The University of Michigan, ECPE (Examination for the Certificate of Proficiency in English)

Pearson PTE Academic: Score of 62 (writing 61)
Specific requirements for the master's program in Industrial Management
A technical Bachelor's degree with a specialization in one of the following fields: Mechanical Engineering, Design and Product Development, Information and Communication Technology, Computer Science and Engineering, Materials Science and Engineering or equivalent. A Bachelor's degree with a specialization in Industrial Management does not fulfill the specific requirements.
A basic course in Industrial Management is however required to fulfill the specific requirements.
Application documents
Certificates and diplomas from previous university studies

Transcript of completed courses and grades included in your degree

Proof of English proficiency

A copy of your passport including personal data and photograph, or other identification documents
Specific documents for the master's program in Industrial Management
Curriculum Vitae

Letter of motivation

Completed summary sheet*
* In order for your application to be considered complete, you need to fill out the summary sheet. If you do not include a summary sheet, this may negatively affect your evaluation score.
Last updated Apr 2020
About the School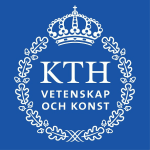 KTH Royal Institute of Technology has served as one of Europe's key centres of innovation and intellectual talent for almost two hundred years. Recognized as Sweden's most prestigious technical univer ... Read More
KTH Royal Institute of Technology has served as one of Europe's key centres of innovation and intellectual talent for almost two hundred years. Recognized as Sweden's most prestigious technical university, KTH is also the country's oldest and largest. With over 12,000 students and an international reputation for excellence, the university continues to nurture the world's brightest minds, helping to shape the future.
Read less