Program Description
Introduction
The Master of Industrial Design program explores design as a vehicle for addressing social, cultural, environmental and other concerns, recognizing that design is not simply a professional service, but rather a way of connecting individual interests and values with a social framework. The program endorses the notion that the most valuable design opportunities today are those promoting the preservation of our environment and a better understanding of human behavior.
The good industrial design is a necessity in order to create useful and ecologically justifiable products that can compete in a market flooded with goods and services. A Master's Degree in Industrial Design will enable students to develop strategically important products for the global industry. This programme combines basic knowledge, insight and working methods from aesthetics, engineering, and industrial design, and it emphasizes a combination of engineering qualifications and designer skills that gives students an excellent foundation for participation in product development projects, and after a few years of industry experience, qualifications for establishing and managing such projects. Hence, the degree programme is built around projects related to the design of products, goods, and services. The tasks are developed around real problems and with a focus on user needs and abilities based on innovation. Innovation requires breaking boundaries and making connections between diverse disciplines. As a creative profession, industrial design deals with the design of innovative, sustainable and durable solutions for people, nonhumans, economy, and society, which may take many forms from tangible artifacts to expansive system designs. Students of Industrial Design learn the basic principles of design, engineering, human factors, marketing, and sociology. They acquire such technical skills as computer-aided design and drafting, prototype fabrication, photography, sketching, and graphics techniques. Students are introduced to design methods, color theory, product planning, visual statistics, materials, manufacturing methods, consumer psychology and environmental studies.
Learning Outcomes
Students will develop an independent masters-level thesis project that reflects the design process according to current professional practice. Above all, emphasis will be placed on addressing human needs from the point of view of interface, ergonomic, social, global, historical, ethical, and commercial issues.
Students will acquire professional-level competence in two- and three-dimensional design, using aesthetic sensibility, digital/analog tools, and critical thinking, combined with a working knowledge of materials and methods in an environmentally responsible context.
Students will hone their writing to complement other presentation skills related to research, design concepts, theory, and development of a persuasive personal viewpoint verbally and in written documentation.
A special feature of Industrial Design in Kish Campus
Master of Industrial Design in Kish campus is a generalist, humanist design program that pays attention to students without prior design degrees, helping them to incorporate their previous backgrounds and interests in their work, and to enter the professional sphere with conviction, intelligence, and skill. As such, the Master's in Industrial Design (MID) program builds skill while it cultivates talent and prepares students for a much wider world of industrial design than ever.
Curriculum
The Master of Industrial Design requires completion of 32 credits, with 20 credits in the core courses and a minimum of 6 credits of elective courses. The program requires completion of a thesis of 6 credits. Admitted students with a different undergraduate degree are also required to complete a few credits of leveling courses which prepare such students for success in the Master of Industrial Design, these courses do not count toward the degree.
A minimum GPA of 14 over 20 must be maintained for graduation.
Leveling Courses (not applicable to the degree)
The Masters in Industrial Design assumes a B.A. degree in Industrial design. However, students holding any other undergraduate degree besides Industrial Design will be required to complete the following leveling courses that are designed to provide a background for the Master courses. These leveling courses are not counted for graduate credit towards the Master in Industrial Design.
Leveling courses: 7 courses required; 18 credits

Core Courses: 9 courses required; 20 credits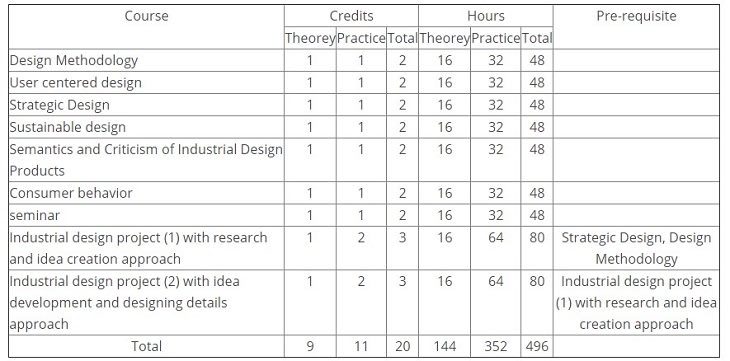 Elective courses: 6 credits required

Course Descriptions
Design Methodology
Course contents
Theory:
Getting familiar with different methods of designing:

Design methodology based on the logical patterns such as Nigel Cross
Design methodology based on Total quality Design
Methodology of Kansei
Methodology of Concurrent engineering
Other new methodologies (At least two or three of design methodologies should be instructed)
Practice:
In this part, students get ready for doing short-term projects based on the instructed methodologies in the classrooms. Students should choose a simple industrial topic at the beginning of the semester and work on it based on the instructed methodologies in a different session. In the end, students will be able to compare the results of doing a one-single project with different methodologies
User-Centered Design
Course contents:
Theory:
User-oriented concepts of design
Investigative the relationship between human beings and anesthetic aspects of products
Cognitive psychology
Engineering psychology and its implication in product and environment design
Interactive design
Familiarity with user-friendly design concepts and their relationship with universal design
Concepts and principals of universal design
Related branches:
Design for all
Barrier-free design
Accessibility
Adaptable design
Universal access design
Practice:
In this part, students doing a case study in design a user-oriented universal design are guided.
Strategic Design
Course contents:
Theory:
Defining Strategic Design
The nature of strategy and strategic approach in industrial design
Strategic management in the industrial design
Designing user experience
Touchpoint
Different types touch points
The process of strategic design
Fundamental variable in strategic decision-making
Strategies for expanding different services and products
Defining design management ( from different aspects of governmental, organizational, educational and social)
Planning for the development of design policies and missions and the workflow design in a way that designing could be considered as a part of production or product distribution
Service design
Corporate identity design
Branding
Designing Visual identity
Practice:
In this parts, students are guided for doing practical research project (individually or in groups) in designing public services such as banks, post offices, Insurance Companies, transportation terminals as well as intra and intercity transportation systems.
Sustainable Design
Course contents:
Theory:
Fundamental concepts of sustainable design
Recycling
Re-use
Repair
Remanufacture
Bio-degradable materials
Organic products
Renewable energies
Greens and eco-warriors
Pollutants and pollutions
Greenhouse cases
Weather change and acid rains
Deforestation
Garbage and Construction waste
Packing
Global warming
Culture and social-urban structures, and collective beliefs with a sustainable design approach
Governments, organizations, and regulations
Good and bad approach to sustainability
Fashion and short-lasting products transitive products
Long lasting design
Practice:
At this part, students are guided for doing a project in sustainability design
Semantics and Criticism of Industrial Design Products
Course contents:
Theory:
Semantics in design
Semiotics
Elaborating and criticizing form, content, and function of the products
Practice:
At this part, students are guided for doing a project (individually or in groups) in Semantics and Criticism of Industrial Design Products
Consumer Behavior
Course contents:
Theory:
Users as customers and consumers (similarities and differences)
Customers and decision-making process
Internal and external factors affecting customers' decisions
Analyzing customers behavior through research
The sense of being responsible for the process and making the sense of loyalty in customers
The role of distribution, packing, pricing, marketing process and advertisement and etc.
Type and method of life in consuming products
Global movements and consumers' rights
Negative behaviors of customers
POP and customers' behavior
Electronic commerce and the culture of customers behavior in eBay markets
Practice:
At this part, students are guided for doing a project (individually or in groups) in Consumer Behavior
Seminar
Course contents:
Theory:
Describing the process of research and its different types
Stating the problem, methodology and research goals
Developing Proposal
Ethics in Research
Searching databases and information retrieval systems
Writing literature review
Defining variable and the method of measuring them
Getting familiarity with data collection methods(observation, interview, and questionnaire)
Familiarity with statists
Report writing
Practice:
At this part, students are helped to run a research project within a 10- week period individually or in groups
Industrial design project (1) with research and idea creation approach
Course contents:
Theory:
Learning project management and familiarity with concepts such as:
Designing with cost approach
Time management and phasing the project implementation
Project Control
Learning innovative techniques and idea creation:
Brainstorming
TRIZ
Mood Map
Practice
At this part students are guided fording the following activities:
Preparing project proposal
Design management and project control
Doing project research with regards to the selected approach
Idea creation for meeting the needs of society
Industrial design project (2) with idea development and designing details approach
Course contents:
Theory:
The process of design development
The method of evaluating and selecting the best design
Production methods
Familiarity with materials, knowledge and cutting-edge technologies
Knowledge of using tools and advanced techniques in design projects such as Rapid Prototyping
Production management
Familiarity with methods such as DFA, DFM, DFX
Value engineering
Practice:
At this part students are guided for doing the following activities:
Evaluating ideas
Selecting the best idea
Developing the best idea
Implementing the idea with regards to the technical aspects and features
Computer-Aided Design (1)
Course contents:
Modeling with software Packages
Familiarity with outputs of a product such as STL, IGES, STEP
Computer-Aided Design (2)
Course contents:
Modeling with software Packages
Familiarity with outputs of a product such as STL, IGES, STEP
English for Design
Course contents:
Understanding the uses of English in different specialized and technical branches of industrial design trough learning specialized vocabularies. Although the purpose of this course is not to teach general concepts and grammar of English, they will be instructed for the students
Reading Comprehension
Reading books or articles on the industrial design (expanding vocabularies and learning structures)
Writing
Writing abstract for articles or thesis
Writing product description
Writing design brief
Writing Email
Writing CV
Speaking
Explaining and describing the design of a product in short seminars
Listening
Watching and listening to the speeches and related videos to industrial design
Communication skills and its methods of presentation
Course contents:
Learning presentation techniques for increasing students skills for participating in international conferences and job interviews
Speech skills
Prioritizing the content of the presentation
Communicating with the audience
Having effective speech
Question and answer
Time management
Visual skills
Using audio and video tools
Using PowerPoint Presentations
Using computer software packages such as "Flash" and "Movie Maker"
Non-computerized methods of presentation
Preparing a poster for presentation
Making portfolio
Considering professional points for communication with the employer
Entrepreneurship in Industrial Design
Course contents:
Concepts and definitions of Entrepreneurship
Different types of Entrepreneurship (organizational, independent, imitative, acquisitive, and opportunistic)
Process of Entrepreneurship
strategies for Entrepreneurship
different types of business
goals and method of planning in business
methods of running new business
Analysis feasibility
Preparing business plan
Managing business
Culture of companies
Types and management of risks in business
Developing ideas to achieve profitability
Planning for product sale
Entrepreneurship and internet
Writing contracts
Insurance contracts
Along with preparing a business plan students are guided for doing a beneficial entrepreneurship project
Industrial Design and World
Course contents:
Familiarity with modern approaches to industrial design
Familiarity with new styles of industrial design
Familiarity with different branches of this field in other countries
Being familiar with pioneers and distinguished figures of the field
Familiarity with successful international companies of industrial design
Familiarity with international competitions in industrial design
Familiarity with new materials and technologies of industrial design
Understanding other related areas of industrial design such as culture, civilization and architecture
Familiarity with informative sources of industrial design like books, magazines and websites
Traditional design and construction of objects
Course contents:
Familiarity with traditional methods of construction
Familiarity with traditional tools of stuff construction
Learning how to use Islamic-Iranian culture in designing products
Learning Islamic-Iranian symbols in the design
Investigating the role of design in the traditional process of construction
The process of design in the construction of a product
Familiarity with distinguished artists of the world in traditional design
Familiarity with the important centers of traditional design and construction
Design and Society
Course contents:
Theory:
Different types of the society (modern, traditional, rural and urban)
Culture and its different types
Lifestyles
Global transformations
Globalization
Consumerism
Consumer protection
Designing at national and international levels
Themed Environments
Social psychology and design
Mutual effects of design and social change
Ecology of products
Spirituals and ethical responsibilities of designers
Products and social diseases
Practice:
In this part, students doing a research study about design and society are guided.
Final Project
The final project will be done individually under the supervision of the supervisor. Firstly, the proposal of the project will be prepared by the students and will be sent to the department for the approval. This project could be run as a complementary part of the previous projects in form of one of the following approaches:
Doing a research project which leads to an article that could be published in national and international peer-reviewed journals
Doing a research project that ends in writing a thesis
Last updated Mar 2018
About the School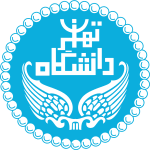 Kish International Campus was established in 2007 in order to facilitate the enrolment of foreign students.
Kish International Campus was established in 2007 in order to facilitate the enrolment of foreign students.
Read less