Master in IT Innovations in Business
Home ›
Master ›
Master in IT Innovations in Business
Read more about this program on the institution's website
Program Description
Program goals
The goal of the master's program is to train highly qualified IT service managers of enterprises and government agencies, as well as leading consultants and project managers of IT companies capable of developing the architecture and IT infrastructure of small and medium-sized enterprises.
The organization of one's own business during the process of training based on innovations in information technology is highly welcome.
Program advantages
The IT Innovations in Business master's program is a unique multidisciplinary program that provides its graduates with the knowledge and skills necessary to maximize the potential of digital technology to achieve success in business.
The peculiarity of the organization of courses and the educational process of this program is that students do not learn technology itself, but how to keep up with the development of technology.
The program gives the student an understanding of the features of the interaction of business and information technology and covers all areas of knowledge necessary for this - project management, entrepreneurship, web development, data analysis, enterprise architecture and IT infrastructure, knowledge of networks, and security.
The program focuses on the development of existing and designing new information systems for business, as well as the introduction of information technology in enterprises that provide digitalization of the economy. Thus, the program provides students with a unique combination of competencies for successful work in the field of IT, including the creation of concepts for new IT products for business.
The educational process is based on the implementation of a real project to create a new product or system for a business.
Students themselves choose a real project in the first year of graduate studies or continue to promote and accompany a project developed during their training in undergraduate or specialty degree.
When studying the modules of the curriculum, interdisciplinary projects are carried out, which are part of a real project, where students demonstrate skills in applying the knowledge of individual disciplines to develop their business project.
After going through all the stages of the project, students understand what area their interests lie in: business analytics, data analysis, web design, corporate systems support, marketing, including social networks, programming, or, having studied all stages of the project, they want to be managers and managers IT projects.
At the intermediate stages of project implementation, experts from employers participate in evaluating the results, not only assessing the work of students but, first of all, helping to promote the project as practitioners.
6. Students choose only those professional modules that they need for professional development and which can really be useful to them in their chosen field of work.
Program teachers
Practicing specialists in the field of design, development, implementation of software for business, etc.
Scientists with significant experience in fundamental and applied research in the field of management in social and economic systems.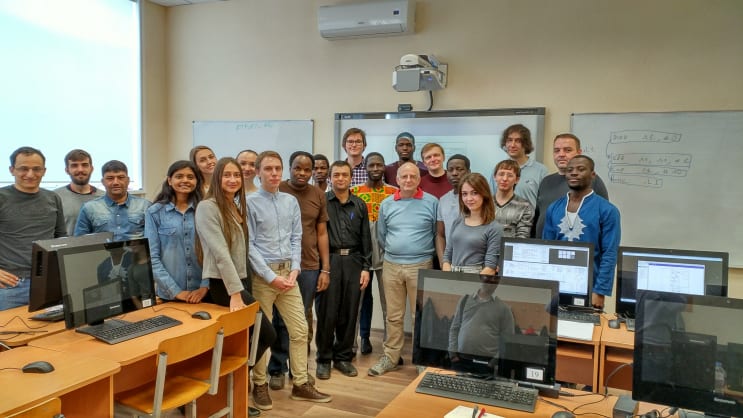 Learning outcomes
Modern areas of business and information management are in dire need of our graduates who are capable of:
Using modern information and communication technologies (ICT) in business.
Determining enterprise or organizational policies in the field of information systems and ICT.
Ensuring the development of a joint strategic and corporate ICT development plan.
Creating information models of business processes and determine the composition and functions of IP.
Making rational decisions on the integration of individual information systems.
Analyzing the need for research of big data of interested persons or organizational units
The graduates of the IT innovations in the business program are valued by employers for their professional competencies such as:
The ability to develop original algorithms and software, including using modern intelligent technologies, to solve professional problems;
The ability to organize research on new markets for information and communication technologies;
The ability to create concepts for new IT products for business;
The ability to organize entrepreneurial activities in the field of IT.
Key courses
Decision Support Tools
Project activity
IT Innovations in Business
Development of Web Applications for Business
E-business tools / Methods of data analysis and modeling / Information architecture of business
E-business information technology / Data management in information systems architecture
Analysis and Design of Information Systems for Business / Modeling and optimization of business processes
Career opportunities
Graduates of this program will receive qualifications for work in IT services of enterprises in various industries, fields, and forms of ownership, institutions, and organizations, including financial, credit, and insurance institutions, municipal authorities, and the government, academic institutions, and research organizations.
Opportunities for continuing research
The graduate who has mastered the main educational program in the study area officially known as 09.04.03 "Applied Informatics" can continue his/her postgraduate studies in scientific specialties 05.13.18 Mathematical modeling, numerical methods and software systems, 09.06.01 Management in social and economic systems, under the guidance of lecturers and IRIT-RTF researchers.
Specific admission requirements (if any)
Bachelor's, master's, specialist's degree;
English proficiency not lower than level B1;
Successful completion of the written entrance test on the theory of communications and PR (in remote format);
Successful completion of the Skype interview with the representatives of the program based on test results.
Last updated Nov 2020
About the School

Ural Federal University (UrFU) is one of the leading and largest higher educational institutions in Russia bringing together fundamental education and innovative approach towards the challenges of mod ... Read More
Ural Federal University (UrFU) is one of the leading and largest higher educational institutions in Russia bringing together fundamental education and innovative approach towards the challenges of modern times. Ranked 331st in the QS World University Rankings, UrFU is a world-class university in the heart of Eurasia committed to the sustainable development of research and teaching.
Read less