Master in Governance and Management in the Public Sector
Home ›
Master ›
Master in Governance and Management in the Public Sector
Read more about this program on the school's website
Program Description
Study programme
This Master's programme is about managing complex societal challenges in the public sector and how to govern the networks of the actors involved in order to solve wicked problems.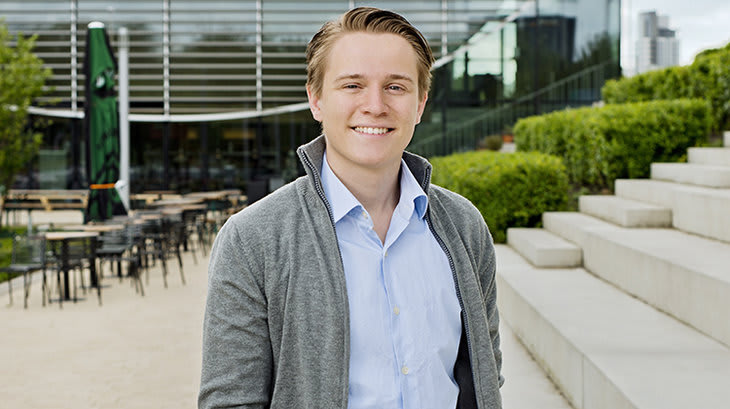 Mode of education
The programme provides in-depth theoretical modules, as well as a series of Governance Labs that offer opportunities to learn and practice scientific and managerial skills in real-life settings. Inspirational guest lectures from experts in the field enable the transfer of knowledge and experience. A research design course prepares you for writing a Master's thesis. In this thesis, students demonstrate their knowledge and skills of analysing and devising governance network strategies which deal with actual, complex societal challenges.
Elective Governance and Management in the Public Sector
As part of the curriculum, students must take an elective worth 5 ECTS credits. Time is given for this mandatory elective in the third block of the programme. Students are free to take an elective in block 1 or block 2. Please be aware that this will lead to a higher study load. Therefore, we recommend choosing from one of the electives in block 3 unless you are highly interested in another elective course in block 1 or block 2.
Apart from the courses offered at the department, there is a selection of pre-approved courses at ISS, IBMG, ESE and ESHCC that students may follow.
The curriculum is subject to change. No rights can be derived from this information (including the information via the hyperlinks).
Curriculum
The programme presents theories on new forms of governance and management which deal with the complex challenges the public sector in the current network society faces. Challenges like climate change, the greening of the economy, sustainable water management, new forms of mobility, integrated care, urban revitalisation, new safety and security risks, the rise of social media and the platform economy (e.g. the companies Uber and Airb&b), cannot be dealt with by the government alone. They require collaboration between various governments, businesses, knowledge institutions and societal groups. To enable this collaboration, new forms of governance and public management are needed.
Challenges and governance solutions are relevant for governments operating at local, regional, national and international levels worldwide. The lectures of this programme are taught by internationally well-known scholars.


Block 1

Dilemmas of modern governance
Policy Innovation in Complex Systems
Designing effective governance institutions
Governance Lab

Block 2

Media, Governance and Politics
Managing Interactive Governance
International public management
Governance Lab

Block 3

Elective
Governance Lab
Research design
Master thesis (start)

Block 4

Master thesis (final research project)
Electives - Master Governance and Management in the Public Sector
Block 1

Global Governance
Comparative Public Policy
European Union Policy-making

Block 2

Europe in the World
International Organisations and Development

Block 3

International Society and Democratic Institutions

Why study Master Governance and Management in the Public Sector
In the Master Governance and Management in the Public Sector at Erasmus University Rotterdam you learn how to govern complex societal challenges which the public sector currently faces.
In our globalised and complex network society, there is an increasing need for experts who demonstrate analytical skills and connective leadership. Modern public professionals need to have an entrepreneurial attitude and a strong ethical compass. Network managers are needed to enhance collaboration among various societal parties in order to create innovative solutions and high-quality public policies and services that current societal challenges require. This Master's programme trains you to become such a network manager. You will learn from the best, as the Department of Public Administration at Erasmus University is ranked worldwide number 1 in the Shanghai Ranking 2017 for public administration.
What is this specialisation about?
The public sector in our current society faces many complexes, wicked problems such as climate change, health issues like obesity, environmental degradation, traffic congestion, and the disruptive innovation by for instance Über and Airbnb. In addition, public safety and security issues, the renewal of public infrastructure, the revitalisation of cities or the provision of integrated public services and care are all topical issues in need of adequate solutions. What makes these problems wicked is the presence of networks of governments, businesses, societal groups and citizens with divergent interests and preferences. In order to handle this complexity and govern these networks, a set of unique management skills is necessary:
Scientific skills to analyse complex problems as well as the processes and networks in which they evolve.
New management and leadership skills to connect to actors and resources.
Entrepreneurial skills in order to initiate and realise innovative solutions.
Ethical skills, which are a prerequisite to operating as a trustful and respected broker between various actors with different interests, perceptions and value orientations.
Why choose this programme?
This programme offers:
A combination of theory and practice. You will follow lectures and you will work in governance labs on finding solutions for governmental problems.
Core courses and Governance Labs in a small peer group of students from various countries.
Education in the analysis and the management of complex societal challenges.
Classes by leading scholars in the world of governance and networks.
A series of social activities, a mini-study trip and - if your class wants to organise it - a study trip abroad (in 2017 students went to Budapest; in 2018 to Edinburgh).
A degree in Public Administration, with a specialisation in Governance and Management in the Public Sector.
An education at the Department of Public Administration, one of the globally leading departments which holds a number 1 position on the authoritative Shanghai ranking.
The possibility to study at Erasmus University with its excellent international reputation and an attractive modern campus located in the vital city of Rotterdam.
Social activities
Each year students establish a Social Activities Organising Committee (the SAOC). This committee coordinates initiatives of students to organise informal drinks, dinners and festivities. The committee is also involved in the organisation of study trips.
Highlights of the programme in recent years:
The yearly mini-study trip of 1 day. The last couple of years we visited Antwerp. The study trip included a guest lecture on the conflict over the construction of the Antwerp ring road and a site visit.
The study trip. In 2017 students organised a study trip to Budapest. The study trip is on a voluntary basis. In 2018 the destination was Edinburgh. Since the study trip coincided with a renowned international conference (The international Research Seminars on Public management –IRSPM), several international scholars were invited to give guest lectures to the students.
International guest lectures (a selection of the lectures from the past years):

Prof. Tony Bovaird (University of Birmingham, UK) on citizen participation and co-production (February 2016);
Prof. Graeme Hodge (Monash University, Melbourne Australia) on public-private partnerships (November 2016);|
Prof. Jacob Torfing (Roskilde University, Denmark) on public innovation (March 2017)
Prof. Christopher Hood (Oxford University, UK) on the past and future of public administration and management (November 2017);
Prof. Robyn Keast (Southern Cross University, Goldcoast, Australia) on network governance (April 2018).

Student excellence. Juste Smitaite (Bachelor's degree Political Science, Vilius University, Lithuania) received the Unilever Research Award 2017 for her Master's thesis titled "Interdisciplinary Collaboration: Capturing a Progress of Scientific Knowledge Integration in Globaqua project" (The Globaqua project is an interdisciplinary research project which comprises leading scientists from all over Europe, and focuses on integrated river basin management). Juste is currently working as an international account executive at the Havas Media Group in Frankfurt, Germany.

Career opportunities for Master Governance and Management in the Public Sector
You will be trained to become a policymaker, consultant, public manager or project manager who can participate in, as well as facilitate, collaborative governance practices.
Master's studies in Public Administration
The Master' Governance and Management in the Public sector provide insights, tools and competencies that can be applied to govern and manage problems and networks found anywhere in the modern world.
After completing this specialisation you will be able to identify and analyse complex societal challenges with regard to public problem solving, policy-making and services delivery. You will be able to function as a broker between actors whose resources and willingness to collaborate are essential in order to deal with these challenges. You are educated to organise and manage collaborative governance processes that are necessary to develop innovative, legitimate and high-quality solutions, policies and services.

After graduation you might consider working as:
A member of a project team that manages the development of large public projects (e.g. a windmill park, a railway connection or a water engineering project).
A policy advisor, public affairs officer or consultant who reflects on a complex problem like care for vulnerable people, the protection of ecological systems or the development of innovative regions.
A government official working on plans like the extension of a city's harbour area or the revitalisation of a neighbourhood. In this position, knowledge needs to be shared between governmental agencies, private firms, societal groups and local residents.
A manager or professional at a non-profit organisation (e.g. in the field of housing, safety, (health) care, education, human rights or transport) who provides integrated and tailor-made services.
As a researcher, studying the governance and management of complex societal challenges in the public sector.

Factsheet summary
Official CROHO name: Public Administration
Programme name: Governance and Management in the Public Sector
Instruction language: English
Type: Master
Duration: 1 year
Location: Campus Woudestein, Rotterdam
Tuition fees (2019-2020):

€2.083 (Statutory fee)
€11.900 (Institutional fee: EEA/EU students)
€14.900 (Institutional fee: NON-EEA/EU students)
Last updated Feb 2020
About the School

ESSB is home to a vast diversity of study programmes and scientific disciplines: Public Administration, Pedagogical Sciences, Psychology and Sociology. In addition, the Erasmus University College, IHS ... Read More
ESSB is home to a vast diversity of study programmes and scientific disciplines: Public Administration, Pedagogical Sciences, Psychology and Sociology. In addition, the Erasmus University College, IHS, and two research institutes RISBO and DRIFT are linked to the faculty. Our education is small-scale and based around Problem Based Learning (PBL). Being connected to the professional field is another characteristic of our study programmes.
Read less