Master in Global Business
Program Description
Programme Overview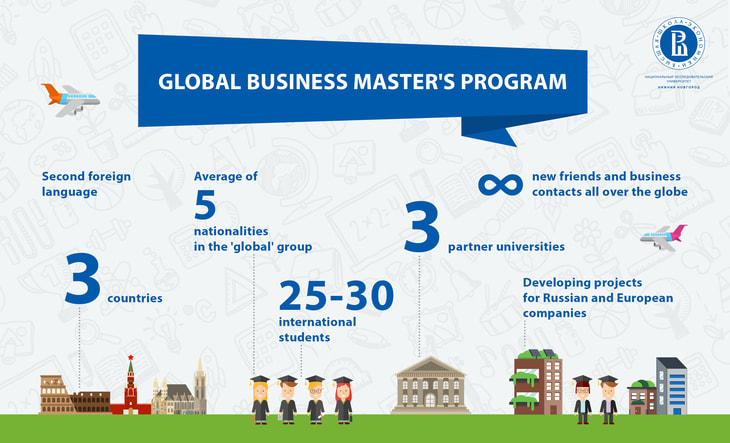 The Global Business Master's programme prepares students to work in a global environment. It covers the foundations of general managerial theory and practice; various functional aspects of management within companies that operate on the global market, including strategy, marketing, HR management, and company finance; the specifics of conducting business in the context of different countries; last but not least, negotiation and communication skills.
Three universities from Slavic (Russia), Germanic (Austria) and Latin (Italy) Europe have joined forces to offer students an opportunity to gain a hands-on experience in the business and academic environments of the world's leading economic regions. The environment in which students learn is authentic in each region as the respective part of the programme is delivered by local faculty and practitioners. During the Italian term, professors, students and companies will work together to share expertise and knowledge with the students working on real business projects for Italian companies.
In this unique set-up, students are able to develop a global mindset and enhance their social and cultural competences. Learning is achieved through both content acquisition and cross-cultural team interactions. Cultural understanding is brought about by self-reflection on cultural experiences and active immersion in the target cultures. To enhance the process, the programme places a strong focus on language acquisition of the target languages (English and Russian/Italian/German).
The programme is a life-enriching experience that fosters the development of students' personalities and provides a lasting impact on their levels of tolerance for diversity, ambiguity, and openness. Each student is given opportunities to explore different areas of study within and beyond basic academics, to develop talents and to become business leaders of the future.
Curriculum
Academic Writing (Adaptation Course)
Finance (Adaptation Course)
Research Methods in Management
Business Strategies in Global Environment
International Marketing
Advanced Finance
Russian Business Context
Business Context in Austria
Italian Business Context
International Human Resource Management
Global Governance
International Trade Law
Negotiations
Management Accounting
Advertising strategy
Career Opportunities
Global Business Master programme is developed for students who have a strong commitment to a career on a global scale. GB programme prepares students to become project executives and managers in:
International and foreign companies (e.g. branches and affiliates),
Russian companies seeking business opportunities abroad,
Own business and startups (e.g. operating internationally).
Our graduates have a strong theoretical and practical foundation as they possess the managerial, cultural, linguistic and networking skills to be part of and lead a multicultural team.
Some of the employers of Global Business graduates and current students include:
Prokter&Gamble
Mercedez-Benz
Volkswagen
IProspect (part of Dentsu Aegis Network group)
Tannpapier (Austria)
Paper Planes (Data-driven marketing)
Lumiere Boreale Europe (Estonia)
Mettle Media Ltd.
British American Tobacco
Requirements
In accordance with the educational standards of HSE, Global Business programme requires a bachelor's or specialist degree for enrolment. No specific background in Management or Business is required, however, degrees in Management, Business, Economics or related fields will be considered as a plus along with any relevant short courses, training, summer/winter schools, etc.
No previous work experience in the sphere of management is required but will be considered a plus.
Enrollment process does not consist of any exams. We accept applications on the basis of the portfolio. Your portfolio should include:
Completed application form,
Resume/CV,
Letter of motivation (maximum 1 page of А4 format, in English),
Scans of diplomas and academic transcripts,
Two letters of recommendation,
A scan of English proficiency exam results (IELTS, TOEFL, CAE, BEC Higher, etc.).
Minimum scores:
IETS: 6 overall and higher,
TOEFL: 80 IBT; 500 PBT and higher.
Applicants should submit test results no more than two years old.
Native speakers of English and students who have completed an entire degree exclusively in English do not need to submit proof of their English ability.
Applicants with no proof of English proficiency will be offered an interview online or on-site to evaluate their English language skills.
To increase your chances of being selected you may also include the following:
Publications and research work,
Academic awards, specialized diplomas and certificates,
Grants and scholarships received,
Documents evidencing the completion of courses, workshops, training and other in the field of Management and/or Business.
All submitted documents should be high-quality scans, not photos.
Last updated Feb 2020
About the School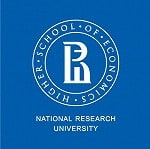 Consistently ranked as one of Russia's top three universities, the Higher School of Economics (HSE University) sets itself apart by its internationally-minded, research-driven approach to higher educa ... Read More
Consistently ranked as one of Russia's top three universities, the Higher School of Economics (HSE University) sets itself apart by its internationally-minded, research-driven approach to higher education. Based in the vibrant center of Moscow, with campuses in St. Petersburg, Nizhny Novgorod and Perm, HSE offers outstanding academics at all levels and includes more than 25 English-taught Master's programmes and 8 English-taught Bachelor's degree programmes.
Read less