Master in Global Business and Economics
Home ›
Master ›
Master in Global Business and Economics
Read more about this program on the institution's website
Program Description
The program is based on the long-term experience of staff, students, graduates, management experts, and business professionals.
Learning outcomes of the program are achieved by integrating theoretical knowledge and practical skills.
The studies are delivered in an intensive manner, based on a modular principle.
For the best students, the program offers an experience under double-degree programs with Parthenope University of Naples (Italy) and the University of Parma (Italy).
Admission Requirements and Selection Criteria
Bachelor's degree or its equivalent;
No less than 20 ECTS credits in the fields of economics, management, business administration, finance, accounting, marketing, or the acquired analogous practical experience which is substantiated in the motivation letter and during the interview and is proved with a certificate from the employer;
English language proficiency – the level not lower than B2 (following the Common European Framework of Reference for Languages (CEFR)*.
*Applicants from Belarus who do not have a test taken may apply without it because their language proficiency will be checked during an online interview.
International Mobility
Students can participate in the ERASMUS+ mobility program or use VU's Bilateral cooperation agreements which gives an opportunity to study at VU's Partner Universities or do an internship abroad.
Career Opportunities
Managers and experts of international and local business companies, public and non-governmental organizations, research and educational institutions, as well as in other organizations where global business projects are being developed and implemented;
Entrepreneurs.
©Vilnius University
Student Testimonials
Mohamed Mounir Abdelmoneam Halawa, 2016 graduate from Egypt
"My journey with Vilnius University dates back to 2011 as an Erasmus BSc. student through which I spent an adventurous and mind-opening year. Later after graduation, I decided to pursue my master's in management. Based on an outstanding educational and living experience in Lithuania and while comparing its tuition fees to other universities in Europe, I did not hesitate in signing up for the IBEM program because it was simply the best return on investment. Along a year and a half, I had another outstanding experience with qualified Lithuanian and international professors, amazing classmates from more than 15 countries, and an exchange semester in France."
Eriselda Barjamaj, 2016 graduate from Albania
"The studies at IBEM program were a significant opportunity in terms of academic experience and beyond. The quality of the lectures exceeded my expectations. The ability to experience the teaching methods of professors from many different countries was another side of making the program more interesting. I was honored to be given the Vilnius University Scholarship introduced to international master students which was a great help and incentive to perform highly. During the time at VU, I was able to participate in some projects, pursued an internship at a consulting company in Vilnius, and received an Erasmus Traineeship to pursue an internship abroad, which resulted in my current employment."
Zhang Zhang, 2016 graduate from China
"In 2012, I was chosen to take part in the Summer Camp of Lithuanian Language and Culture and obtained the chance to have an exchange study in 2013 in VU.
After completing my bachelor study, I applied directly to the master's program of IBEM in VU with delight. I was granted a national scholarship to have my master study, where, with my master of the language and previous friends, I found life went so smoothly. The most fantastic is that I even got the chance to have an ERASMUS exchange study in Paris.
In regard to the study, courses are all arranged at the after-work time, which is of great convenience for your career experience gaining as you can work normally and still catch up with your studies. Students are of great variety, from many other nations where you might hear for the first time.
Last updated Jan 2021
About the School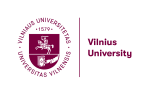 Welcome to Vilnius University – the oldest and largest Lithuanian higher education institution. Since its establishment in the 16th century, Vilnius University, as an integral part of European science ... Read More
Welcome to Vilnius University – the oldest and largest Lithuanian higher education institution. Since its establishment in the 16th century, Vilnius University, as an integral part of European science and culture has embodied the concept­ of a classical university and the unity of studies and research.
Read less