Program Description
This two-year course of study will provide the graduate with a general view of agriculture in terms of animal breeding, plant production and mechanization. Students will become acquainted with the whole area of agricultural primary production, business management and the manufacture of animal and plant products.
Also included in the curriculum are the strategies that should lead to sustainable development of agriculture using economic instruments and technologies to produce an all-rounded graduate. Ideal for Bachelors with agricultural, food production and scientific educational background.
Successful students will be awarded a master's degree have the right to use the title "engineer".
Dates:
The enrolment process will open mid-December 2019.
DEADLINE: March 31, 2020
Conditions:
English level at least B2
Prior Bachelor education in Agriculture, Biology, Food Technology, Agribusiness or similar - recognizes.
Payment of tuition fee (figure for 2018/19) CZK 80,000 per annum (approx. USD3500) while the application fee is waivered for tuition-paying students.
How do I apply:
Fill in the online application and send the scan together with the scans of your Bachelor diploma and diploma supplement/transcript of records to the contact email address.
Get your Bachelor degree in agriculture-related fields – validated.
RECOGNITION OF BACHELOR EDUCATION
To study in the Czech Republic on Master level you need your Bachelor education recognized. For recognition you will need the following documents:
Bachelor diploma - officially authenticated copy.
Transcript of records - officially authenticated copy.
All required documents must be in English or Czech. If they are in neither of these languages, they must be officially translated into one of them. For successful recognition, your Bachelor study must be at least 6 semesters long. If you study can be recognized at MENDEL UNIVERSITY, the fee charged is CZK 3000 to be paid prior to the recognition procedure.
Please read these instructions carefully. If you are serious about studying in the Czech Republic, start gathering authorized documents as soon as you put in an application as this process is time-consuming!
Graduates' profile:
well-versed in the typical crops planted for human or animal consumption as well as industrial and energy crops in the EU and their agro-technical requirements.
able to identify factors influencing the production of a specific crop in a specific location.
able to calculate the potential yield of crops in different cropping systems, and design and manage the most appropriate harvesting and primary product pre-processing approach.
know the main groups of animals bred in the EU and farm animal husbandry production goals.
able to recognize the factors determining production capacity as well as the quality of production in terms of animal husbandry production systems and recognize biological (welfare) limits.
acquainted with typical primary agricultural product processing technologies for the purposes of food production.
know animal feeds and the rudiments of processing industrial crops.
able to choose and economically assess the suitable processing of primary products in typical commodity verticals.
can communicate with farm specialists in at least two languages and monitor work processes in primary agricultural production as well as by product processing or providing services in agriculture.
able to act independently in evaluation and market application and verify the best way to monetize agricultural primary and secondary products.
Courses
1st year
Landscape Ecology
Soil Microbiology
Fertilisation systems of Field Crops
Feeding Technology of Farm Animals
Applied Genetics in Agriculture
Waste Management
Pasture and Grazing Management
Vocational Practice
2nd Year
The mechanization of Production Processes
Preservation and Storage of Forage
Business Management
Production Systems in Animal Production
Plant Breeding
Yield Formation in the Field Crops
Plant Production Systems
Breeding Programs of Farm Animals
Zoohygiene and Disease Prevention
Elective courses (min 4)
Ecology Systems of Animal Production
Tropical and Subtropical Pastures
The technology of Food Products 1
Fisheries
Organic Agriculture
Scholarships
Faculty of AgriSciences has a range of scholarships available to all students, like accommodation or study performance scholarships.
Start of study date
October 1, 2020
Last updated May 2020
About the School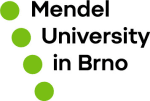 Mendel University in Brno is the oldest independent specialized university in the Czech Republic. It was established as the University of Agriculture in Brno in 1919, and since 2010 it has been using ... Read More
Mendel University in Brno is the oldest independent specialized university in the Czech Republic. It was established as the University of Agriculture in Brno in 1919, and since 2010 it has been using the name Mendel University in Brno (MENDELU). The university has a diverse community and a global network of students, staff and alumni (see https://bit.ly/2UieUCw)
Read less