Program Description
About
The Foreign and Second Language Education (FSLE) program prepares students for rewarding careers in teaching foreign and second languages, including teaching English to speakers of other languages (TESOL, ESOL), in various educational settings around the United States and overseas. We offer both research and practitioner degrees at the master's, specialist, and doctoral levels.
In the master's program, you have the opportunity to follow either an education or a research track. The education track offers solid theoretical and practical training to prepare you for the teaching of second languages in the United States or abroad. In addition to offering the same coursework, the research track provides you with the opportunity to participate in individual and/or group research related to second language learning and teaching culminating in a thesis. This track also prepares you to pursue your FSLE education at the doctoral level. Our master's program is offered online and on-campus.
Our education specialist (Ed.S.) program is an advanced master's degree. Applicants to the Ed.S. program should already hold a master's degree in an area of Foreign and Second Language Education or related field. The purpose of this program is to expand your skills and knowledge in your current area of preparation or to extend your skills and knowledge to another area of Foreign and Second Language Education. You will have the opportunity to write a thesis or complete supervised research, pass comprehensive exams, or defend a portfolio or final project.
In the doctoral program, you will take courses in foreign and second language teaching methodology, second language acquisition, research methods, language assessment, the psychology of language learning, as well as educational psychology and policy. You will have the opportunity to conduct individual and team research on current issues in second language teaching and learning and present research findings at major scholarly venues.
Admission Requirements
In order to meet minimum University admission requirements, applicants must have:
A bachelor's degree with at least a 3.0 GPA – An earned bachelor's degree from a regionally accredited U.S. institution, or a comparable degree from an international institution, with a minimum 3.0 (on a 4.0 scale) grade point average (GPA) in all coursework attempted while registered as an upper-division undergraduate student working towards a bachelor's degree.
GRE test scores. Official test results are required from the General Test of the Graduate Record Examination (GRE). These scores are considered official only when they are sent directly to the Office of Admissions from the testing agency. Examinee copies are not considered official. Graduate Record Exam (GRE): http://www.ets.org/ – FSU Institution Code: 5219.
M.S. and Ed.S. Applicant Target Scores:
Verbal – 146+
Quantitative – 140+
Ph.D. Applicant Target Scores:
Verbal – 151+
Quantitative – 145+
Writing – 3+
The Educational Testing Service (ETS) does not retain scores longer than five years. If your test scores are older than five years, you may have to retake the test to have official scores sent directly to FSU from the testing agency. If you have the report that was mailed to your home address for older scores, then FSU will accept that report.
Language proficiency test (international students only)– FSU accepts scores from TOEFL (minimum 80), IELTS (minimum 6.5) and MELAB (minimum 77).
Transcripts – Applicants must submit an official transcript (in a sealed envelope) from each college and/or university attended to the Office of Admissions. The address for submitting transcripts is:
Florida State University
Office of Admissions
282 Champions Way
P.O. Box 3062400
Tallahassee, FL 32306-2400
Applicants must upload the following REQUIRED supporting documents to the Admissions Application Portal:
Statement of purpose – should describe your purpose for pursuing a degree, qualifications and long-term career goals.

A one-page document for M.S. and Ed.S. applicants
A two-page document for Ph.D. applicants

Letters of recommendation

Two (2) for M.S. and Ed.S. applicants
Three (3) for Ph.D. applicants

One page resume/curriculum vitae
Writing Sample – it is acceptable to submit a paper used in another class, or one that was published.
Application Deadlines
Master's and Specialist programs:
Fall: July 1
Spring: November 1
Summer: March 1
Career Opportunities
Curriculum choices in our master's and specialist programs are designed to enable students to become teacher leaders, college instructors, as well as curriculum specialists, state testing specialists and textbook company representatives. Doctoral program graduates are prepared to become university professors, researchers, and leaders in the field.
According to the U.S. Bureau of Labor Statistics, job outlook for teachers is expected to grow 7 percent through 2020. The job outlook for instructional leaders/coordinators is expected to grow up to 20 percent through 2020. That translates into over 200,000 new jobs nationwide. The median national annual salary range for these job classifications is $53,230 to $58,830 per year. In the state of Florida, foreign and second language areas are identified as critical shortage areas. For university or college professors, the Bureau predicts a 17% increase in jobs by 2020; totaling 305,700 jobs in the 2010-2020 time span. The median national salary is $62,050 per year.
A career in education can be very rewarding, and a typical path offers ample opportunities for professional development and growth. Educators make a difference in the lifelong learning experience of their students, as well as, the quality and standards of the programs they teach.
Last updated Aug 2020
About the School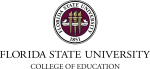 One of the nation's elite research universities, Florida State University preserves, expands, and disseminates knowledge in the sciences, technology, arts, humanities, and professions, while embracing ... Read More
One of the nation's elite research universities, Florida State University preserves, expands, and disseminates knowledge in the sciences, technology, arts, humanities, and professions, while embracing a philosophy of learning strongly rooted in the traditions of the liberal arts and critical thinking.
Read less