Program Description
Programme overview
The Master's programme (38.04.08) in Finance (MiF) provides training for both professionals in financial and risk management, and for scholarly researchers in the area of finance.
The programme focuses on creating and developing competencies in financial management and risk management for financial institutions and non-financial companies. The main emphasis is on contemporary theory and modern practices in corporate finance and risk management. At the same time, the programme provides fundamental knowledge in the broad area of finance that ensures our graduates are prepared for a diversity of career pathways, including in, the real sector of the economy, banks, investment funds, consulting companies, insurance companies and elsewhere. The focus on research-based teaching, delivered through a combination of student research projects, internship opportunities, dissertation work and taught courses also equips students for entry into an academic career via a PhD programme.
The programme is designed to serve different types of students. For graduates in Economics or Finance, the programme is an ideal opportunity to continue and deepen their studies, but it is also suitable for strong students with a previous background in other subject disciplines. We incorporate 'adaptation' modules that are designed specifically for helping the transition from other disciplines into the finance sphere.
The programme has been thoughtfully designed through a process of collaborative work between researchers and practitioners in the area of Finance and has involved international benchmarking, incorporation of best practice and understanding how best to exploit the local comparative advantages. It complies with the Law of the Russian Federation on Education and, through this, a set of educational and professional standards, regulations and other approved documents of the federal and institutional levels. It is also aligned to international standards and requirements, including the European Qualifications Framework (EQF).
Intended Programme Learning Outcomes
Knowledge and Understanding
Understand the challenges of uncertain economic environment, assess them and take appropriate financial and investment decisions
Demonstrate deep knowledge and critical understanding of theories, principles, concepts and methodologies in finance
Intellectual skills
Use strong analytical skills and apply them to solve practical problems
Examine and critically appraise research methods and tools relevant for research in finance
Plan and perform an independent research project in the area of finance
Evaluate and design financial strategies for companies and financial institutions in a turbulent environment
Professional skills
Evaluate risks of financial decision-making in different contexts
Take the responsibility and persuade the audience in the efficiency and reasonability of your decisions
Demonstrate a range of generic skills including information and time management, team and project work, computing and autonomous learning
Demonstrate an innovative, open and ethical mindset
Curriculum
According to the Russian educational standards, the programme includes 6 mandatory courses (marked with green colour) and 8 electives (marked with orange colour). To smooth the academic progress for students who never studied Finance previously, the programme proposes optional adaptation courses (marked with blue colour), which do not have an ECTS score. Research is a compulsory part of the study process. Research seminar goes weekly; at the 1st year students perform a term paper; internship and master's dissertation are the research activities for the 2nd year.
The duration of the Programme is 2 years (4 semesters), which corresponds Russian Legislation; each semester consists of 60 ECTS and divided into 2 quarters. Each quarter is completed with a mid-term control. The study load is usually around 20 contact hours per week at the 1st year and 16 hours at the 2nd year, including the Research seminar.
The curriculum structure is presented below.
Admissions Requirements
Citizens and non-citizens of the Russian Federation including exchange students are welcome to apply:
Bachelor's degree or equivalent, duly legalized and notary translated into Russian language (a university transcript can be submitted at the stage of application);
IELTS 6.0 / TOEFL iBT 80-90 / TOEFL PBT 500-550 / CAE / CPE / BEC (English natives and applicants whose previous degree was delivered in English language are exempt from his requirement);
Online application package;
CV and Motivation letter (300-500 words);
At least 1 reference letter;
Skype interview.
Native speakers of English and students who have completed a degree exclusively in English do not need to submit a proof of their proficiency in English. All other applicants should submit test results that are no more than two years old.
Last updated October 2019
About the School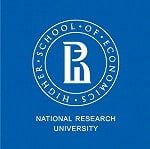 Consistently ranked as one of Russia's top three universities, the Higher School of Economics (HSE University) sets itself apart by its internationally-minded, research-driven approach to higher educa ... Read More
Consistently ranked as one of Russia's top three universities, the Higher School of Economics (HSE University) sets itself apart by its internationally-minded, research-driven approach to higher education. Based in the vibrant center of Moscow, with campuses in St. Petersburg, Nizhny Novgorod and Perm, HSE offers outstanding academics at all levels and includes more than 25 English-taught Master's programmes and 8 English-taught Bachelor's degree programmes.
Read less