Master in Finance and Accounting (1st semester - online ready)
Home ›
Master ›
Master in Finance and Accounting (1st semester - online ready)
Read more about this program on the school's website
Program Description
Scholarships for the best candidates
Candidates for a full-time program, who have achieved at least 80% of the points from the entry test will have the possibility to apply for the "Scholarship for the Best Candidates".
The awarded candidates are chosen based on a ranking system.
Only the application submitted until the 15th of July will be considered for the scholarship. The candidates, who were granted a scholarship will be informed about it at the latest on July 31st.
In 2018 Kozminski University was ranked 17th in the world in the Global Masters in Finance Ranking published by "Financial Times". It is the only university ranked from Central and Eastern Europe.
The Master's Program in Finance and Accounting has been accepted into the CFA Institute University Recognition Program. This status is granted to institutions whose degree program(s) incorporate at least 70% of the CFA Program Candidate Body of Knowledge (CBOK), which provide students with a solid grounding in the CBOK and positions them well to sit for the CFA exams.
Graduates of the program benefit from exemptions from most of the papers on the Applied Knowledge and Applied Skills level ACCA Qualification (AB, MA, FA, LW, PM, FR, FM; additionally students from the majors in Corporate Reporting and Accounting are exempted from TX and AA) and can expect to have a wide range of career opportunities in all areas of business.
Kozminski University is an academic partner of the CAIA Association. Becoming a partner of the CAIA Association, a global network of more than 9,000 alternative investment professionals located in more than 90 countries, gives our students access to CAIA's vast databases and the possibility to get a special scholarship.
Kozminski University is an academic partner of GARP (Global Association of Risk Professionals), which is currently the leading professional association for risk managers, dedicated to the advancement of the risk profession through education, research and the promotion of best practices globally. By virtue of covering at least 70% of the body of knowledge of the Financial Risk Manager (FRM®) examination.
The Master's Program in Finance and Accounting is designed in close cooperation with practitioners - representatives of companies and financial institutions. It delivers in-depth specialized knowledge and develops skills in analyzing complex business problems through combining financial and accounting information with knowledge from other areas.
Starting in October 2019, students will benefit from a financial laboratory based on Bloomberg's technology. They will have access to the full service and additional educational functions of the largest news agency in the world, specializing in providing financial information. Thanks to this solution, the learning process will be based on real analyses, indicators, and information from all financial markets in the world.
Graduates receive a Master's in Finance and Accounting diploma. Additionally, they get a diploma's supplement stating which major the student finished.
The Program is actively supported by industry strategic partners, who assure that the curriculum stands to the current requirements of the labor market. Today these are Citibank Europe PLC, Accenture Services Ltd, and KPMG. Each of our partners is actively engaged in shaping and directing the study process by participating in the Program Council and thereby, bringing invaluable input to the contents of the course, organizing guest lectures facilitated by experienced senior management, and providing internship and full-time job opportunities to our students. Assuring that the study process is closely intertwined with practical experience, gives our students a competitive edge and provides a dynamic start to their careers.
Program Partners
Double Degree Programs
During the course of study, students of the Master in Finance and Accounting Program have the opportunity to go on their second year to one of our partner universities for a so-called double degree program, thanks to which they will receive not only the diploma of Kozminski University but also from our partner university!
Available Double Degree Programs on the Master in Finance and Accounting studies:

What you gain from your studies
Economic mechanisms at the micro- and macroeconomic levels.
Proper functioning of an enterprise and financial institutions in a free market economy.
Assessment of the current and future financial conditions of an organization.
Market position and business entities.
Professional and ethical standards used in solving problems in finance and accounting.
Principles and accounting standards, both in domestic and foreign and international accounting operations.
Preparing and interpreting financial statements and formulating useful conclusions based on them.
Design of efficient accounting systems, assessing the effectiveness of the accounting systems used in a variety of entities.
Implement ways to improve the financial condition of each entity, its restructuring, and rehabilitation.
Making the right choice out of the most favorable sources of financing.
Identify risks in business, its measurement, and management.
Career opportunities after your studies
A specialist in finance, financial analyst, or manager in organizations dealing with financial services (banks, insurers, mutual funds, broker services), international corporations or the public sector.
A controller, an accountant, an auditor, or an accounting specialist in a related field (professions that have proven to be resistant to the financial crisis). The program prepares its participants for work in both the private and public sectors.
A specialist in any department of a company related to finance and accounting.
A specialist in the Anti-Money Laundering and compliance departments of international banks.
Study resources
Students have access to multiple study resources allowing them to collect all the necessary information for solving practical business problems as well as to dwell into academic science. The university provides access to a plethora of databases, including Reuters, BankScope, EMIS, Infinancials, etc. (a complete list can be found here), which represents an essential toolkit for business analysis. Academic databases such as ScienceDirect, ProQuest, JSTOR, etc. allow tracking the most recent research findings in the domains of economics and finance. Thanks to a special agreement, KU students have access to the published materials of Financial Times (including articles, webcasts, business data, and interactive graphics), which provides unparalleled international exposure and essential multidisciplinary knowledge of global politics and finance.
Being a highly positioned academic institution, Kozminski University puts a strong emphasis on rigorous research aimed at gaining new insights into business and economics through the application of refined methodology. KU staff publish prolifically in prestigious peer-reviewed journals such as the Journal of Corporate Finance, Journal of Banking and Finance, Journal of Financial Stability, Emerging Markets Review, etc.
Majors*
Corporate Finance
The major offers an immersive and accelerated learning environment – one that inspires students to reflect and reemerge as professional financial analysts. Facilitated and moderated by experienced market practitioners, the specialization classes challenge the conventional knowledge and offer fresh insights into complicated business issues. As part of the specialization, students will be trained in cutting-edge techniques of portfolio and wealth management (including alternative investments), financial modeling, capital budgeting, and risk management. Kozminski University seeks to make the contents of the major in Corporate Finance consistent with the CFA Candidate's Body of Knowledge (CBOK). The ultimate goal is to enable KU students to start passing CFA exams while studying at the University.
Corporate Reporting and Accounting - ACCA track
The major offers professional in-depth training in the techniques of financial reporting, audit, and assurance. The classes aim to provide students with the relevant theoretical basis and practical skills necessary to meet the expectations of the highly competitive business environment. Students gain advanced skills of consolidated financial reporting analysis, financial performance appraisal, quality control, and transnational audits.
Recognizing the transformative role of experiential learning, Kozminski University constantly strives to achieve a perfect balance of theoretical knowledge and practice-oriented study solutions. This is where the feedback from the practitioners and a wide business community becomes an invaluable source of new ideas and relevant evidence validated by everyday decision making. The majors in 'Corporate Finance' and 'Corporate Finance and Accounting' are partnered with Accenture, which is a renowned and internationally acclaimed leader in the domain of strategy, consulting, technological and operational solutions for business. Accenture's managers participate in the Program council and provide training to our Master students in order to deliver an out-of-the-box perspective on complicated business issues. The best students will be invited for an internship at Accenture.
International Banking - Anti-Money Laundering - track with Citibank
Qualified anti-money laundering (AML) professionals are in high demand as banking institutions increase their focus on risk prevention. Regulatory requirements are constantly evolving, forcing the financial sector to constantly improve AML response systems. As a result, AML has become a new hot career choice for ambitious people willing to work internationally. The shortage of qualified candidates in the field remains an issue. Recognizing the growing development opportunities offered by the AML industry, Kozminski University, and Citi Service Center Poland established a strategic partnership aimed at training the skills and competencies necessary to successfully work in the field of AML and Compliance. Students are familiarized with the general framework of risk management in financial institutions, AML operations standards and procedures, receive relevant knowledge of international legal AML regulations, and learn about the responsibilities of Compliance officers. Classes are conducted by senior management Citi's AML Operations Hub. The best students of the major will be invited to a summer internship program at Citi Service Center Poland.
* Majors will launch provided that the required amount of students sign up.
Timeline of the studies
1st Semester
2nd Semester
3rd Semester
4th Semester

Advanced Corporate Finance
Corporate Financial Reporting
Quantitative and Qualitative Research Methods
Communication and Negotiation Skills
Advanced Macroeconomics
Big Data Analysis
Modern Banking Systems
Introduction to AML and Compliance in Banking
Career Track Seminar

Application of Statistics and Econometrics in Finance and Accounting
Corporate Valuation and Fundamental Analysis
Advanced Financial Reporting
Advanced Management Accounting
Financial Instruments and Financial Risk Management
Advanced SQL
Ethical Issues in Finance and Accounting
Psychology of Financial Markets
Dissertation Seminar

Mergers and Acquisitions
Corporate Governance and Control
Programming in Finance
Dissertation Seminar

Choose one of the three available specializations:

Corporate Finance (CFA Track)
Corporate Reporting (ACCA Track)
AML and International Banking

Choose either:

Two elective courses
An 8-week long internship

Exchange Program

Spend one semester in one of our 200 partner universities.

Exchange Program

Spend one semester in one of our 200 partner universities.

Exchange Program

Spend one semester in one of our 200 partner universities.

Double Degree Program

Spend one or two semesters in one of our partner institutions and obtain a second degree.

Double Degree Program

Spend one or two semesters in one of our partner institutions and obtain a second degree.
If you have any questions regarding the contents of the program, please do not hesitate to send your queries and we will gladly provide you with the necessary information.
Class Schedule
Full-time programs
Classes take place from Monday to Friday in the morning and in the afternoon.
Part-time programs
Part-time program classes take place on Friday (in the afternoon), Saturday and Sunday (in the morning and in the afternoon).
Admission Requirements
Admission for full-time and part-time Master programs at Kozminski University is based on 2 criteria: GPA on your previous studies and results of an online entry test. The maximum score is 100 points - 50 points for the test and 50 for GPA. Candidates who scored at least 60 points from both criteria will be qualified for the program.
Required Documents
Application for full time and part-time Master's programs at Kozminski University must include:
Application form - complete the form online, print and sign
Original Bachelor/Master degree diploma or notarized copy and transcript of records
1 signed passport photograph
Copy of the national ID or a passport
CV in English
Proof of payment of the admission fee (non-refundable)
A certificate confirming proficiency in English (you can be exempted from submitting an English proficiency certificate only if your High School Diploma confirms that English is your only language of instruction or English is your mother tongue) - e.g. FCE, CAE, CPE, BEC, CEIBT issued by the University of Cambridge; IELTS (>=6.0 points); TOEFL IBT (>=87 points); TOEIC (at least 700 points from the test); LCCI (English for Business level 2, 3, 4); London Test of English certificates (PEARSON) - level 3, 4, 5 (certificates Edexcel). Polish citizens who did their previous studies in English or who scored at least 95% on the basic level or 80% in the extended level from the English Language at the Polish Matura can be excluded from submitting an English proficiency certificate.
Double Degree Master in Finance and Accounting with the University of Porto: The same language requirements apply for Double Degree Program with Porto University.
Double Degree Master in Finance and Accounting with ESSCA - School of Management: Language requirements for Double Degree Program with ESSCA: TOEFL (550), TOEIC (800), IELTS (6.5)
Double Degree Master in Finance and Accounting with SKEMA Business School: Language requirements for Double Degree Program with SKEMA: TOEFL (570 ITP, 88 iBT), TOEIC (870), IELTS 7
All documents issued in foreign languages should be translated into Polish or English by a sworn translator. We process applications from the 4th of February until August (applications from non-EU citizens) and from the 4th of February until the end of September (applications from EU-citizens). Applications received afterward will be kept on file and processed within the next application period.
The admission fee for all Master programs delivered in English is 100 PLN.
Payment of the admission fee should be made to the following bank account:
Name of the bank: Pekao S.A. II o/Warszawa
Address: Grzybowska 53/57, Warszawa
Bank account number: 20 1240 1024 1111 0010 1646 0637
SWIFT code: PKOPPLPW
IBAN: PL
Candidates from foreign countries
Foreigners who need a visa to study in Poland are additionally required to make payment of tuition for one full year of studies before we can issue documents necessary in the visa application process i.e. invitation to come to Poland and the admission decision. Admission commission issues a conditional acceptance letter including individual account number to which the payment should be transferred in Polish Złoty (PLN) calculated according to the exchange rates of the National Bank of Poland (www.nbp.pl). In case the candidate is denied a visa tuition is returned. The admission fee is non-refundable.
In case of visa, accommodations, and other daily issues please contact our Students Support and Service Center.
Tuition and Fees
Full-time
| | | |
| --- | --- | --- |
| | Year I | Year II |
| Tuition per semester paid in full (PLN) | 11900 PLN | 12500 PLN |
| Tuition per semester in 5 installments (PLN) | 5 x 2400 PLN | 5 x 2520 PLN |
| | | |
| Tuition per semester paid in full (EUR) | 2770 EUR* | 2910 EUR* |
| Tuition per semester in 5 installments (EUR*) | 5 x 560 EUR* | 5 x 590 EUR* |
| | | |
| Non-refundable admission fee: 100 PLN/24 EUR* | | |
Part-time
| | | |
| --- | --- | --- |
| | Year I | Year II |
| Tuition per semester paid in full (PLN) | 9400 PLN | 9900 PLN |
| Tuition per semester in 5 installments (PLN) | 5 x 1900 PLN | 5 x 2000 PLN |
| | | |
| Tuition per semester paid in full (EUR) | 2190 EUR* | 2310 EUR* |
| Tuition per semester in 5 installments (EUR*) | 5 x 450 EUR* | 5 x 470 EUR* |
| | | |
| Non-refundable admission fee: 100 PLN/24 EUR* | | |

*Exchange rates according to NBP table of 2020-02-03: 1 EUR = 4,301 PLN
Prices in PLN are applied. If you pay in EURO or USD please note that payments in EUR and USD are recalculated into PLN according to the exchange rate of Millennium Bank based on the day of receipt of payment to the Kozminski University bank account.
The first semester of the program is ONLINE ready if needed the classes can be conducted in a virtual environment.
Last updated Jun 2020
About the School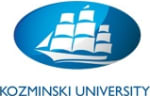 Kozminski University, founded in 1993, is a private institution of higher education with full academic rights. The university has obtained Polish and international accreditations, as well as excellent ... Read More
Kozminski University, founded in 1993, is a private institution of higher education with full academic rights. The university has obtained Polish and international accreditations, as well as excellent results in global and national educational rankings which shows the high quality of its programs and services. Due to these qualities, KU diplomas themselves have become coveted. The university's offer includes various bachelor, master's, MBA's as well as Ph.D. programs. All of these are also offered in English.
Read less