Program Description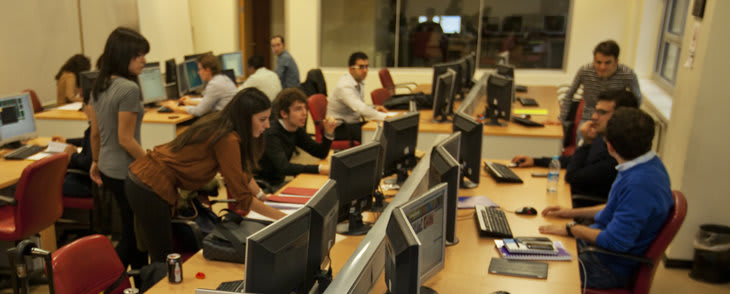 Masters in Finance (MiF) Program
The Masters in Finance Program (MiF) is a rigorous, 10-month professional degree program specializing in applied finance. In addition to theoretical foundations, students enrolling in MiF acquire practical knowledge in finance, as well as hands-on training in our state-of the-art Center for Applied Finance Education (CAFE) facility. This unique center in the region is equipped with cutting edge technology and software, creating an up-to-date learning environment for students. Guided by an Advisory Board composed of accomplished finance professionals, our program aims to furnish students with the essential skills of a modern finance specialist.
The curriculum consists of a variety of courses in corporate finance and investments, as well as "tools" courses such as financial econometrics and programming. The internship requirement in the later stages of the program helps students apply their acquired knowledge to everyday operations in the finance industry. Practicum seminars provide students continuous contact with the industry and help them plan their careers. These distinguishing aspects of the program serve to fulfill our shared vision, which is to develop the future leaders of the finance industry.
Curriculum
The Masters in Finance program is designed with a goal of furnishing our students with all of the essential skills for a career in finance. The program delivers a strong theoretical basis, without losing focus on practical applications, and a financial toolbox that provides our students an edge in their careers. The program is enriched with seminars and workshops, offering a contextual knowledge of the financial environment.
The MiF curriculum can best be described in four components:
1. Proficiency in Financial Theory and Applications
Courses in rigorous graduate-level finance programs provide students with sound theoretical foundations of finance. MiF is committed to presenting the same level of theory with a practical perspective. Our courses in corporate finance deal with the financial management of companies, as well as valuation of real assets and firms, studied through a series of case studies. On the other hand, investments courses are concerned with security pricing and portfolio management. The investments courses make heavy use of the Center for Applied Finance Education (CAFE) imparting practical knowledge of trading and handling information flow.
2. Building a Financial Toolbox
Following the suggestions of our Advisory Board, the program is designed to equip students with financial tools in two major areas. The first area is the analysis of financial data, which is an essential skill in the finance industry today. To that end, 'Financial Econometrics' courses cover analysis of time series data and forecasting techniques from an applied perspective. 'Financial Statement Analysis' course teaches students the techniques used in investigating and interpreting financial statements, such as balance sheets and income statements of companies. The second tool set is related to programming and financial modeling skills, such as coding using VBA in Excel.
3. Understanding the Practice of Finance
This innovative component truly distinguishes the MiF program from other finance programs. The details of the local and global finance practice are conveyed through a series of seminars, called Finance Practicum, given by experts from industry. Over two semesters, many topics of practical interest, such as tax law, security market law, company law, regulations, mergers and acquisitions, IPO processes and valuation are covered in these seminars. To give our students the opportunity to learn by doing, the MiF program is complemented by an internship requirement during the second semester of our program.
4. Developing Managerial Skills
The Advisory Board is in consensus that communication skills is the most important for advancing in a professional career. Employees who can communicate ideas efficiently, in writing or verbally, definitely hold an edge in climbing the career ladder quickly. Our students participate in the Managerial Skills workshops, where, students are able to develop their writing, presentation, and interviewing skills.
Program Learning Objectives
MiF graduates are expected to be able to:
Demonstrate knowledge of financial theory as well as practice and display critical evaluation of the knowledge.
Access, interpret and analyze data and information by using current technologies; and use the results of such analyses to make financial decisions.
Reflect on social and ethical responsibilities linked to the application of their finance knowledge, judgments and decision making.
Communicate effectively in both written and oral form using appropriate technology where necessary, and discuss finance-related issues with both finance and non-finance professionals.
Understand the international financial markets, practices, and accounting standards.
Application Process
The MiF Program at Sabancı University welcomes applicants with university degrees in economics, engineering, business administration or any other technical based discipline, and a strong interest and motivation for a finance career.
The application process starts with filling out the online application form, and then submitting the required documents to our program coordinator. Qualified candidates are invited for formal interviews couple of days after the application deadlines. Admission decisions are made right after interviews and results are conveyed to the applicants.
The early application deadline is for students in need of an early response from us. We keep selected early applications in our files and reevaluate them at our regular application deadline in June. Depending on the applicant pool, early applicants could be granted admission or scholarships even if they did not receive favorable responses in early application period.
The admission committee evaluates applicants with respect to their academic backgrounds and achievements, test scores, and motivations to study finance. Students should be aware of the fact that admissions committee does not disqualify students based on a single criteria. For example, low GPAs could be compensated by excellent test scores, or interview performance.
Tuition fees
Annual Tuition (USD) 18.000 USD
Annual Room and Board (USD)
Per person in a 4-person room 2.500 USD per year
Per person in a 2-person room 3.500 USD per year
Last updated Jan 2021
About the School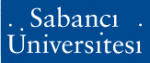 With science, technology, and social structures advancing day by day, the world needs more qualified individuals who possess the knowledge and skills required to pursue a career anywhere in the world. ... Read More
With science, technology, and social structures advancing day by day, the world needs more qualified individuals who possess the knowledge and skills required to pursue a career anywhere in the world. Aware of this pressing issue, in 1994 the Sabancı Group decided to establish a "world university" led by the Sabancı Foundation. The seeds of Sabancı University, the Sabancı Group's most comprehensive social responsibility project in the field of education, were sown in the summer of 1995, at a search conference. Right now, Sabancı University is the highest ranked Turkish university in THE World University rankings and only one of the two Turkish universities that rank in the top 500. Sabancı Holding is a strategic portfolio company that focuses on creating value add with the Group's ecosystem and prioritizes a high-performance culture. Sabancı Group companies currently operate in 12 countries. Sabancı Group has 70 companies and 60.000 employees. These enterprises collectively have also contributed significantly to the development of Turkey's economy. Sabancı Holding's own shares, as well as the shares of its 11 subsidiaries, are listed on Borsa Istanbul (BIST) and constitute 8.1% of total market capitalization of Turkish equity market.
Read less