Master in Fashion Design Evolution
Home ›
Master ›
Master in Fashion Design Evolution
Program Description
Design a Capsule Collection
A Capsule Collection is a small collection of limited and easily interchangeable garments.
The designer is the heart of the fashion system, but it is no longer only the creative who draws a drawing and colors it: the pure and simple talent is no longer enough nowadays because the designer not only creates clothes but also lifestyles.
Some of the fashion professionals involved:
Luca Zacco (Fashion coordinator Versace)
Emiliano Rinaldi (Art director La Perla)
Simona Polli (Director WHITE magazine)
Maurizio Cinà (co-Founder of "Buyer Association", ex A.D. of Frankie Morello)
Ornella Rigoletti (Senior Pattern maker Valentino, Armani, Ungaro, Richmond, Montana)
Course Objectives
The Master in Fashion Design Evolution aims to train young professionals able to design and implement their own ideas and collections and to collaborate with other designers as fashion consultants.
Design capsule steps
Profile and inspiration of the collection:
Season (spring/summer autumn/winter)
Male or female gender Type of market (casual, elegant, sport, bridal, lingerie etc)
Target (mass market, exclusive, medium, high etc)

Principles of Fashion Design, drawing and the human figure
Textile technology and goods (fabrics and materials)
Graphics processing with computers
Packaging and tailoring 1

Important: for all profiles, but especially for the most selective (example..PREMAMAN, BABY, BRIDAL etc) needs a thorough study of the type of customer (where does he live? what are the needs? what do they do in life? what lifestyle do they have? interests?).
Analysis of fashion trends Colours, fabrics, accessories, etc.
Moodboard is a collage of fabrics, materials, and images that are used as a reference and graphic support of the developed profile.
Sketches: the initial phase of creation: silhouettes, volumes, details, cuts, etc.
Collection plan: realization of each garment with a reference code or identification name. Mark fabrics, colors, materials, etc. for each garment.
Create a flat design of the front and back.

Technical Plates
Research and coolhunting
Packaging and tailoring 2
Visual communication

Illustrated figures: consider the postures to be drawn on the basis of the research developed.

Capsule Woman, Man, Teen, Baby
Meetings with professionals (workshops)
Packaging and tailoring 3
Visit the trade fairs (MilanoUnica, Intertex, Lineapelle, WHITE, Micam, etc.)

Technical data sheets: make technical data sheets with all the details that are useful for the realization of the product.
For the themes of the Capsule Collection, analyze current trends and modernize or adapt the garments created to one or more of them, justifying the choice.
Preparation of the thesis of the Collection for the final examination
All inter-company internships planned during the Master are certified.

Visits are planned at fashion studios, showrooms, boutique, and companies, to support training and understand the sector's buying system.
Certificate: IFDA is certified ISO 9001 for the educational system of quality, sector EA 37 Nr. SQ164098, and releases certificates recognized at international level.
Last updated Oct 2019
About the School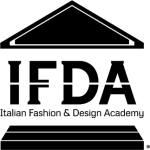 IFDA Italian Fashion & Design Academy is a post-diploma and post-degree college and offers certificated Fashion, Design and Beauty courses and masters.
IFDA Italian Fashion & Design Academy is a post-diploma and post-degree college and offers certificated Fashion, Design and Beauty courses and masters.
Read less