Master in Environment Management
Program Description
Double degree programme with Linnaeus University (Sweden).
The aim of this Program is to acquire interdisciplinary knowledge and skills necessary for a qualified environmental professional to carry out a modern scientific research on anthropogenic environmental and climate changes and their impact on the wildlife and human health, analyze and summarise results about the state and changes in the natural environment, and make decisions, solving complex environmental problems according to the sustainability principle.
Competencies acquired
Graduates of the program will be able to:
analyze complex environmental problems by determining their causal factors, interactions and integrating interdisciplinary knowledge;
assess the complex impact of environmental and climatic factors on wildlife and human health by means of formulating scientific hypotheses, research aims, and objectives, and selecting efficient research methods;
formulate scientific conclusions based on systematized environmental research findings and comprehensive statistical analysis of parametric and spatial data;
assess environmental and human health risk, suggesting preventive risk mitigation measures;
make knowledge and best practices based and optimal from the point of sustainability and Green economy environmental management decisions.

Career opportunities
The program provides graduates with several general areas to:
Work as senior specialists at the Departments and Agencies of Environmental Ministry.
Work as senior environmental specialists at the Environmental divisions of Municipalities, Service of Protected areas, Consulting companies, Agencies for management of the EU Environmental support and private Environmental Firms.
Continue their studies in the environment-related Ph.D. programs.

Requirements
Applicants to the Environmental Management Master Program are required to have a university Bachelor degree in Environmental Science; Geography; Natural Resources; Biology; Ecology; Ecosystem Conservation and/or Management; Sustainable Development; Environmental Engineering; Marine Science; Forestry; Climate Science; Mathematics; Physics or equivalent degree and motivation letter.
Proof of English Language: applicants have to present a document proving B2 level. if the applicants had not received education in English. After admission, all students will be tested for English language level at the Institute of Foreign Languages at Vytautas Magnus University. If English level will be below B2 students will have to study English to reach a B2 level in first two semesters of Master studies. Students have to self-fund English studies.
Admission score is counted based on: Motivation letter* 0,3 + Arithmetic average of bachelor degree diploma supplement all subjects* 0,4 + English grade* 0,3.

Possibilities
Exchange studies
Bachelor and Master Degree students have a possibility to take part in various exchange programs (Bilateral exchange, Erasmus+) for studies and internships and get monthly scholarships..
Last updated Mar 2020
About the School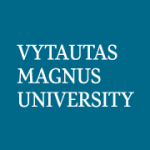 Ranked in QS World University Rankings as a leader in the country by its internationality, VMU is the only public higher education institution in Lithuania and one of the few in the region where a wid ... Read More
Ranked in QS World University Rankings as a leader in the country by its internationality, VMU is the only public higher education institution in Lithuania and one of the few in the region where a wide liberal arts education is imparted. This means that students can change and organize their schedule freely, minor in one field and major in another, travel abroad on international exchange and get ready for those trips by taking some of the available 30 foreign language courses. As a reflection of global academic trends, more and more lectures (separate courses and even whole study programs) are taught in English, many of them by professors from abroad. VMU offers Bachelor and Master degree programs, which are entirely taught in English. Every semester university gathers the colorful international community, which unites representatives from nearly 60 countries around the world.
Read less