Master in Entrepreneurship and Innovation Management
Home ›
Master ›
Master in Entrepreneurship and Innovation Management
Program Description
The master's program in Entrepreneurship and Innovation Management is designed to give students a focused, relevant and utilizable body of knowledge in this diverse and modern field. The program is ideally suited for those with an interest in starting and managing innovative projects or new economic endeavors.
Entrepreneurship and Innovation Management at KTH
The master's program in Entrepreneurship and Innovation Management engage students by combining the more theoretical aspects of the field with a self-defined innovation project. This combination of practical skills and theoretical enhancement enlightens the program as a whole and strives to create a meaningful, well-rounded education that can help the participants realize their career potential. The final degree project ties the program together in its entirety, and gives students a chance to develop a project within the framework of an academic examination either an academic project or in collaboration with a company.
The program offers:
An understanding of the nature of innovation and entrepreneurship and the potential inherent in these, including theories of how they function, how they can be managed and how to find novel ways to realize projects in the economy.

The necessary skills to start and manage projects of an innovative nature, including skills in business model innovation and executing new projects and start-ups. This also includes critical skills for the effective leader in a contemporary economy, such as creativity, communication, and presentation.

A set of critical skills needed to properly analyze and assess innovative projects, as well as the theoretical basis upon which the participants can build their further development as innovation leaders.
This is a one-year program (60 ECTS credits) given in English. Graduates are awarded the degree of Master of Science. The programme is given mainly at KTH Campus in Stockholm by the School of Industrial Engineering and Management (at KTH).
Career
The master's program in Entrepreneurship and Innovation Management represents one of the most important engines of value and new-wealth creation in the contemporary economy. The programme is devised to be utilized both to kick-start a new personal venture and as a way of positioning the student for a fast-track career in innovative companies. As most corporations today realize that they need to be more innovative and entrepreneurial, the program prepares students to meet this challenge.
Graduates work in companies such as Ericsson, H&M, LinkedIn, Microsoft, PayPal, PWC, Salesforce, SEB, Telia, as well as start-ups like Detectify, Furhat Robotics, FunRock, Connected Senses, and MAD Foundation.
Students
Find out what students from the program think about their time at KTH.
Constantin Ionel Dragan, Romania: "KTH, in my opinion, is truly oriented to its students, and the first proof of this is the openness with which every professor approaches us during classes."
Sustainable development
Graduates from KTH have the knowledge and tools for moving society in a more sustainable direction, as sustainable development is an integral part of all programs. The three key sustainable development goals addressed by the master's program in Entrepreneurship and Innovation Management are:
Decent Work and Economic Growth

Industry, Innovation, and Infrastructure

Responsible Consumption and Production
The program helps to improve employment opportunities, particularly for young people who have business ideas by teaching and coaching students in creativity, innovation, entrepreneurship and how to identify business opportunities. To promote sustainable industrialization, this program provides knowledge in the field of industrial dynamics with an emphasis on innovation and entrepreneurship aiming towards technical creativity. Moreover, students will get an opportunity to learn about the responsible consumption of natural resources and production by the application of creative ideas, entrepreneurial approaches, and innovative management.
Courses
The first term of the one-year master's program in Entrepreneurship and Innovation Management consists of courses. The second term starts with courses and ends with a master's degree project. Each term consists of approximately 30 ECTS credits. The courses presented on this page apply to studies starting in autumn 2020.
Mandatory courses
Industrial Management, Basic Course (ME1003) 6.0 credits

Project Management: Leadership and Control (ME2016) 6.0 credits

Degree Project in Entrepreneurship and Innovation Management, Second Cycle (ME205X) 15.0 credits

Management of Technology Innovation and Creativity (ME2092) 6.0 credits

Technological and Industrial Change (ME2093) 6.0 credits

Industrial Marketing and Networks (ME2098) 6.0 credits

Ideation- Creating Your Own Company (ME2614) 7.5 credits

Business Model Innovation (ME2615) 7.5 credits
Admission requirements
To be eligible for the program, you must have been awarded a bachelor's degree, be proficient in English and meet the program-specific requirements.
Bachelor's degree
A bachelor's degree, equivalent to a Swedish bachelor's degree, or equivalent academic qualifications from an internationally recognized university, is required. Students who are following longer technical programs, and have completed courses equivalent to a bachelor's degree, will be considered on a case-by-case basis.
English proficiency
English language proficiency equivalent to (the Swedish upper secondary school) English course B/6 is required. The requirement can be satisfied through a result equal to, or higher than, those stated in the following internationally recognized English tests:
TOEFL Paper-based: Score of 4.5 (scale 1-6) in written test, a total score of 575.
TOEFL ITP is not accepted.

TOEFL iBT internet-based: Score of 20 (scale 0-30) in written test, a total score of 90

IELTS Academic: A minimum overall mark of 6.5, with no section lower than 5.5

Cambridge ESOL: Cambridge English: Advanced (CAE) Certificate in Advanced English or Cambridge English: Proficiency (CPE) (Certificate of Proficiency in English)

Michigan English Language Assessment Battery (MELAB): Minimum score of 90

The University of Michigan, ECPE (Examination for the Certificate of Proficiency in English)

Pearson PTE Academic: Score of 62 (writing 61)
Specific requirements for the master's program in Entrepreneurship and Innovation Management
A Bachelor of Science in Engineering, a technical Degree of Bachelor, or another similar technical or scientific first-cycle education, corresponding to at least 180 ECTS credits.
A basic course in Industrial Management is recommended.
Application documents
Certificates and diplomas from previous university studies

Transcript of completed courses and grades included in your degree

Proof of English proficiency

A copy of your passport including personal data and photograph, or other identification documents
Specific documents for the master's program in Entrepreneurship and Innovation Management
Curriculum Vitae

Letter of motivation

2 letters of recommendation

Relevant work experience, if any

Summary sheet TEILM.pdf (pdf 75 kB)

*
*In order for your application to be considered complete, you need to fill out the summary sheet. If you do not include a summary sheet, this may negatively affect your evaluation score.
Last updated Oct 2019
About the School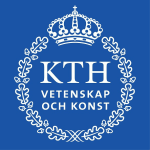 KTH Royal Institute of Technology has served as one of Europe's key centres of innovation and intellectual talent for almost two hundred years. Recognized as Sweden's most prestigious technical univer ... Read More
KTH Royal Institute of Technology has served as one of Europe's key centres of innovation and intellectual talent for almost two hundred years. Recognized as Sweden's most prestigious technical university, KTH is also the country's oldest and largest. With over 12,000 students and an international reputation for excellence, the university continues to nurture the world's brightest minds, helping to shape the future.
Read less