Program Description
This is a fundamentally new type of programme. Its main task is to train students for independent scientific work and admission to postgraduate school in Economics. The programme is based on the concept used by leading global PhD programmes for the first two years of study. Graduates of the programme will obtain a thorough knowledge of economic theories that will allow them to carry out advanced research and build models of economic processes.
Graduates will also be proficient in econometric methods and in working with data at a level sufficient for academic and applied empirical research. The programme may also be of interest to candidates who are oriented towards a practical rather than academic career, as deep knowledge in the fields of economics and econometrics, as well as research skills are in demand in the real sector.
Partner Universities
Humboldt-Universität zu Berlin
Erasmus Universiteit Rotterdam
University of Luxembourg
Pantheon-Sorbonne University
Admissions
1. Admission via Olympiads participation
1.1. HSE Olympiad for students and graduates
Undergraduate students, as well as graduates, can take part in HSE Olympiad for students and graduates, both Russian and international. All winners and prize winners of the HSE Olympiad will be given priority admission to master programmes that correspond to the chosen profile of the Olympiad. The HSE Olympiad is held in English.
Registration and participation is free of charge.
Time: February, 2020. Registration is open from 02 December 2019 to 20 January 2020.
1.2. International Competition «Open Doors: Russian Scholarship Project»
International students are invited to participate in the the international competition "Open Doors: Russian Scholarship Project", which is being organized by the "Global Universities Association".
International students, stateless persons, and Russian citizens permanently living abroad, who already have a Bachelor's degree or are completing a Bachelor's programme in 2020 can participate in this competition.
2. Admission for international applicants via portfolio competition
Please familiarize yourself with minimum portfolio requirements and application process at HSE graduate admission website (https://admissions.hse.ru/en/graduate-apply). Application is free of charge and submitted online.
There are several attachments that you should be ready to upload for your portfolio:
Scan of the first page of your passport - required
Scan of your diplomas and academic transcripts (if you have not yet received your Bachelor's diploma, please include an official copy of your most recent academic transcript) - required
Letter of motivation (describing your reasons for applying in the context of your long-term career goals and background, professional plans for the future - one or two pages of printed text A4) - required
Resume/CV (including information about your education, professional, and research experience, as well as language proficiency and other skills) - required
Exam results confirming language proficiency - required for those whose native tongue is not English and they did not complete undergraduate program in an English speaking country
2 Letters of recommendation (written recommendations from teachers or supervisor)
GRE test scores are highly advisable
Please upload all attachments as PDF files and include your last name in the filename (for example, Smith_Diploma.pdf).
Be ready to have a skype interview in case of successful portfolio assessment. You may find it helpful to revise the exam demo version before the Skype interview. Interview takes place in English.
Full and partial scholarships available based on academic merit.
Last updated Feb 2020
About the School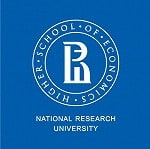 Consistently ranked as one of Russia's top three universities, the Higher School of Economics (HSE University) sets itself apart by its internationally-minded, research-driven approach to higher educa ... Read More
Consistently ranked as one of Russia's top three universities, the Higher School of Economics (HSE University) sets itself apart by its internationally-minded, research-driven approach to higher education. Based in the vibrant center of Moscow, with campuses in St. Petersburg, Nizhny Novgorod and Perm, HSE offers outstanding academics at all levels and includes more than 25 English-taught Master's programmes and 8 English-taught Bachelor's degree programmes.
Read less