Program Description
Master in Disaster Management
It is well known that Bangladesh is a highly disaster-prone country and particularly in the context of widespread poverty, disasters often assume great proportions; both risk and vulnerability to various disasters are extensive. Some disasters, such as floods and drought, are annual and cause a national loss at a regular frequency. Others, such as cyclones and earthquakes, are waiting in the offing, and it is not hard to imagine the destruction that could occur in a severe earthquake in the rapidly growing and densely populated urban areas. There is thus an important need for disaster management in this context where disasters are a part of life.
Therefore, the Postgraduate Programs in Disaster Management comprising of diploma and master's degree programs are being conducted at BRAC University. It runs as a semi-autonomous program within BRAC University with a link under the Department of Architecture. The diploma is a 2-semester course; on completion of another two semesters, there is the option of obtaining a master's degree by completing a dissertation. Besides, tailor-made theme-based certificate courses (1-5 days) are offered, if requested by any organization.
Objectives
This postgraduate program targeted at active professionals allows contributing to this nationally significant practice-oriented field. Such a course to supplement the profession-based education of graduates of various disciplines also serves to further post-professional qualification and allows career development. Because this course is largely targeted for development organizations, it is relevant within the BRAC organizational framework.
Student Composition
The programs satisfy the need for training staff members of national and international NGOs involved in disaster management. Other sources of students are government departments relating to disaster management.
Because the programs are multi-disciplinary in nature, students are drawn from a broad range of disciplines that produce graduates working in the field of disaster management in various capacities and roles, including the social sciences, public administration, armed forces, law, engineering, architecture, planning, geology, geography, and meteorology. Additionally, as the course is practice-oriented, in lieu of academic qualifications, professional and practical experience of prospective students is taken into consideration for admission.
Course Contents
The contents of the course are comprised of three main components: lectures/seminars, field studies, and individual student projects. A panel of experts from various disciplines presents lectures and conduct seminars. Field visits are arranged to relevant disaster-prone areas and disaster management projects. Each student undertakes special study projects during semesters 02 under the guidance of a relevant tutor, to be presented and submitted as terminal assignments.
The course contents relate to three main aspects:
Pre-disaster preparedness and vulnerability reduction.
Post-disaster response, relief and rehabilitation.
Disaster mitigation and long-term development (Pre-disaster + Post-disaster).
These aspects are presented and reviewed from the perspectives of various disciplines in the form of core courses, electives, and individual student projects. Because this program runs in Bangladesh, which is a particularly disaster-prone region, most of the course contents are based on experience and information relating to this context. A wide variety of case studies on disasters and disaster management particularly from Bangladesh comprises the course contents.
Courses Offered
The following list shows courses that are offered.
Core Courses (Each course carries 3 credits and is compulsory)
Fundamentals of Disaster Risk Management
Disaster Preparedness, Response and Recovery Strategies
Community-Based Approaches to Disaster Risk Management
Tools and Techniques in Disaster Risk Management
Organizational and Policy Context of Disaster Risk Management
Research and Analytical Methods (for Masters students only)
Elective Courses (Each course carries 3 credits and at least 2 elective courses must be completed. A student may focus on a specific field of interest by selecting the relevant elective courses)
Emergency Response and Humanitarian Assistance
Disaster Risk Reduction and Sustainable Development
Risk Communication, Training, and Public Awareness
Climate Change Adaptation and Mitigation
Urbanization and Disasters
Built Environment in Disaster-Prone Areas
Disaster and Disaster Management Practices in Bangladesh
Special Study (3 credits)
Dissertation (6 credits; for Masters students)
Dissertation
All students continuing to the master's level are required to complete a dissertation (maximum 20,000 words, minimum 15,000 words) on a topic related to disaster management and agreed with their supervisor(s). The core course 'Research and Analytical Methods' have to be taken during this stage to supplement dissertation writing skills and techniques. The dissertation has to be presented and defended at a committee composed of at least two faculty members and one external examiner.
Teaching Methods
Most of the lectures and seminars extensively utilize multi-media facilities and seek to promote self-reflection, peer-group discussion, and interaction with tutors. Unless where required specifically, the one-way delivery mode is not followed; student participation is given high priority. Nonetheless, because of the variety of courses offered within the program, a corresponding level of diversity is followed in the teaching methods, utilizing methods such as lectures, discussions, debating, role-playing, case studies, workshops, individual projects, teamwork, research, and analysis. Tutors of particular courses select teaching methods appropriate to each course and its objectives. However, because this course is principally field-oriented, a significant proportion of learning takes place outside the classroom during field visits. The outcome of the course should be transferable skills that can be applied in practice.
Admission Criteria
The following criteria are followed in the admission of students to the course:
Minimum a 3-year bachelor degree. Candidates with a bachelor degree of lesser duration are also accepted if they have completed a relevant diploma or certificate course.
Minimum 2nd division in SSC, HSC and minimum 2nd class or at least 2.00 CGPA in bachelor degree. Alternatively, O-level in five subjects and A-level in two subjects with a GPA of at least 2.0, according to BRAC University scale: A=5, B=4, C=3, D=2, and E=1; only one E is acceptable.
Qualifying in a 100-mark admission test consisting of written test (80%) and interview (20%).
The exception to the above admission requirements can be made in special cases for students with long practical experience in disaster management with the approval of the Academic Council.
Degree Requirements
The following requirements have to be fulfilled in accordance with each level of the course:
At the master's level, completion of 6 core courses, 3 elective courses, 1 special study and a dissertation, totaling to 36 credits.
Minimum CGPA of 2.0 in credit courses and a satisfactory (S) grade in the dissertation.
Agreeable behavior and conduct throughout the duration of the course.
Last updated May 2018
About the School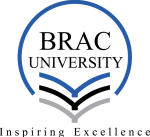 BRAC University (BRACU) was established in 2001. It follows a liberal arts approach to education which nurtures fresh ideas and gives new impetus to the field of tertiary education. It ensures a high ... Read More
BRAC University (BRACU) was established in 2001. It follows a liberal arts approach to education which nurtures fresh ideas and gives new impetus to the field of tertiary education. It ensures a high quality of education and aims to meet the demands of contemporary times. Building on BRAC's experience of seeking solutions to challenges posed by extreme poverty, BRACU hopes to instill in its students a commitment to working towards national development and progress.
Read less