Master in Digital Transformation of Sports Entities
Home ›
Master ›
Master in Digital Transformation of Sports Entities
Program Description
Why this Master?
This program entirely in English, is aimed to professionals who currently have a position of responsibility or want to start their professional career in the sports industry by entrepreuneurship or in sports entities. Through this master's degree you can know trends in digital transformation, innovation and technological tools that are using by sports entities or can be use for, also you will have a good network of contacts for your professional future and who are conditioned by the digital transformation.
Sports entities must have knowledge of digital transformation to be competitive in a globalized world.
Training designed by the ecosystem of companies that compose the GSIC Global Sport Innovation Center Powered by Microsoft. (More than 200 partners from 30 countries).
Flexibility of the model, possibility to choose the online or mixed program, adapting to your needs.
We create the Network.
This project is the partnership of ESBS, business School specialized in sports management (which teaches the best Master in sport management of Spain 2018, Top 3 Europe, top 13 World, according to the British ranking SportBusiness) and GSIC, the sports innovation center powered by Microsoft where the digital transformation of sports entities is th main core.
We connect profiles specialized in sports and technology to the real needs of sports industry.
Our classrooms are based in the center of Madrid, in GSIC, where you can get in touch with innovation and sports.
Because you will have a recognized, high-level mentor who will coach you for the accomplishment of a real case in digital transformation.
Our Pillars
Enhancement of the business opportunities within a global ecosystem.
Support of the creation of technology-based companies, adapting training to a constantly changing market.
Belonging to the international reference center with space for products demonstration.
Participation in the construction of innovative technological solutions for the sports sector and ICT.
Modality
Evaluation
The student will make a case and practical exercise in each module that will be evaluated.
Likewise, the defense of the Master's final project will be carried out at the GSIC facilities or by video conference.
Legal note: The management reserves the right to make changes in the schedule, programs, academic visits and/or teaching team for academic, legal or commercial reasons. This information is updated on April 2020. Read the website. Master is a proprietary program developed by ESBS and GSIC powered by Microsoft, not conditional on obtaining an official degree.
Certificate
After successfully completing the program, the student will receive the certificate titled Master Digital Transformation of Sports Organizations.
Issued by ESBS European Sport Business School and Global Sports Innovation Center powered by Microsoft (GSIC).

Faculty
Management of the Master
Iris Córdoba - General Manger of the Global Sports Innovation Center Powered by Microsoft.
Jorge Coll - Director of ESBS European Sports Business School.
Mentoring Team
We have a team of teachers and mentors trained by GSIC members and professionals in different areas of the sports industry with the synergies offered by the ecosystem of over 200 organizations in 30 countries.
This master is designed in Executive and Junior versions
Executive: for those professionals who are in the sports industry and who wish to grow in this area.
Junior: Students with no experience in the sports industry who wish to train in this area.
Admission
Executive Program – Requirements
More than 5 years of experience as the sports industry or area manager or 2 years of experience in digital transformation.
To have a computer equipment with webcam and microphone, as well as English or Spanish language proficiency (in case of not being native you may be required to provide an official certificate or to complete a level test).
Junior Program – Requirements
Accredit or to be in possession of the degree or an equivalent qualification.
Exceptionally, through the accreditation of having passed at least 80% of the ECTS corresponding to any degree.
Being or having been an elite or professional athlete. In this case, it must be resolved by the technical direction of the program.
Seat reservation
Step 1: Advice on the content and analysis profile and needs of the potential student
Step 2: Sending documentation by the student
Step 3: Personal Access Interview
Step 4: Communication of the Admission
Step 5: Reserve Seat
Place
Mixed: Global Innovation Center Powered by Microsoft (GSIC) + Virtual Campus.
Online: Virtual Campus developed by ESBS and GSIC
Last updated Nov 2020
About the School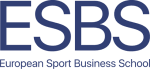 We put training, technology and experience in sport and sports management within everyone's reach to facilitate the progress of people, sports organizations and society in general in a sustainable and ... Read More
We put training, technology and experience in sport and sports management within everyone's reach to facilitate the progress of people, sports organizations and society in general in a sustainable and socially responsible way. Our challenge is to turn people's passion for sport into a profession.
Read less