Read more about this program on the school's website
Program Description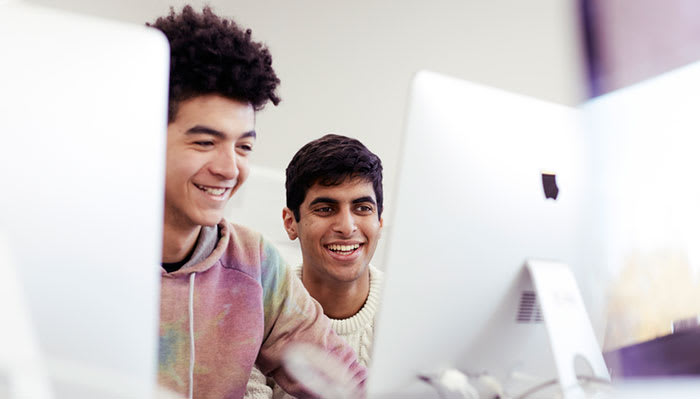 This industry-relevant Master's is designed to provide media professionals and graduates with an opportunity to advance their in-depth knowledge and technical skills in the latest digital technologies.
The MA Digital Media provides an opportunity to explore in detail the potential that online, mobile and emerging media platforms present, and the application of agile methodologies and user-centered approaches to project development.
The Lincoln School of Film & Media is home to an interdisciplinary academic community and this programme is informed by our media research. You will have the chance to learn from academics who are industry and research activities.
Our Media and Broadcast Production Centre provides specialist equipment to give you the opportunity to develop and refine your practical skills.
How You Study
The course is delivered through workshops, lectures, seminars, individual and group critiques, and self-directed learning.
MA Digital Media incorporates five core modules which every student must study. Students can then choose an optional module. As a final project, students can choose a new project or develop a project from modules Digital Media Practice 1 and/or Digital Media Practice 2.
Core:
Digital Media Practice 1
Media Ecologies 1
Rethinking Society for the 21st Century
Digital Media Practice 2
Media Ecologies 2
Optional:
Human and Inhuman in the 21st Century (Option)
Media Industries (Option)
Final project:
Contact and Independent Study
Weekly contact hours on this programme may vary depending on the individual module options chosen and the stage of the study.
The postgraduate level study involves a significant proportion of independent study, exploring the material covered in lectures and seminars. As a general guide, for every hour in class students are expected to spend two-three hours in independent study.
For more detailed information please contact the programme leader.
How You Are Assessed
There is continuous assessment throughout both full-time and part-time modes of study. Modules will be assessed through production projects/portfolios/exhibitions, presentations, production research with critical evaluation and essays.
The University of Lincoln's policy on assessment feedback aims to ensure that academics will return in-course assessments to you promptly – usually within 15 working days after the submission date.
Entry Requirements
A 2:1 honours degree in media-related subject or equivalent experience in a related industry.
Applicants with other backgrounds or experience in unrelated disciplines will be considered on an individual basis.
All applicants should be able to demonstrate some experience and critical awareness of media practices along with an ability to critically engage in both production and writing.
The course in its part-time mode may be particularly suitable for working media professionals, artists, community arts professionals, teachers, or other professionals who are looking for the opportunity to update their knowledge of new technologies and to develop their existing skills by engaging in critical practice and theory.
International Students will require the English Language at IELTS 6.5 with no less than 6.0 in each element, or equivalent. http://www.lincoln.ac.uk/englishrequirements
Modules
Digital Media 3 Final Project (Core)
This final practical output could either be a new project or a development from Digital Media 1 and/or 2. Consideration must be given to the final output in terms of platform, exhibition and/or dissemination. It is the explicit aim of this module that students bring together and utilize the various skills, methods, and approaches they have had the opportunity to develop throughout the course as a whole.
Digital Media Practice 1 (Core)
Students can be exposed to convergent, emergent and disruptive technologies, having the opportunity to question our cultural and societal relationship to the ever-shifting media landscape, aiming to provoke a creative encounter between theory and practice. Students can explore areas of digital media practice from animation, interactive web platforms, mobile and installation-based work. Students have the opportunity to work either individually or as part of a team, in the proposal, research, development, and delivery of an original, critically engaged practical output.
Digital Media Practice 2 (Core)
This module is designed to explore digital media practice through the creative exploration of technologies and their application to the process of contemporary media production, integrating content and context across platforms. Students will have the opportunity to conceptualize and plan their projects evidencing indications of research and production methods, audience, and context. This could either be a new project or a development from Digital Media 1. Building on areas previously covered, this is an opportunity to expand and consolidate knowledge and skills.
Human and Inhuman in the 21st Century (Option)
This module examines the specific social, cultural and political implications of everyday life in the 21st Century. It will aim to do this by attending to the expression and mediation of these issues in popular culture, dominant discourse and creative practice.
Media Ecologies 1 (Core)
This module is designed to critically tackle the current disintegration between discrete media forms. It recognizes that long-established boundaries between modes, practices, and conventions of media have become diffuse. Where, in the past, individual media forms were comfortably self-contained and distinctive, today these forms are experienced as a type of informational content that we access on multiple devices and in multiple contexts.
The module understands contemporary media to be a complex, entangled 'ecology', a dynamic system in which anyone product, device or image is always multiply connected, and in which our use of such media is necessarily informed by such connections. It insists that media activity is informed by a pattern of relations between individuals, political and economic institutions, commercial brands, and technologies.
Media Ecologies 2 (Core)
This module is designed to take the form of a reading group in which discussions revolve around close readings of selected texts. The module aims to identify a small number of new and recent texts of importance to emergent lines of inquiry in contemporary media and cultural scholarship. Specifically, these readings provide the opportunity to extend and deepen our understanding of ecological perspectives on media, which can provide points of entry into debates relevant to this focus.
Media Industries (Option)
This module provides the opportunity to develop an understanding of the structures of media systems regionally, nationally and globally, with a specific focus on private and public funding sources and the organization of media production, distribution, and exhibition for traditional as well as new media platforms and outlets.
The module will be organized around discussion and examination of:
UK Creative Industries and their relation to global media systems and markets.
Existing media markets and the identification of future markets
The development of new media technologies and their impact on media markets
Normative practices operating in media corporations and small and media sized businesses
Case studies of innovation and creativity in media production.
The module will also have contributions from visiting media professionals.
Rethinking Society for the 21st Century (Core)
This module aims to critically examine the social, cultural and political implications of everyday experience unique to the 21st Century. It looks at to how these implications are mediated and expressed in popular culture, dominant discourse and creative practice. It is investigative rather than instructive and takes as its focus topics relevant to contemporary social life, including, for example, debt, conflict, global civil unrest, network culture, ideas of the future, utopia and dystopia.
You will be encouraged to experiment with various ways of exploring such topics, both individually and collaboratively, and through the development of modes of inquiry which overcome false divisions between theory and practice.
Features
Facilities
The Media Broadcast Production Centre is a purpose-built production environment which includes television studios, radio studios, video editing suites, audio edit suites, Apple Mac digital media labs with Adobe software and a sound theatre.
Research
Media academics conduct internationally recognized research on a variety of topics, including Spielberg studies, film and medievalism, exploitation studies, and film and gender.
Industry Links
Much of a academic staff are current media practitioners who are engaged with professional bodies, such as the Royal Television Society, the British Society of Cinematographers and the British Association of Film, Television and Screen Studies, ensuring that course content is informed by the latest industry developments. BAFTA-winning television dramatist Neil McKay and documentary-maker Nick Gray are visiting professors in the School.
Visiting Speakers
Students on this course have the opportunity to hear from visiting guest speakers from many parts of the Film and TV industries. See here for details:
http://www.lincoln.ac.uk/home/fm/abouttheschool/visitingspeakers/
Careers
Career and Personal Development
This programme aims to equip graduates for a variety of roles in the media industry and is designed to give them a competitive edge to progress to senior roles. Graduates may utilize their skills to work in businesses or for themselves developing web-based projects, including mobile phone applications and large-scale interactive installations.
Careers Services
The University Careers and Employability Team offer qualified advisors who can work with you to provide tailored, individual support and careers advice during your time at the University. As a member of our alumni we also offer one-to-one support in the first year after completing your course, including access to events, vacancy information, and website resources; with access to online vacancies and virtual and website resources for the following two years.
This service can include one-to-one coaching, CV advice, and interview preparation to help you maximize your future opportunities.
The service works closely with local, national and international employers, acting as a gateway to the business world.
Fees
Other Costs
For each course, you may find that there are additional costs. These may be with regard to the specific clothing, materials or equipment required. Some courses provide opportunities for you to undertake fieldwork or field trips. Where these are compulsory, the cost of travel and accommodation will be covered by the University and so is included in your fee. Where these are optional, you will normally be required to pay your own transport, accommodation, and general living costs.
With regards to textbooks, the University provides students who enroll with a comprehensive reading list and you will find that our extensive library holds either material or virtual versions of the core texts that you are required to read. However, you may prefer to purchase some of these for yourself and you will be responsible for this cost.
Tuition Fees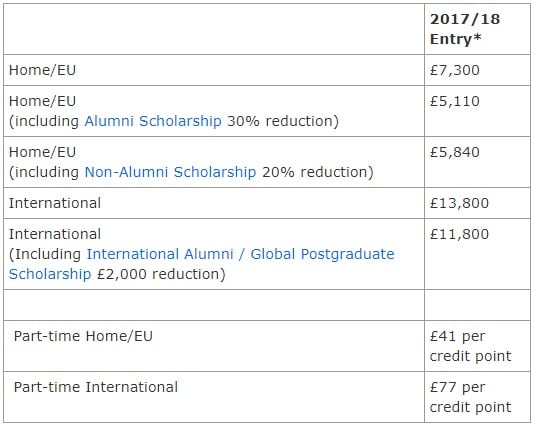 * Academic year September- July
** Subject to eligibility
Loans
A new system of postgraduate loans for Master's courses will be introduced in the UK, beginning from the 2016-17 academic year. Find out if you are eligible.
Postgraduate Loans
Individuals will be able to apply to borrow up to £10,000 for the purpose of completing an eligible postgraduate master's qualification.
Postgraduate Taster Days
Wednesday 18 October 2017
Wednesday 21 February 2018
Saturday 7 April 2018
Wednesday 6 June 2018
Wednesday 4 July 2018
Scholarships
As a postgraduate student, you may be eligible for scholarships in addition to those shown above.
Guidance for Part-time Postgraduate Fees
To complete a standard Master's Taught programme, you must complete 180 credit points.
Full-time students will be invoiced for the programme in full upon initial enrolment.
For part-time students, tuition fees are payable each credit point enrolled. To calculate your part-time fees, multiply the part-time fee per credit point by the number of credits you intend to complete within that academic year. This is usually between 60 and 90 credit points per year.
For example, if the fee per credit point for your programme is £38, and you enroll in 60 credits, the tuition fee payable for that academic year will be £2280.
The information contained on this page is correct as of October 24, 2017. For the most up to date course information, please visit https://www.lincoln.ac.uk/home/course/digmedma/
Last updated May 2020
About the School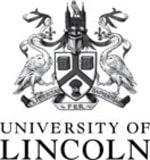 Since being opened by Queen Elizabeth II in 1996, the University of Lincoln has invested more than £300 million in its buildings and facilities.
Since being opened by Queen Elizabeth II in 1996, the University of Lincoln has invested more than £300 million in its buildings and facilities.
Read less