Master in Digital Journalism and Design
Home ›
MA ›
Master in Digital Journalism and Design
Program Description
Learn essential skills for the Internet age: web publishing and design, social media, multimedia production, information graphics and much more.
This master's degree is designed to be completed in one year, or over a fall, a spring and a summer semester. (Working professionals may want to take longer to complete it.) It will prepare recent graduates or practice professionals to excel in the exciting field of digital journalism and in other media- or communication-related fields. As an applicant to the master's degree in Digital Journalism and Design, you stand to gain an immediate professional benefit: a USFSP-Poynter Certificate of Proficiency in Digital Technology for Journalists.
A Banner Day for DJD: Full Accreditation
On May 6, 2016, the Accrediting Council on Education in Journalism and Mass Communications unanimously voted to approve full accreditation for the University of South Florida St. Petersburg's online M.A. program in Digital Journalism and Design.
Face-to-face undergraduate and graduate programs within USFSP's Department of Journalism and Media Studies have been accredited since 2004, earning re-accreditation every five years since. This marks the first program review for DJD and its initial accreditation. ACEJMC found each degree-seeking program offered by the Department of Journalism and Media Studies in compliance with each its nine standards for excellence.
While programs with multiple ACEJMC-accredited programs are rare, rarer still are accredited programs with online degrees. Today's achievement validates the hard work our students and faculty have put forth since the first cohort of DJD students in fall, 2012.
Ready to jump into a fully accredited digital learning environment and become a better communicator, designer, and storyteller? Come join us today.
The DJD degree FEATURES 10 courses at the cutting edge of journalism, technology, and design.
Each course addresses an area highly relevant to the practice of digital journalism and design. Together, the courses provide a solid foundation of the practical and theoretic skills required to succeed in the rapidly changing era of online journalism.
Multimedia Reporting
Web Publishing
Digital Media and Democracy
Multimedia Production
Entrepreneurial Journalism
Digital Media Technology
Social Media
Digital Media Ethics and Law
Visual Communication Design and Theory
Final Project
Last updated May 2018
About the School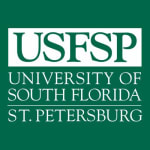 The College of Arts & Sciences is USF St. Petersburg's largest college, offering a wide range of academic programs. The College has a legacy of providing programs of excellence in a student-center ... Read More
The College of Arts & Sciences is USF St. Petersburg's largest college, offering a wide range of academic programs. The College has a legacy of providing programs of excellence in a student-centered atmosphere. World-class research and creative activities are carried out in one of the most beautiful metropolitan campuses in the U.S. Take some time to explore our offerings, where "the world will recognize your degree and your professors will know your name."
Read less