Master in Digital Creative Production
Program Description
The Master in Creative Digital Production supposes an updated immersion in the main professional roles and actions that are being carried out in the changing environment of production and creativity.
New technologies have modified key aspects of creative processes: from the generation of the idea, to production, through technical quality requirements to reach different consumer devices. The demand for professionals with a strong and up-to-date background in digital creative production has become a rising value.
Addressed to
Students of audiovisual communication, degrees in cinematography, telecommunications and those areas of higher education related to communication and art.
Professionals who want to readjust their CV and become professional within the prevailing market of the world of audiovisual fiction.
Training trips
Training experience in Los Angeles included in the registration fee.
Mobility
Los Angeles, USA - Students will visit the best Hollywood film industries, where they will learn the latest film trends on digital platforms.
The estimated duration will be 8 days (the number of days is subject to change). Accommodation, training and flights are included in the price of the master.
Students who cannot attend this training trip have the possibility of obtaining a reduced price for the master.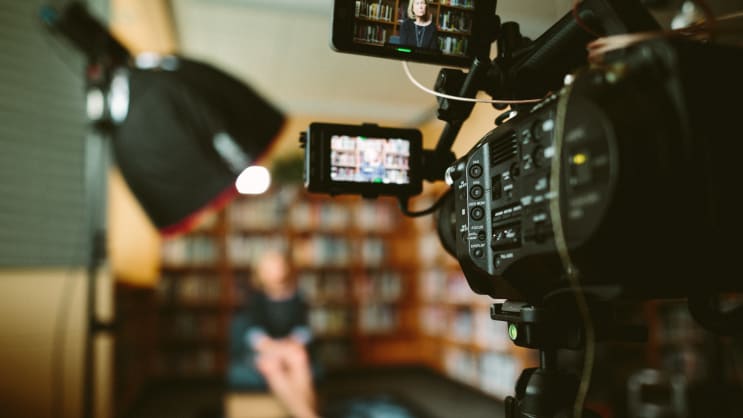 Sam McGhee / Unsplash
goals
The objective of this Master in Digital Creative Production is to provide students with a deep knowledge of the digital sector that allows them to understand the different professional dynamics of fields such as audiovisual platforms, film producers, advertising agencies, e-sports or interactive environments. The student will be able to design creative projects with a technological base, be it in content design, production or distribution.
Schedule
Friday from 4pm to 8pm
Saturday from 10am to 2pm
Temary
Block 1 - Producing in digital
The producer in the new digital environment: challenges and objectives
The explosion of OTT platforms in the world. Digital content consumption panorama. Market structure: the new players
The new viewer. The irruption of millennials and generation Z
New relationship dynamics between teams and work synergies
From script to budget
Preparation of a financing plan
The series are internationalized: management of series financing in channels in various countries
Attract broadcasters' interest: preparing a film or series sales dossier
Management in collaborative environments: crowdsourcing as a management tool, crowdfunding, crossplatform, etc.
Digital production becomes creative: Agile development, service design, creative methodologies
Block 2 - Big Data
What is Big Data and what does it have to do with production?
Algorithmic culture and content platforms: Netflix, HBO, Movistar and a long etcetera
Data analytics: sensors, wearables, biometrics, internet
Audiences and social media: from digital measurement to network monitoring
Business Intelligence and data visualization, from business to artistic creation
Privacy and security to manage data
Legal steps in a digital environment
Block 3 - Content creation
The showrunner: new leader of the series. Functions and skills
Transmedia content design, beyond series and movies
Engaging the audience: Creating interactive narratives
Branded content formats and strategies
Content generated for social networks: Instagram, Twitter, Facebook, others
Non-fiction content: documentaries
Vertical content generation, a new narrative formula
New content for new platforms: virtual reality, e-sports, Addressabletv
Block 4 - Technical workflow
Technical immersion How many do you know? Technological workflow: each role in its place.
Work methodologies for platforms and development of new advances in the industry and their application in productions.
The new image capture formats. (HDRx, 4K, 5K, 8K and 16K) and Colorimetry.
Sound capture, audio post-production and dubbing.
Producing for a quality broadcast means comfortably handling standards of image capture, treatment, colorimetry, etc.
Block 5 - Postproduction and digital effects (VFX)
Postproduction Director, workflow
Editing for digital creative producers
3D and animation: latest advances in character creation and development
Creation of environments and virtual sets, CGI
Virtual reality, 2D, 3D and 360º video
Creating with VFX
Block 6 - Promotion and distribution
A distribution plan for each project: objectives, strategy and tactics
DIY distribution strategies: Youtube, Vimeo Pro and other platforms
OTT platform workflow, the case of Netflix
Learning from sales and negotiation
Hook your audience: pitching
Keep track of your content: social media and monitoring
Marketing based on data, automation and social media
And now that? Promotion and marketing plan
On route through markets and festivals
Block 7 - Set-up to go out to produce
International co-production
Labor management: contracting teams and copyrights
Negotiation: co-production and sale contracts, acquisition of third-party rights
Last step: create your company and start networking
Block 8 - How to produce outside of Spain? Formative trip to Los Angeles, USA
Testimonials
Access and financing of the master
What do I have to do to be admitted?
Step 1: Prepare CV / Portfolio and cover letter
Maximum CV of 2 sheets, maximum portfolio 10 mb, motivation letter maximum 1 sheet.
* If you do not have experience do not worry, there are many other factors to make the decision to be admitted.
Step 2: Interview with the director of the master
It is mandatory to be admitted (can be done by phone or Skype).
Step 3: Reserve your place
In case you want to secure a place in the master, we recommend making the reservation payment of € 300. If you are not admitted, the full amount of the reservation will be refunded. You can make the reservation by transfer or online payment.
Step 4: Admission
In a maximum period of 5 days we will notify you if you have been admitted to the master.
Step 5: Follow up
Our admissions team will contact you regularly to carry out the following steps regarding final enrollment in the master.
Economic options
Early bird 10% discount until March 31 (Only a limited number of places in each master can benefit from these conditions).
We have a BBVA Studies Loan * agreement through which you can finance your studies in Barreira A + D: with this system students decide when to pay back the amount borrowed. As in the Anglo-Saxon model, you will only pay when you finish your studies, when you find a job, or when you choose. We take care of managing a tailored financing for you.
* Financing conditions subject to the approval of the bank.
For active professionals the course can be subsidized by the State Foundation for Employment Training (formerly Tripartite).
Making the cash payment of the master you benefit from a 3% discount (cumulative discount).
If you are or have been a student of Barreira A + D in any official degree you will have a 15% discount .
If you are self-employed you can benefit from a 5% discount (not cumulative).
Possibility of making the payment of the master in three installments .
"Tutor" scholarship (30%) and merit scholarship (15%) (subject to the criteria of the director and the center).
Last updated Mar 2020
About the School
Elegir estudiar en Barreira A+D es elegir entrar un ambiente diferente, diverso, creativo; un ambiente donde puedes ser quien tú quieras, porque alumnos y profesores no solo respetan la diferencia, si ... Read More
Elegir estudiar en Barreira A+D es elegir entrar un ambiente diferente, diverso, creativo; un ambiente donde puedes ser quien tú quieras, porque alumnos y profesores no solo respetan la diferencia, sino que se estimula la construcción de la personalidad, el talento y la voz propia.
Read less