Master in Digital Arts and Design
Program Description
Program description
The program "Digital Arts and Design" is one of the most innovative areas of studying in the master's degree. Every year digital technologies penetrate deeper into all spheres of human life. Arts is no exception. An important difference in this area of arts is that digital artists and designers are usually involved in activities related to high technologies and, as a result, are at the forefront of the development of science and technology.
The advantage of this educational program is a broader approach to the role and process of formation of not only interiors and exteriors environment, but also urban events, festivals, exhibitions, etc. The Graduate can be firmly confident that he can objectively assess the level of the subject-spatial and digital environment and give methodological recommendations that can significantly improve it, as well as directly implement the project.
Disciplines aimed at the study of information technologies, creative programming and modern digital equipment allow you to penetrate into the process of creating a digital artifact and to create works of digital art with a full understanding of the possibilities of the technology of their creation.
The educational process in the master's degree is built so that undergraduates will deepen their knowledge and skills in information and communication, organizational and management activities. This is facilitated by familiarity with the activities of design firms and studios where undergraduates are involved in innovative work.
Program goal
During the training master's undergraduates will expand their knowledge in the field of artistic, creative and project work in the field of design and digital arts. In addition, they continue to study academic drawing and painting and often create real creative works, so in the learning process, they actively participate in various art exhibitions and competitions.
Career opportunities
The combination of design and digital arts allows graduates to carry out successful practical design and creative art activities based on the understanding and competent use of digital technologies.
Designer and digital artist are a professional in the transformation of subject-spatial, artistic and digital environment:
he studies the regularities of the formation of the subject-spatial environment and predicts its development;
creates interior design projects with object content and digital equipment;
organizes actions and events of various levels – from city festival to the exhibition of digital arts;
creates artifacts of digital arts;
provides consultations in the organization of the subject-spatial and digital environment of different types;
teaches the principles of formation of a comfortable environment of different types and kinds;
makes an expert assessment of the completed projects and the transformations of the subject-spatial and digital environment.
Duration of study
2 years, Full-time
Curriculum (Program structure)
Basic courses:
Academic drawing and painting.
Art management (Intellectual property protection and International Law).
Creative programming.
Creativ technologies in Digital Design
Research work.
Optional courses:
1. 3D-modelling and animation.
2. 2D- and 3D-animation.
3. Objects of Digital Art in public space (Ambient Design).
4. VR-worlds.
5. Infographics.
6. History and Methodology of design projecting.
7. Computer aesthetics.
8. The psychology of perception of digital arts objects
Entrance requirements
The applicant should have a Bachelor's or Specialist's degree in arts and humanities. The relevant diploma should be issued within the last 5 years.
To pass the entrance test successfully, the applicant will need some knowledge of history, design and design methods, as well as the basic knowledge of digital arts and related methodology.
The applicant is expected to be able to speak English and read and translate texts in Russian using a dictionary if necessary.
Program taught in
English
Training base
A master's student has practical training in institutions and organizations close to or similar to those that are stated in the subject of master's research, that's why the bank of practices is very diverse. It can be: city administration, shopping or entertainment centers, educational and medical institutions, cafes and restaurants, as well as advertising agencies or design firms. In any case, the undergraduate is acquainted with the work of the institution, its location, subject-spatial environment and the possibilities of using the elements of digital arts, in addition, one provides guidelines for improving the methods of their implementation.
Duration & Price
Start date: 1st September, 2020
Duration: 2 years Full-time
Price: 2,500 USD per year
Deadline: June 30, 2020
Contact
Lenin Street, 38, Magnitogorsk city, Chelyabinsk Region, Russian Federation, 455000
Last updated Aug 2019
About the School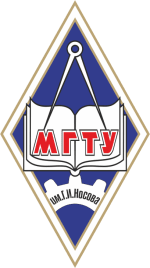 Nosov Magnitogorsk State Technical University (NMSTU) is one of the most credible and reputable multiple- discipline technical universities and scientific centers in Russia. Representing a widespread ... Read More
Nosov Magnitogorsk State Technical University (NMSTU) is one of the most credible and reputable multiple- discipline technical universities and scientific centers in Russia. Representing a widespread infrastructure, sophisticated material resources and high intellectual potential, our University became an internationally recognized research school; it has a wide range of cultural and scientific ties with both Russian and overseas universities.
Read less