MSc in Control for Green Mechatronics (GreeM)
Home ›
MSc ›
MSc in Control for Green Mechatronics (GreeM)
Read more about this program on the school's website
Program Description
The international master on Control for Green Mechatronics (GREEM), within the Robotics and Control mention of the French Ministry of Education, promotes a high-quality educational offer in the area of design and control of mechatronic systems with a particular focus on two points: their functional performances and their energy efficiency.
The consideration of the energy efficiency makes the GREEM international master very singular and very innovative and makes it answer a real actual societal matter which is the effect of technological devices to the ecology.
Program description
After graduation, the students will have mastered the area of green mechatronics where they will be able to design new or re-design existing mechatronic systems, to model and simulate them, to calculate controllers for their automation and their performances' improvement, and to set up networks of mechatronic systems, all together with consideration of the energy efficiency.
Furthermore, international experience possibility is offered to the students: exchanges with partner universities at the international level are possible with eventual dual-degree, internships at the international level are encouraged, a great part of the courses are given in English, and French language and culture courses are given for non-francophone students.
The master program lasts two years and includes a total of 120 ECTS. The two years are split into four semesters (S7, S8, S9 and S10) which include several features such as: two industrial certifications (Schneider and Siemens), in excess of 80% of the courses given in English, French course offered to non-francophone students, 3-days labs in another city (in Poligny which is a small and original city of the Jura department where winery is also well known), seminars by internationally renown researchers, research labs visiting, students project in robotics for national competition, possibility of international exchange (dual-degree, exchange mobility, internship mobility).
The master is also supported by the international renown research center FEMTO-ST. The master is a program of the EIPHI Graduate-School of the Université Bourgogne Franche-Comté.
Curriculum
Master 1
S7 semester (30 ECTS)
Digital signals, systems, and control
Energy efficiency (Schneider industrial certification)
Modeling of mechatronic systems: i) introduction to Porth Hamiltonian systems, ii) linear graph modeling
Micromechatronics
Systems engineering
Technologies in systems control: i) sensors and actuators, ii) industrial local networks
S8 semester (30 ECTS)
Multivariable control systems
French and Foreigner languages
Industrial computing
Mechatronic systems design (Siemens industrial certification)
Microtransducers
Optimization
Methodological tools
Robotics
Master 2
S9 semester (30 ECTS)
3D design and manufacturing of mechatronic systems
Multivariable robust controllersEnergy management fundamentals
Energy-based control
Physical modeling and numerical simulation of microsystems
Multiphysics microsystems and applications (Biomedical and acoustic)
Nonlinear control systems
Smart grid
S10 semester (30 ECTS)
Microrobotics
Energy harvesting in mechatronic systems
Internship (21 ECTS)
Future career prospects
Career opportunities are very high because mechatronic systems are found and increasingly developed in a very wide range of applications.
The fact that today's problematic, like energy consumption in technological devices, is particularly tackled in this master will make graduated students very attractive to the industry at the international level.
Furthermore, high skills and specialized students will have been educated making them the best candidates for research and Ph.D. programs in the fields of mechatronics at large, of control, of robotics.
Entry requirements
The applicant should have a level of English and a background on "control systems" following the UFC/UBFC criteria. Additionally to these, the motivations and the professional project of the applicant are also examined carefully.
Several applications are possible.
Entering directly in Master-1 at the UBFC: an application is made through eCandidate. For particular cases or for more information, feel free to contact us.
Entering in Master 2: this is possible for those who have at least the level of Master 1 and who have very good tracks in the required background.
Entering through a partner university: students from one of the partner universities who would like to enroll the GREEM master within a dual-degree track can be informed by the contact person at these universities.
Application procedure
For all candidates : apply via eCandidate
Opening date : 15th January 2020
Deadline: 19th June 2020

IMPORTANT :
ALL applications should been made through the above mentionned website no matter if you are from a European country, a Campus France country, or any other country worldwide. The applications should NOT be made on Campus France website since our university is not connected to Campus France platform.

Once selected only :
students coming from a Campus France country : you will be required to make your visa application on the « Etudes en France » website following the 3rd option « I am accepted ». Download here the guide with the instructions for Campus France procedure to follow
students coming from any other country : you need to contact the closest French Embassy
non European student, living in a European country : you will need to contact the French Embassy located close to your place of residence.
Countries with a Campus France office :
Algeria, Argentina, Benin, Brazil, Burkina Faso, Burundi, Cameroon, Chile, China, Colombia, Comoros, Democratic Republic of the Congo, Djibouti, Egypt, Gabon, Haiti, India, Indonesia, Iran, Ivory Coast, Japan, Kuwait, Lebanon, Madagascar, Mali, Mauritania, Mauritius, Mexico, Morocco, Nigeria, Peru, Republic of Chad, Republic of the Congo, Republic of Guinea (Guinea-Conakry), Russia, Senegal, Singapore, South Korea, Taiwan, Togo, Tunisia, Turkey, USA, Vietnam.
Grants
Every year, a very limited number of UBFC scholarships could be offered on the basis of tracks and academic records. Application to such scholarships must be done no later than the beginning of Master-1.
Site of training
The site of training is Besançon, a French old city that combines old stones buildings, French culture, various activities from sports to cultural, and students life.
Approximately 10% of the population are students or interns in Besançon city and in its agglomeration.
The center of applied languages (CLA) which is a part of the university is one of the most important centers for learning languages in France and hosts approximately 4000 interns per year coming from various countries for some days or for several months.
Public transportation is very practical and the old-city is doable by walks.
Last updated Feb 2020
About the School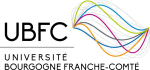 Université Bourgogne Franche-Comté (UBFC) is a public university federating 7 Higher Education and Research (HER) Institutions operating in the Bourgogne - Franche-Comté (BFC) Region. Its strategic go ... Read More
Université Bourgogne Franche-Comté (UBFC) is a public university federating 7 Higher Education and Research (HER) Institutions operating in the Bourgogne - Franche-Comté (BFC) Region. Its strategic goals are to foster Excellence and Internationalization of BFC Higher Education and Research; increase attractiveness for national & international Students, Professors & Researchers; develop Innovation, Transfer and socioeconomic Partnerships.
Read less