Master in Computer Information Systems
Home ›
Master ›
Master in Computer Information Systems
Program Description
The Master of Science degree in Computer Information Systems is offered in the Department of Computer Science and Information Systems at Grand Valley State University. The primary purpose of the program is to make educational opportunities available to the professional computing community in the West Michigan area. It is intended for computer professionals who are already working in the industry and are using computer and information systems.
Content Areas:
Five content areas are designed to provide sustained coverage of topics essential to the regional computing community. Each content area consists of three courses that are taken sequentially.
Admission

In addition to the requirements listed in the Graduate Admission section, candidates must satisfy all of the following:
Grade point average of 3.0 (B) from all undergraduate coursework or a satisfactory score on the GRE or the GMAT test.
Candidates must have a base of underlying knowledge relevant to graduate study in the computer field. This can be demonstrated by previous academic study or work experience. A consultation with a faculty member may be necessary to verify the appropriateness of work experience as a substitute for academic preparation. Candidates without relevant background experience may satisfy any deficiency with appropriate courses. For comparison, the relevant courses at Grand Valley are CS 162, 163, 230 or 251, 330 or 350 and 333 or 353. In addition, the material covered in CS 500 forms a foundation for study in the program. A student not having this knowledge will be required to take this course also.
Submit acceptable recommendations from at least two individuals attesting to the likelihood of the candidate's successful completion of the program.
Submit a resume detailing work experiences and accomplishments.
Submit a personal statement of career goals and background experiences, including an explanation of how this program will help achieve educational and professional objectives.
Certificate Program Requirements
Each of the content areas in the master of science degree program constitutes a certificate program. A certificate in each of the areas of Software Engineering, Object-oriented Technology, Information Systems Management, Distributed Systems, or Database Management is awarded to a student who completes a content area. The last two courses in the content area must be completed at
Grand Valley State University.
Admission criteria for a certificate program are identical to admission criteria for the master's degree program. Certificate candidates enroll in the standard master's degree program courses, with grading criteria being identical. Should a certificate candidate decide to change to the master's degree program, all coursework taken toward the certificate will apply to his or her master's degree program.
Last updated Jan 2018
About the School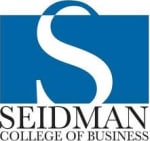 Seidman is the dynamic growing business school located in the heart of greater Grand Rapids business community. The 68 full-time Ph.D. faculty are dedicated to helping our students and our business pa ... Read More
Seidman is the dynamic growing business school located in the heart of greater Grand Rapids business community. The 68 full-time Ph.D. faculty are dedicated to helping our students and our business partners grow and prosper. At Seidman, the focus is on the future. The changing technology of the 21st century is embraced in our classrooms. The faculty prepares our students for their place in the global business environment. You may be looking at this page as an undergraduate or graduate student or you may be one of the business leaders seeking the expertise of our faculty or our business resources. Local, national and international companies engage the Seidman faculty in consulting services because more than 90% hold doctoral degrees and their research appears in leading business journals, magazines, seminars and trade publications. Faculty in business look to the future when they teach business, provide assistance, and develop research. Committed to serving the needs of the business community by providing information services, the Small Business & Technology Development Center, customized research, and no cost one-time business counseling. Support is also provided through seminars and by programs based in the Centers for Business Ethics, Entrepreneurship, and Family Business. Vision Statement To become known as a preferred source of graduates educated to apply a creative, integrated, and cross-disciplinary approach to business. Mission Statement The Seidman College of Business provides a rigorous learning environment, with a student focus, a regional commitment, and a global perspective. In its teaching, scholarship, and service activities the College innovates applies knowledge and integrates concepts.
Read less