Master in Computational Mathematics
Home ›
Master ›
Master in Computational Mathematics
Program Description
Faculty of Electrical Engineering and Computer Science
Study Branch
Computational Mathematics
Branch Profile
Computational Mathematics has a distinct focus on the important areas of applied mathematics relative to other branches of Information and Communication Technology, which the students can use when dealing with practical problems in the workplace. Students gain a solid base for a career, or can continue in a doctoral programme focusing on the development of new methods for computational solutions of engineering problems with particular application in R&D. Computational Mathematics is a branch of the study programme of Information and Communication Technology.
Key Learning Outcomes
Knowledge
The graduates in this study programme possess a broad and deep state-of-the-art knowledge and understanding of the branch of information technology, and a practical knowledge of applied mathematics, along with the selected areas of application. The knowledge in mathematics acquired during the Master's studies constitutes an appropriate theoretical basis for further doctoral studies.
Skills
The graduates in this study programme can search for, sort out and interpret the relevant information to solve a defined practical problem. They can also deal with complex problems independently and creatively, using selected procedures that make use of information and communication technology as well as applied mathematics.
- General competencies:
A graduate is able to make independent and responsible decisions in new or changing contexts or in a developing environment with respect to broader social consequences, to coordinate the operation of a team and bear ultimate responsibility for the results. They possess communication skills that enable them to express the essence of a problem, to sum up their own opinions and the opinions of other team members in a comprehensible way, and to express the nature of technical problems. They are prepared for further studies in the doctoral programme focused on the utilization of applied mathematics.
Occupational Profiles of Graduates
With a good understanding of the theoretical aspects of mathematics, informatics and communication technology, a graduate is qualified for flexible adaptation to the requirements of the workplace, including research and development. A graduate can find employment practically in all areas that use information and communication technology, regardless of the subject field.
Admission Requirements
Determined by Dean, may include entrance examination, specific courses taken during bachelor studies, other formal documents.
Graduation requirement
120 ECTS Credits, Final state examination, Diploma thesis
Course Structure Diagram with ECTS Credits
30 ECTS credit per semester.
Last updated Feb 2018
About the School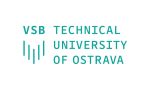 VSB-TUO is the top ranked university in Czech Republic, drawing on 160+ years of research and academic excellence to provide world class education to 19,000 students from six continents. according to ... Read More
VSB-TUO is the top ranked university in Czech Republic, drawing on 160+ years of research and academic excellence to provide world class education to 19,000 students from six continents. according to Times Higher Education Ranking
Read less