Program Description
1. PRESENTATION
Who is the course for?
The Master in Business Management is designed for professionals and university graduates, with experience in business management, who are interested in deepening the new tools and specific strategies of the commercial field.

What are your objectives?
The Master in Business Management proposes to give an efficient and effective response to the new challenges of the national and international business environment, guiding the optimization of the commercial management of any company.
Where is the training provided?
In our offices in Madrid and Barcelona, ​​blended or blended .
What are the requirements to access?
To access the Master in Business Management the student must have a university academic degree (bachelor, diploma or engineer).
2. Modality
The Master in Business Management is a blended and interactive program that combines online flexibility and comfort and the personal treatment of face-to-face classes. The modality is based on three fundamental axes:
Virtual campus
The virtual campus model encourages interactive contact between all program participants, whether students or teachers, which guarantees an environment in which communication circulates at all levels. Experience has shown us that the digital community created in our virtual campus encourages the debate of ideas and practical cases based on the experience of each participant. It is, in short, a meeting point open to debate about subjects of the program or current issues.
Faculty
The professors and teaching advisors of the Master, with an extensive professional trajectory, are the best guarantee to complete the program successfully. In addition to being experts in their respective subjects, the pedagogical support they provide allows solving doubts and problems in a practical and inspiring way.
Material
Another advantage of the virtual campus is its flexibility when it comes to updating and expanding information. In this sense, our campus is a living organism in which information and content are always available in an optimized and immediate way.
3. TITULATION
The student has a maximum period of three years to complete the master. Upon completion, you will obtain a double degree from EAE-Business School and the University of Barcelona-IL3. The Master has a teaching load of 60 ECTS credits (European Credits Transfer System).
TEMARY
1. Marketing: fundamentals and tools
01. What is marketing?
02. Marketing Strategies
03. Determinants of Marketing
04. Marketing Mix
05. Product and conditions of sale
06. Commercial distribution and distribution channel
07. Communication
2. Commercial Management and Supervision of the Sales Network
08. The new challenges of the Commercial Department
09. Introduction in commercial planning and variable analysis
10. Commercial strategic foundations
11. Commercial organization
12. Sales Forecast
13. Strategic client management
14. Introduction to Exportation
3. Management of commercial teams
15. Selection of the sales network
16. The training of sellers
17. Leadership, leadership and motivation
18. Supervision and evaluation of the sales network
19. Remuneration of the sales network
20. CRM in the direction of commercial teams
4. Organization and planning of the seller's work
28. Time management and meeting management
29. Zones and routes of sale
30. Public presentations
31. Analysis and decision making
32. Administrative processes
33. Information technology in the Commercial Department
5. Finance for Commercial Managers
34. The basic financial statements
45. Introduction to the analysis of financial statements
36. Analysis of the structure of the balance sheet and long-term solvency
37. Analysis of the income statement
38. Discounts, delinquencies and payment terms
39. Cost control and budget
Last updated Mar 2020
About the School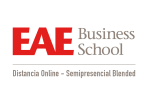 EAE Business School, consciente de esta nueva realidad, apostó en el año 2007 por incluir en sus programas las metodologías formativas de Distancia Online y Semipresencial Blended. De este modo sus a ... Read More
EAE Business School, consciente de esta nueva realidad, apostó en el año 2007 por incluir en sus programas las metodologías formativas de Distancia Online y Semipresencial Blended. De este modo sus alumnos pueden beneficiarse de las muchas ventajas que ofrece el hecho de poder estudiar a distancia:
Read less