Master in Business and Management
Program Description
The Master in Management programme trains future managers and helps them to acquire professional and personal skills needed to manage a company in the most efficient way. Students will be able to make decisions in digital and global environments.
Why choose EMLV Business School ?
By joining the Master in Management programme, students will take part in a unique experience, preparing them to become global managers ready to innovate and manage complex challenges.
The Master in Management is:
Recognised by the French Ministry of National Education, Higher Education and Research ('Visa Bac+5' and 'Grade de Master')
RNCP certified ('Répertoire National des Certification Professionnelles')
EPAS accredited in recognition of its excellence at international level
Ranked among the best 25 Master in Management in France
Member of 'Conférence des Grandes Écoles (CGE)' in France
Read more on the school's website: Master in Management
Teaching and learning
Our philosophy is to provide professional training on the fundamentals of business and management and we strive to build and develop each student's potential and promote a global outlook. As a key player in his/her own training, each student takes charge of his/her professional future with the support of academics, professional tutors, student alumni and the entire EMLV team. EMLV proposes cutting-edge courses in the study of management that covers a variety of fundamental disciplines including finance, sales, marketing, human resources, and procurement.
Practising
The two internship periods allow students to build professional connections with companies and our corporate partners in France and abroad, as well as strengthen their international employability. During the internships, they will have the opportunity to apply their new expertise within their areas of specialisation.
Course structure
A unique transversal approach: EMLV Business School is the only school in France to include a true transversal approach throughout its programme. Transversality is a pedagogical method that is possible with the support of two other schools located on the same campus: ESILV (Graduate School of Engineering) and IIM (Institute of Internet and Multimedia).
Majors courses
EMLV continuously adapts its programmes to ever-changing economic trends in order to ensure that students are taught the latest, most up-to-date skills and knowledge. Major courses take into account company and job market needs and are all entryways into the student's desired professional occupation.
Digital Marketing
Finance & Accounting
International Business

Consumer behaviour
Innovation & Technological change
e-business
Satisfaction, Loyalty & Customer Value
Digital Branding
Communication & Advertising
Market Data Analysis
Sustainable Marketing & Communication
Business Development Metrics and KPI
Community Management
Digital Business Planning
Data Management & Data Analytics
International Business & Consumer Law
Tools of e-CRM
Marketing 360°
Social Media Marketing
Digital Advertising
Online Reputation
Growth Hacking
IT Security & Ethics
Web Project Management
UX Design
SEO & SEA
etc.

Consolidation
Corporate Taxation
Cash Management
Financial Decisions
Introduction to Financial Analytics
Quantitative Data Analytics
Financial Markets
Financial Econometrics
Derivative Markets
Financial Auditing
European Taxation
I.F.R.S.
Financial Analytics
Blockchain & Finance
Corporate Valuation
Private Asset Management
Financial Engineering
Bloomberg Certification
Fiscal Engineering
Internal Audit & Risk Management
Cash Management
Business Law
Project Management
Banking Techniques
Mergers & Acquisitions
Financial Communication
Due Diligence
Private Equity
Financial Strategies
etc.

Economics
International Relations
International Business Responsibility (Ethics)
Emerging Technologies
International Team Management
Corporate Governance
International Marketing
Business Decisions & Data Analytics
Planning & Control
Operational Risk Management
Financial Aspects of International Business
Corporate Finance
New User Trends & Sociology
Communication Technology
Global Business Strategy
Geopolitics & Economic Stability
Global Risk Management
International Project Management
Digital Marketing
Big Data & Analytics
Cross-Cultural Marketing
Global Supply Chains
Import – Export
Business Negotiations
Int. business & Consumer law
Budgeting & Performance Reports
Managerial Accounting

+ Company conferences / Career development coaching / Internships and Master's thesis / Weekly French language classes, etc.
Careers
Key results of the '6-months post-graduation' survey :
80% of the respondents became project managers
90% were hired within 4 months after the end of their internship
50% were promoted from internship students to managers in the same company
84% use English on a daily basis, working in an international environment
Job positions
The MiM programme offers a wide range of employment opportunities in a multidisciplinary and international environment. Students aspire to lead roles such as:
Social Media Manager
Data Analyst
Product Manager
Brand Manager
International Business Developer
Fund Accountant
Revenue Analyst
Financial Consultant
Business Performance Analyst
Financial Planning Analyst
Head of International Sales
Why Pursue the Master in Management Programme at the Leonard de Vinci Business School?
Teaching faculty: PhD professors and professionals
A modern campus in La Défense, Paris business centre (France)
Intercultural experience
Partnerships with multinational firms
Sports facilities and more than
50 student clubs & societies
Interactive projects with sister schools ESILV (Graduate school of Engineering) and IIM (Institute of Internet and Multimedia)
Emphasis on soft skills and employability
Small class sizes
Individual attention
Scientific research techniques to engage in independent investigation and understanding of business issues
Access to Bloomberg terminals, the Learning Center and the FabLab (3D printers)
Last updated Oct 2019
About the School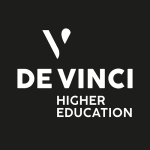 Ideally located in the heart of La Défense Business District, the Pôle Universitaire Léonard De Vinci unites more than 6500 students within its four schools which deliver degrees which are recognized ... Read More
Ideally located in the heart of La Défense Business District, the Pôle Universitaire Léonard De Vinci unites more than 6500 students within its four schools which deliver degrees which are recognized by employers: The Graduate School of Engineering (ESILV), The Management School (EMLV) and The Institute of Internet & Multimedia (IIM).
Read less