Program Description
Internationally Accredited Masters for a Global Career
The Masters in Business Management (M.B.M.) at M.S.B. attracts ambitious fresh graduates or young professionals holding an undergraduate degree in different academic backgrounds who aspire to access to high managerial positions.
M.S.B. cited by the Financial Times as a Model of Business School to follow in Africa
90 % Professors with Ph.D.'s from prominent universities
80 % * Graduates hired within 6 months
16 %* Launched their own businesses (upon graduation)
Specializations:
Marketing
Corporate Finance
BIG DATA & Business Analytics
Human Resources Management
Supply Chain & Operations Management

Why an MBM at Mediterranean School of Business?
Internationally Accredited: The only M.B.M. in Africa Accredited by the London-based AMBA
Two Formats: Full-time for fresh graduates or Part-time for working professionals

Monday to Friday 20 hours a week
Twice a week from 6:30 pm to 9:30 pm & Saturdays 9 am to 1 pm

Innovative Taught in English: By highly qualified international
Teaching Methods: Favoring the development of Soft Skills
Stimulating Learning Environment: State-of-the-art facilities, a dedicated advisor for every student
Innovation Lab: A physical space dedicated to creativity, problem-solving, and experimentation with the mission of helping all entrepreneurs find, test, and realize innovative ideas
International Opportunities: Possibility to start at M.S.B. and continue at EADA for a double Master Degree, Barcelona and/or benefit from exchange programs with top-ranked universities
Our MBM at a glance
Our MBM at MSB targets ambitious fresh graduates or young professionals holding an undergraduate degree in different academic backgrounds who aspire to access to high managerial positions. The curriculum has been designed in a way that students are able to analyze and solve complex managerial problems and be proactive and reactive to changes. M.B.M. teaching methods rely on the use of the case method, enforcing the practicality and applicability of managerial concepts. The case method also makes students take action from a manager's position. Being the only AMBA accredited M.B.M. in Africa ensures that the curriculum includes the latest management thinking and is in line with the curriculum of most prestigious schools worldwide.
Format & Structure
Start Smart: M.S.B. culture
Analytical tools
Functional Areas of Business
Specialization, Business Strategy
Internship * Final Project
Graduation
Year I: Common training
Management Foundation
Financial Accounting
Corporate
Communication
Managerial Economics
Leadership, OB, and change Management Project Management
Support
Public speaking
and Social
Media Business
Ethics Business
Law Business
Statistics
Functional areas of business
Finance
Management
Information Systems
Human Resource
Management
Marketing
Operations Management
Strategy and planning
Business
Communication
Business Plan
Business
Strategy
Specialization
Year II: Specialization Courses & Final Project
Specializations offered:
Marketing
Corporate
Finance
Human Resources Management
BIG DATA & Business Analytics
Supply Chain & Operations Management
The Final Project:* M.S.B. provides the candidate with a mentor and the final project could be conducted
At the company of the participant for working professionals
At a company among M.S.B. Partners
At the new or existing startup of the candidate
Softwares:
Excel - Advanced Excel - SAP - SSAS - SPSS - Qualtrics - G-Forms and Others depending on chosen specialization
International Opportunities: For a Global Career

International experience is a necessity in the modern workplace, and an important part of your development at M.S.B.. There are numerous options to go international during your studies, from a summer program at Babson College, a semester on exchange at one of our partners, or taking a class with an international student at M.S.B.. If you'd like to continue your studies abroad, you can take advantage of our numerous 2+2 agreements, a Master Grande Ecole in France, or even a double degree with our Masters and EADA in Barcelona.
MSB Career Center: Your Bridge to the Professional World
Career Center Mission:
Advising and Placement of Students (internships and jobs)
Fostering Partnerships
Organizing Events to Connect Students to the Business World:
Career Fair
Workshops (Explore Educational/ Career Interests; Write Winning CV & Cover Letter; Prepare for Job Interviews; Networking; Explore Career and Major)
Alumni mentoring & sharing experience, Guest Speaker events, Conferences, Company presentations and visits

An Exciting Student Life
Campus life is vibrant outside S.M.U. amphitheaters and classrooms, students work together as teams in club activities and events monitored by the SCC (Student Clubs Council) This spirit of teamwork and collectivity are supported by S.M.U. throughout its curriculum and its professors who work closely with students to help them create clubs and contribute positively to student life:
| | | |
| --- | --- | --- |
| TEDx | AIESEC | Google Students Club |
| Debate club | The Pulse (Blog) | Young Professional Club |
| Mediterranean Finance Club | Sports Club | Theatre Club |
| Radio Club | Dance Club | Events Club |
| Integration Club | Book Club | Music Club |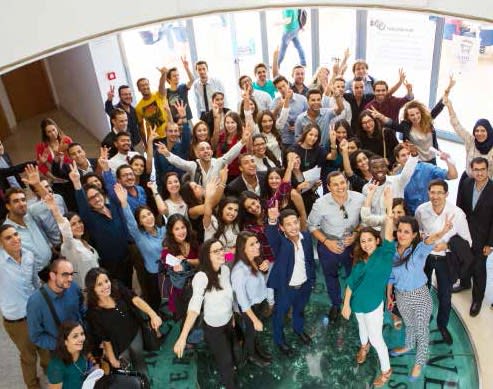 Admission Process
Submission of Application Form & Documents
English Tests
Interview
Decision
Admission Criteria
Academic background
English proficiency & Undergraduate degree
Motivation
Adaptability and flexibility in a diversified environment
Ability to Contribute
Your ability to contribute to the M.S.B. experience during and after the program
Language Policy
The M.S.B. M.B.M. program is taught exclusively in English. Therefore, fluency is a prerequisite. If English is neither your mother tongue nor the language in which your university degree was taught, you will need as a first step either to take our INTERNAL ENGLISH PROFICIENCY TEST or to bring certification of proficiency in English such as the TOEFL or IELTS.
Financing
Most students cover the costs of fees and living expenses through a combination of:
Family support;
Interest-free Loans;
Scholarships: MSB grants scholarships for outstanding students who do not afford the tuition fees in order to promote academic excellence and provide greater access to quality education and diversity scholarships to further enhance the cultural and international diversity on the S.M.U. campus.
Application Deadlines
The Master of Business Management Program has two intakes: September Session & January Session (part-time Master).
Application Deadlines
We operate on a rolling basis; however, competition is high so the earlier you gain admission, the more time you will have to secure financing, arrange logistics and most importantly improve your English possibly at the LCI, the Language & Culture Center at SMU.
Last updated Nov 2019
About the School
South Mediterranean University's vision is to be a reference for educational excellence in Tunisia and beyond. Our rigorous programs bring together innovative teaching methods with the latest advancem ... Read More
South Mediterranean University's vision is to be a reference for educational excellence in Tunisia and beyond. Our rigorous programs bring together innovative teaching methods with the latest advancement in management, preparing managers and leaders to add effective and sustainable value to the business community. Our programs boast an outstanding network of faculty, staff and students who come together in a multi-cultural setting with the intellectual vitality comparable to those of the finest higher education institutions worldwide.
Read less