Master in Behavioral Ecology and Wildlife Management (BEWM)
Home ›
Master ›
Ecology ›
Master in Behavioral Ecology and Wildlife Management (BEWM)
Program Description
The Master in Conservation Biology, with specialization in Behavioral Ecology and Wildlife Management, aims at providing a critical and conceptually-based understanding of animal behavior and evolutionary ecology, in the framework of conservation biology and wildlife management. This two-year master program consists of both lessons and field trips, while half of the second year is devoted to a personal research project conducted by students in an international research team.
Program description
The Master program has a two-year span, with most of the courses taught in English. Our teaching philosophy is based on the idea that biodiversity conservation must be grounded in a multi-level knowledge approach, mixing key disciplines in ecology and evolution with recent technological advances in the fields of biometry, molecular ecology, and management tools. The teaching content is rooted in our established strengths in behavioral ecology, evolutionary biology, conservation biology, quantitative ecology, and research design. The master program is further enriched by input from professional conservationists and managers, with the aim to put courses in the broader context of project management and decision-making policies.
The specific teaching objectives aim at developing and improving students' skills to:
Engage with concepts and theory in behavioral ecology, conservation biology, and wildlife management from interdisciplinary perspectives at an advanced scientific level.
Assess the ability of organisms to react, cope with and adjust to environmental change occurring over different spatial and time scales.
Appreciate the opportunities offered by new technological developments for the future of research on animal behavior and wildlife management.
Combine theory, hypotheses, methods, data, and fieldwork so as to identify and develop innovative research questions and design.
Half of the second year is devoted to conducting a personal research project and writing a thesis of about 12,000 words. Research projects are conducted within an international team previously selected by the students and led with the support of an expert supervisor.
Teaching
Teaching consists of lectures, seminars by international researchers, class tutorials and practical training in the laboratory and in the field, providing an in-depth exploration of key issues. Our teaching philosophy is to stimulate balanced and evidence-based discussions and debates between academic staff and students. Such interactions provide efficient training to identify and explore theory, methods, and practice in an academic environment.
Field courses allow students to apply the methods and ideas developed in the classroom to practical use in the field. Each year, you will attend at least one week-long field trip, and several one-day field sessions. The «Camargue field course» provides the opportunity to work on a model species for wildlife management in the Camargue Natural Regional Park (CNRP): the greater flamingo. Fieldwork will be grounded on extensive research on wildlife populations in the context of the various activities taking place in the CNRP. Other field courses address the quantitative analysis of animal behavior, the monitoring of wildlife, and ex-situ conservation. The "Parc Polaire field trip", held in the Jura mountains, allows students to experience the role of and the stakes faced by a park dedicated to the conservation of European wild species such as the European bison and deer species.
Future career prospects
The aim of our master program is to train future scientific leaders in animal behavior and conservation biology, as well as future managers and policy officers in biodiversity, conservation and wildlife management.
For these reasons, our program aims at providing both diversified and specialized expertise in the general fields of animal behavior and wildlife management. It also combines behavioral ecology and conservation biology as two major disciplines with some other relevant topics – ethics and deontology, epistemology, socioeconomics of conservation, structure, and management of environmental organizations, in addition to the hard science of biodiversity.
The master's Alumni Office helps alumni keep in touch with each other and organizes alumni events.
Entry requirements
Students eligible to the master program BEWM must have obtained a degree equivalent to or higher than a Bachelor of Science. Background knowledge in evolutionary biology, ecology and animal behavior is mandatory, as well as sufficient training in quantitative methods and statistics. Candidates must have very good academic qualifications in general, and, more specifically, good grades in these disciplines. Good command of English is highly recommended.
Candidates must have a strong motivation to undertake higher-level training in behavioral ecology and conservation biology. They must be able to outline their professional goals.
During the first year, students take the examinations associated with the Master in Conservation Biology, specialized in Behavioural Ecology and Wildlife Management. Examinations must be successfully passed (i.e. obtain 60 ECTS credits) in order to proceed to the second year. In the second year, the thesis following your research project accounts for half the marks of the second year.
Application procedure
To apply, first address an email to professor Frank Cézilly, sending a CV and describing the classes you followed in your previous/current degree. All correspondence (CV, classes description and e-mails) should be written in English.
Students with French diploma should apply from April 21st to June 21st, 2019 via e-candidate (a pre-application established by the master committee and delivered by email will be requested to complete the online application).
Students with a diploma from another country should apply via the UBFC portal, as detailed below. Candidates will be asked to upload the application form and supporting documents assembled in a unique PDF file. The electronic application form and the detailed list of supporting documents will be provided after first email contact (see above).
Candidates who have the nationality of European Union countries, European Economic Area countries or Swiss Confederation:
Apply via UBFC application portal.
Opening date: 14th February 2019
Deadline: 21st June 2019
Candidates who have the nationality of countries OUTSIDE the European Union, European Economic Area and Swiss Confederation AND who live in one of the following countries with a Campus France office:
Algeria, Argentina, Benin, Brazil, Burkina Faso, Burundi, Cameroon, Chile, China, Colombia, Comoros, Democratic Republic of the Congo, Djibouti, Egypt, Gabon, India, Indonesia, Iran, Ivory Coast, Japan, Kuwait, Lebanon, Madagascar, Mali, Mauritania, Mauritius, Mexico, Morocco, Peru, Republic of the Congo, Republic of Guinea (Guinea-Conakry), Russia, Senegal, Singapore, South Korea, Syria, Taiwan, Togo, Tunisia, Turkey, USA, Vietnam.
Apply via UBFC application portal
Opening date: 14th February 2019
Deadline: 21st June 2019
If you receive an official notification of acceptance you must create an account on your country of residence's Campus France website and complete their files from the tab «Je suis accepté» or «I am accepted» and apply for a visa.
Grants
Up to five fellowship grants (800€ per month, during up to 10 months) will be awarded each year to high-quality foreign students, with particular attention to applications coming from Mediterranean countries and Caribbean island nations and territories.
Site of the training
The whole of the two-year master program takes place at the University of Burgundy-Franche Comté, located in the scenic city of Dijon. The former capital city of the Duchy of Burgundy, Dijon is now a medium-sized French city, where you can enjoy a vibrant and active cultural life, as well as quick getaways to the countryside and the world-famous neighboring vineyards of the so-called "Golden coast".
Life in Dijon is very affordable and accommodation easily accessible. The city is well-equipped with a modern tramway and bus lines, making commuting between any place in Dijon and the University easy and convenient.
Showing marks of its medieval past, Dijon has excelled in making any subsequent architectural revolution his own. Dijon possesses a fair number of outstanding museums and remarkable monuments and is also internationally known as the hometown of the notorious French gastronomy. Dijon has a vibrant cultural life with music and food festivals all over the year. Cultural and leisure attractions are widespread, from classical music concerts to jazz festivals, food fairs, cinemas, etc. Dijon is also the host of several top-level professional sports teams (football, basketball, handball, rugby, etc.), while also offering a large diversity of sports facilities for the amateur. From beach-volley fields to suburban hiking and cycling paths, urban parks and the much appreciated Lake Kir, incentives to jump in a pair of trainers will be everywhere.
Last updated Jan 2020
About the School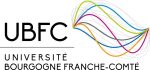 Université Bourgogne Franche-Comté (UBFC) is a public university federating 7 Higher Education and Research (HER) Institutions operating in the Bourgogne - Franche-Comté (BFC) Region. Its strategic go ... Read More
Université Bourgogne Franche-Comté (UBFC) is a public university federating 7 Higher Education and Research (HER) Institutions operating in the Bourgogne - Franche-Comté (BFC) Region. Its strategic goals are to foster Excellence and Internationalization of BFC Higher Education and Research; increase attractiveness for national & international Students, Professors & Researchers; develop Innovation, Transfer and socioeconomic Partnerships.
Read less