Master in Applied Statistics with Network Analysis
Home ›
MSc ›
Master in Applied Statistics with Network Analysis
Program Description
Programme overview
The Master of Applied Statistics with Network Analysis is implemented by the NRU HSE International Laboratory for Applied Network Research. The Academic Supervisor of the programme is Stanley Wasserman, PhD (Harvard University), a professor at Indiana University, who is also the Academic Supervisor of the Lab. He is one of the leading figures of Social Network Analysis and has launched a similar educational programme on statistics and network analysis in Indiana University and the University of Illinois.
The knowledge and the toolset obtained by the graduates of the programme will enable them to become skilled practitioners, to be able to apply advanced complex techniques of data analysis in their daily work in organizations of different types - both in commercial companies operating in various industries (banking, insurance, consulting, IT, medicine, pharmacy), and in research organizations (sociology, marketing).
Importance and originality of the Programme
There is a shortage of specialists in applied statistics, especially in the area of such increasingly growing destination of analysis as social network analysis. At the same time, in different areas the training in the field of statistics is carried out in different ways: the majority of educational programmes in this area belong to the Economics and focused mainly on mathematical methods; on the faculties of sociology, statistics study is limited to the study of the probability theory and introductory courses.
The uniqueness of this programme is that it is the first programme in Russia, which offers a comprehensive approach to data analysis in different areas. As part of the programme, students from different disciplines can come together to solve practical analytical problems. Those mathematically inclined can gain an understanding of the sociological field and the object of research, while those with more of a humanitarian background will be able to supplement their tools and gain a deeper understanding of statistical processes, which lie at the basis of the data analysis that we teach. In addition, a special focus of the programme will be devoted to the analysis of social networks, a direction of data science that is gaining popularity in foreign and Russian research practice.
Another important characteristic of the programme is its applied nature - learning comes not from abstract theoretical constructs, but from specific applied research questions. During the process of education, students will be able to apply their knowledge to practical problems solving at the applied projects of the International Laboratory for Applied Network Analysis, Russian analytical centres and commercial companies.
Programme Goals
One of the main goals of the programme is to combine modern approach to data analysis with understanding the deep theory of social processes. It provides a holistic view of the theoretical and methodological bases, allowing students to choose the tools best fitted to particular research questions, as well as giving an understanding of the data structure for a combination of several statistical tools to solve practical problems.
Another important goal of the programme is to train students in the area of social network analysis. In recent years, this direction of data science is becoming more popular and is used in various fields such as Psychology, Sociology, Political Science, Economics, Biology, Computer Science, Energy and many others. In a letter to the editorial board to the first issue of the "Network Science" Journal Stanley Wasserman and colleagues, explaining the selection of Network Studies as a distinct science direction, cited another well-known network researcher Duncan Watts: "Networks are important, therefore, not understanding networks, we can not understand the functions of market, the solution of organizational problems or changes in the society "(Network Science, №1, p. 2).
Who will be interested in this Programme
The programme will be vitally important to anyone who is interested in doing real-world data analysis.
Sociologists, political scientists, psychologists and representatives of other areas of social sciences will expand the knowledge of statistical tools and learn how to use them to solve applied problems in their areas.
For mathematicians, econometricians, and economists who already have a fundamental understanding of statistics and mathematical data analysis, the programme will help to develop the skills of constructing a theory based on the data model and integrate complex issues and data in the model, allowing to solve research tasks.
Curriculum
Bulletin Statement
Course Requirements: A total of 60 credit hours, or 15 courses.
Required fundamental courses: Contemporary Data Analysis: Methodology of Interdisciplinary Research and Contemporary Decision Sciences Methods: an Integrated Perspective.
Required programme courses: Applied Linear Models, Introduction to Statistical Consulting, Network Analysis, Advanced Topics in Social Network Analysis.
Optional courses (two separate tracks):o With an emphasis on social network analysis: Statistical Approaches and Modeling of Networks, Network Analysis with Ro Without an emphasis on social network analysis: any combination of the remaining 16 courses, depending on the offering in a particular year.
Research Paper is required; the programme must culminate in the thesis defence. Students are required to pass a comprehensive exam at the end of the programme; students not passing the comprehensive exam are not allowed to proceed to thesis defense. Exam may be substituted by other options, such as a publication of a working paper in a reviewed outlet or an international peer-reviewed journal, at the discretion of the programme director.
Required Fundamental Courses:
Contemporary Data Analysis: Methodology of Interdisciplinary Research
Contemporary Decision Sciences Methods: an Integrated Perspective
Programme Courses:
Required:
Applied Linear Models
Introduction to Statistical Consulting
Network Analysis
Advanced Topics in Social Network Analysis
Electives (any 9):
Probability Theory
Nonparametric Theory and Data Analysis
Statistical Learning Theory
Categorical Data Analysis
Analysis of Covariance Models
Statistical Learning and High-Dimensional Data Analysis
Social Network Analysis with R
Stochastic Models
Exploratory data analysis
Bayesian data analysis
Multilevel models
Network analysis: statistical approaches
Longitudinal data analysis
Data mining
Career opportunities
Network analysts have recently become very demanded in different sectors of the labour market. While the demand for skilled professionals in data science and networks analysis is growing dramatically among companies and analytical centers, there still exists a scarcity of programmes which provide a good training and knowledge in this area.
The Master's Programme in Applied Statistics with Network Analysis offers the toolset required from data analysts by banks, insurance companies, IT- and telecommunication companies and many other firms.
According to PayScale's report, an Entry-Level Data Analyst in USA earns an average salary of $54,617 per year. Rapid high-tech and innovation development in Russia endorses an expectation of salaries growth in jobs, based on applied statistics and network analysis at the Russian Labour Market and Worldwide.
The students are free to choose one of two career tracks – business-oriented or academic, and can shape their study according to their career interests. Both tracks will provide specific internship opportunities aimed at helping the graduates of the programme to become more competitive in their field.
Students who prefer the practical career track will have an opportunity to complete their internships at companies where their analytical skills are needed, or partake in one of the lab's current projects.
Those who are interested in research, during the second year of their studies will intern at the International Laboratory for Applied Network Research. There will also be an opportunity to enroll in a one year traineeship in Ljubljana University or the SONIC lab at Northwestern University (Illinois, USA).
Requirements
Students are selected on the basis of their portfolio, which must consist of:
Required:
Application form.
CV, with mathematical component of the education emphasized (number and level of math courses taken, grades received). Certificates from Coursera or other MOOC platforms are accepted as evidence of academic achievements.
Results of the standardized tests, such as GRE or the GMAT; other similar tests, with heavy mathematics component, may be accepted with permission of the Programme Director.
If the native language of the applicant is not English, and undergraduate degree was not obtained from an English-language institution, then results of a test of English fluency, such as TOEFL, IELTS or an equivalent.
Statement of purpose (approximately 1000 words, with an explanation how this Master's programme will benefit the student's future career).
At least two letters of recommendation from professional acquaintances, at least one of which must be from an academic. Letters of recommendation can be submitted directly to the programme manager or filled out online by invitation from the programme manager.
Optional:
Any additional academic evidence that may help the selection committee evaluate the candidate in the positive light, such as certificates of prior academic achievements, publications and conference presentations, participation in academic Olympiads.
Evidence of extra-curricular activities, such as volunteerism and community service.
Each of the required portfolio elements is assigned a score by a team of evaluators according to predetermined standard rubrics. Since people with mathematical background are more likely to succeed in a math-based programme, students with more advanced mathematical background are given priority.
Mathematical background
Without some mathematical background, successful completion of this programme may be problematic. As the programme is open to all academic majors, students without background courses in calculus and linear algebra will be required to create an individual study plan, which will include MOOC courses in mathematics.
In addition, depending on the number of students who need introductory courses in mathematics, the programme may offer one or more intensive adaptive mathematical courses prior to the start of the programme (an intensive 3-week mathematical seminar in August of each academic year). Specific courses and the adaptive school duration is to be determined at the end of the admission process, based on the number of students who need to be enrolled at such courses.
Also, each discipline offered by the programme will evaluate the mathematical readiness of students for the course, and if necessary, optional adaptive lessons will be included at the beginning of each course, or offered to students for independent study as part of the course.
Last updated Feb 2020
About the School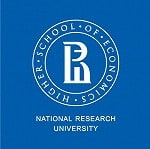 Consistently ranked as one of Russia's top three universities, the Higher School of Economics (HSE University) sets itself apart by its internationally-minded, research-driven approach to higher educa ... Read More
Consistently ranked as one of Russia's top three universities, the Higher School of Economics (HSE University) sets itself apart by its internationally-minded, research-driven approach to higher education. Based in the vibrant center of Moscow, with campuses in St. Petersburg, Nizhny Novgorod and Perm, HSE offers outstanding academics at all levels and includes more than 25 English-taught Master's programmes and 8 English-taught Bachelor's degree programmes.
Read less