Program Description
The Master program in Applied Labour Economics for Development (MALED) of the Turin School of Development (ITC-ILO) is a response to the need for more and more diverse expertise in the design and evaluation of evidence-based policies, in which international labour standards and fundamental rights at work go hand in hand with job creation and productive employment. The program is delivered as a First Level Master by the Department of Economics of the University of Turin.
Objectives
This Master program is intended to prepare students and professionals from both advanced and developing countries to become experts in designing, analysing and evaluating policies that place employment at the core of economic, social and development policymaking. The degree will combine rigorous training in analytical and quantitative economic methods with an emphasis on what constitutes an appropriate policy, legal and institutional framework for employment and decent work in different development contexts.
The training methodology will balance traditional classes of theory, concepts and methods by researchers and lecturers with concrete case studies and practical assignments by practitioners and professionals to support policy applications over pure theory.
The students will strongly benefit from the fact that the courses will be taught by a mix of lecturers, researchers, practitioners and experts from bilateral and international agencies. The programme will build on research findings and tools developed by the ILO, other international organization and the academic and research institutions associated with the program.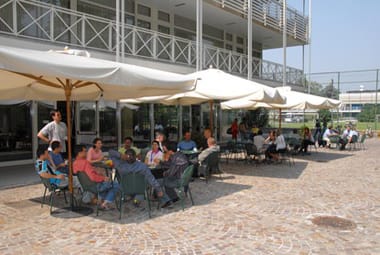 Career opportunities for this Master include work in national administrations in developed and developing countries, international organisations, development agencies, non-profit organisations, consulting and preparation for economics research.
Programme
The curriculum will combine a three-month distance learning phase with a four-month face-to-face component.
The Master program will be articulated around the 5 following core modules.
The first module (module A) will cover the fundamentals of economics for development with a strong component in both the macroeconomics and microeconomics of labour markets.

The second module (module B) will review labour standards, policies and institutions with applications in developed and developing countries.

The third module (module C) will provide basic and more advanced courses on quantitative methods in the areas of statistics, econometrics, impact evaluation and microsimulation.

The fourth module (module D) will be devoted to labour statistics, with courses on data collection methods, data analysis, and measurement of labour market conditions and decent work in different development contexts.

The fifth module (module E) will consist of a series of conferences on contemporary global labour market challenges.
The programme is held in English, it will take place from 20 October 2018 to 28 February 2020 and is sub-divided into three cycles:
The first cycle is conducted through a distance learning component that will start on 20 October 2018 and will end on 18 January 2019.

The second cycle from 21 January 2019 to 17 May 2018, is a face-to-face learning period that will be held in Turin, Italy, at the International Training Centre of the ILO. Its campus and facilities (bank, post office, travel agency, laundry, gym, sports and recreation facilities) provide an ideal environment for studying, sharing experience and creating networks. Class attendance is compulsory.

The third cycle is the preparation of a Master thesis, undertaken in the participant's country, assisted by tutors and professors, which will start on 20 May 2019 and will end on 28 February 2020.
Fees and applications


The tuition fee is EURO 8,500, including training facilities, training materials, insurance and University registration fees.
Accommodation at the ITCILO Campus (optional) costs EURO 4,950 for the 17 weeks of residence in Turin during the face-to-face learning period. It includes bed and breakfast on campus in single room and laundry.
Applications will be reviewed by the Selection Committee in July 2018 (1st round of admission) and in September 2018 (2nd round of admission). Interested candidates should duly complete and submit the online application form (available from the website: http://maled.itcilo.org/) together with the requested documents, no later than 1st July 2018 (to be considered for the 1st round) or 1st September 2018 (to be considered for the 2nd round).
Candidates applying to the 1st round will receive a confirmation by the end of July 2018. Those applying to the 2nd round will receive an answer by the beginning of October 2018.
Scholarships
A limited number of scholarships covering tuition fees and/or accommodation at the ITCILO campus are usually available for students from developing countries (ODA eligible countries only) on a competitive basis among deserving candidates who are unable to meet the full tuition plus accommodation costs.


Last updated Apr 2018