Master in Anti-Corruption Studies (MACS)
Program Description
About the Programme
IACA is the first international organization and educational institution to offer a global, master degree programme in anti-corruption and compliance: the Master in Anti-Corruption Studies (MACS). The MACS brings together professionals from around the world with related work experience in the public and private sectors, international and non-governmental organizations, media, and academia.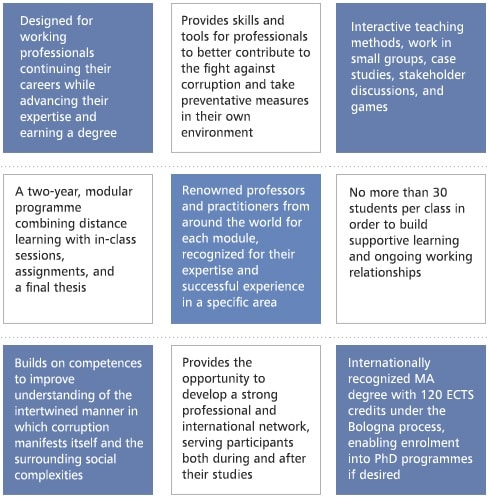 Structure and Curriculum
Each of the seven Online MACS modules carries 13 to 14 ECTS (European Credit Transfer and Accumulation System) credits, and the Master's Thesis carries 21 credits. The MACS degree, therefore, comes with a total of 120 ECTS credits, enabling enrolment into PhD programmes.
The Online MACS programme runs over two academic years with seven core modules and a Master Thesis. Each module runs in 11 to 13 weeks. The modules consist of several core-module and stand-alone courses, composed of self-study readings, interactive presentations, discussion forums, self-assessment, group works, live sessions, written assignments, webinars, etc. All modules as well as master's thesis research and defence are conducted fully online. Upon successful completion of modules and the master's thesis defence, the graduation ceremony takes place at IACA campus, in Laxenburg, Austria. The programme also offers an ongoing module on research methods and an ongoing course on facilitating virtual teams and learning process.
Four modules are completed in the first academic year. Three modules and the Master's Thesis are completed in the second academic year.
The programme also offers campus-based research and academic writing support and consultation (optional).
Admission Requirements
Undergraduate degree, equivalent to a bachelor's degree
Minimum of three years of relevant work experience or a proven history of academic research in areas related to anti-corruption and/or compliance, broadly understood. Candidates who do not have working experience yet and are applying directly from the bachelor's degree, should have their undergraduate degree qualification such as economics, law, political science, sociology, or any other field related to MACS studies
Proficiency in written and spoken English.
The programme is open to working professionals from public, and private sectors, as well to those professionals from NGOs and civil societies. In addition, the online MACS programme is open for fresh graduates and candidates without prior working experience.
Submit an application online along with the required documents and the payment of the 100 EUR application fee.
Fees & Scholarships
The overall programme fee is EUR 8,450 per year. The programme fee covers teaching, including certain teaching materials and other technical supports, and supervision and defence of master's thesis. All other arrangements and associated costs, not covered by the above-stated fees, such as travel, medical insurance, books and licensed learning resources, accommodation, and subsistence for the graduation ceremony, are Student' responsibility.
In some countries and jurisdictions, educational expenses can be tax-deductible. Please check with your national tax authority.
Application Fee
A non-refundable application fee of 100 EUR must be paid by all applicants, including those who apply for a scholarship. The application fee is paid by bank transfer only.
Scholarships
IACA offers a limited number of full and partial scholarships to highly qualified candidates from Least Developed Countries (LDCs) as defined by the United Nations.
A full scholarship covers the MACS programme fee and travel and accommodation expenses. A programme fee waiver scholarship covers only the programme fee. Both types of scholarships are highly competitive and merit-based.
Individual Sponsorship
Companies, organizations, and public-sector entities often provide financial support or grant educational leave to their employees to continue their education. IACA will work with applicants who have submitted their application in preparing a sponsorship proposal for their employers or potential donors.
Student Testimonial
"The standard of the material is unmatched and the academics and experts are of high quality. The knowledge gives me tools and ideas that can readily be implemented and it has added great value in reshaping our approaches to fighting corruption."
Ipyana Musopole, Principal Corruption Prevention Officer, Anti-Corruption Bureau, Malawi, MACS 2014 - 2016 class
"Because of the specific spectrum of knowledge made available to participants, the MACS is an opportunity to incubate innovative thinking. The programme also gives access to a unique worldwide network of experts via IACA's alumni."
Malika Ait-Mohamed Parent, Former Under-Secretary-General, International Federation of the Red Cross and Red Crescent Societies, Switzerland. MACS 2014 - 2016 class
Last updated Jun 2020
About the School

The International Anti-Corruption Academy (IACA) is an international organization based in Laxenburg, Austria. It is the first global institution of its kind, dedicated to overcoming current shortcomi ... Read More
The International Anti-Corruption Academy (IACA) is an international organization based in Laxenburg, Austria. It is the first global institution of its kind, dedicated to overcoming current shortcomings in knowledge and practice in the field of anti-corruption and seeking to empower professionals for the challenges of tomorrow.
Read less