Master in Animal and Human Interaction
Home ›
Master ›
Master in Animal and Human Interaction
Read more about this program on the institution's website
Program Description
The Animal and Human Interaction program offers an opportunity to apply modern knowledge, methods, and technologies in animal and human interaction practice, deal with challenges arising from constant changes in the human-animal relationships, empowers graduates to carry out independent analysis of problems associated with therapeutic animals and evaluate its results. The goals of this program are to educate students to take on responsibility for shaping the human-animal relationships in science and society, both scientifically and ethically.
Course details
Animal and Human Interaction
1,5 years
Master in Agricultural Sciences
90 ECTS credits
3,750 EUR per year
Taught in English
After graduation, you can
Work in the centers of hippotherapy and canine therapy;

Work in Animal shelters;

Work at the State Border Guard Service;

Work in the field of Animal welfare;

Participate in Animal-assisted activities;

Own business, horse breeding companies, dog breeding companies;

Consulting companies, public services in regional municipalities, insurance companies;

Continue in Ph.D. studies as a researcher.
Structure of the program
what you will learn each year
Year 1:

Methodology of Scientific Research, Management of Animal Genetic Recourses and Genomic Selection, Specialised Diet of the Farmed Animals, Small Business Management and Organizational Psychology, Use of Assisting Animals in Society, Electives, Research Work.

Year 2:

Final Thesis.
Why study Animal and Human Interaction at LSMU?
Lithuanian University of Health Sciences is the only university in the country which prepares highly qualified university education for animal and human interaction specialists.

Practice in well-developed agricultural companies using advanced technologies (Kika Group, Mars, Incorporated, the Lithuanian Sea Museum, and Dolphinarium, Zoo.

Established partnerships with relevant organizations also offer research projects to students, within the Making the Most of Masters framework.

Learn about the importance of both human and animal behavior in shaping human-animal interaction, and the associated ethical issues, as well as learning to critically evaluate methods for measuring attitudes, interactions, and their outcomes.

Possibility to study abroad according to the Erasmus+ exchange program.

Advanced lectures from business and academic partners as guest teachers in the program.

Support system for student's adaptation: mentoring, tutoring, and psychological counseling.
Admission
International students could be admitted into the English program of the Lithuanian University of Health Sciences if they provide the legalized high school or college certificate and transcript (officially translated into English). Good grades in biology, chemistry, and physics will give preference. Good knowledge of the English language is obligatory.
Items to be submitted (in English or with an authorized English translation):
Matriculation / School Leaving Certificate confirmed by the governmental authorities (see below "Legalization of Educational Documents");
Transcripts of high school/ senior secondary school courses verifying successful completion of General Biology and General Chemistry. For Health Psychology program - Mathematics and General Biology;
Certificate proving the knowledge of the English language: TOEFL – minimum 65 points (iBT); IELTS – above 5.5 points; the certificate confirming the knowledge of a foreign language at minimum B2 level (CEFR) or similar. If you are not able to present any certificate proving the knowledge of the English language you will have to take an English language test prepared by the University. The English language test will be given on the same day as the test in Biology/Chemistry;
Motivation letter;
Brief CV;
Passport or ID copy;
Health Certificate based on complete medical examination;
Three passport-type photographs (3x4 cm);
Application fee 150 EUR (nonrefundable).
Testimonials
"While studying at the LSMU I have had the best of times and worst of times but the best of times have outweighed the worst of times so far. I have met some wonderful people, talented professors, and made some amazing friends. Our study structure is reasonably good so one can find the right balance between social and academic life." - Rezwan Hussain
Last updated Jan 2021
About the School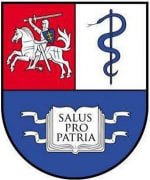 The University is the largest institution of higher education for biomedical sciences in Lithuania, successfully integrating studies, research, and clinical practice. LSMU consists of two main academi ... Read More
The University is the largest institution of higher education for biomedical sciences in Lithuania, successfully integrating studies, research, and clinical practice. LSMU consists of two main academies: Medical Academy and Veterinary Academy.
Read less