Master in Advanced Materials Science / Construction Nanomaterials
Home ›
Master ›
Master in Advanced Materials Science / Construction Nanomaterials
Program Description
The "Advanced Materials Science / Construction nanomaterials" Master program is focused on the study of new engineering materials used in machine-building, space technology, medicine, IT and in other spheres. Students will also be taught fundamental physical principles of measurement, contemporary analytical methods of material properties research and material production techniques. To apply for this Master's program, the applicant must hold a Bachelor's degree in solid-state physics, Materials Studies, Nanomaterials or Metallurgy.
The medium of instruction for this program is English.
Program significance
In the course of training, master students obtain fundamental knowledge, learn about the latest technical developments and build skills necessary for operating state-of-the-art equipment. Participation in current projects under the supervision of individual research advisors contributes to their progress.
Masters have the opportunity to apply their knowledge in a wide range of areas connected with research, teaching, and commerce.
Studying under this program enables students to participate in Russian and international conferences and to have their experimental research findings published in scientific journals and conference proceedings.
The scope of professional activity includes:
research;

teaching;

metallurgy;

mining;

new materials studies;

pressure forming of metals;

commercial activities in the sphere of high-tech equipment;

automotive industry.
Skills and competencies
The program enables students to find appropriate solutions to contemporary scientific issues connected with Materials science and to understand various purpose material construction principles, theoretical methods (including thermodynamic, kinetic, structural ones) and experimental methods. Master students are taught to select optimal material production modes, to assess preliminary experiment costs and ways to reduce them, to be more efficient and productive in teamwork, as well as to apply practical training results in the real life.
Main subjects
The core part of the curriculum
Philosophical issues of science and technology

Mathematical modeling and contemporary issues of material and process studies

Materials science and technology of contemporary and advanced materials

Computer and information technologies for science and industry

Academic writing (English)
The variable part of the curriculum (Compulsory courses)
Special chapters of solid-state physics

Advanced structural and functional materials

Physics of severe plastic deformations
Variable part (Optional courses)
Special chapters of crystallography and lattice defects

Microstructural design of materials

Contemporary methods of microscopy and X-ray analysis

Structure and properties of nanophase materials

High-Temperature Deformation Physics

Computer technologies in science and education

Fracture physics and fractography

Special types of deformation processing

Phase transformations in solids

Special chapters of advanced mathematics
Variable part (Elective courses)
Corrosion and protection of metals

Physical welding fundamentals
Each student will have a research advisor to consult them throughout the theoretical and practical stages of the program and help them in preparing their theses.
Usually, most theoretical classes are held within the 1st and 2nd terms of the program, yet certain classes may also take place during the 3rd term. While following the program, students will carry out research and experimental work at BelSU laboratories using state-of-the-art equipment of the "NRU BelSU Technologies and Materials" resource sharing facility.
Most research work is conducted during the 4th term of the program.
Further education prospects
The program graduates may continue their education and take up doctoral studies in the following fields: 03.06.01 Physics and astronomy ("Condensed state physics" program) and 22.06.01 Material technology ("Metal studies and thermal treatment of metals and alloys" program), as well as in other fields.
Admission
Admission to International Master Programs is open to both Russian and international students. Given that all classes will be conducted in English, we recommend that non-native speakers of English should demonstrate at least a B1 level.
Admission Deadline
The deadline to submit the application for Fall 2020 is August 10, 2020, however, international students are strongly encouraged to apply by July 20, 2020.
Last updated Oct 2019
About the School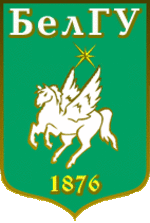 The mission of Belgorod State University (BelSU) is to solve research problems of international and national significance, to harmoniously integrate the educational, research, social and cultural func ... Read More
The mission of Belgorod State University (BelSU) is to solve research problems of international and national significance, to harmoniously integrate the educational, research, social and cultural functions of the University, to train highly qualified professionals capable of ensuring the competitiveness of Russia and Belgorod region in the global socio-economic arena, and to preserve and develop the cultural and moral legacy of the country and the region.
Read less