Program Description
Introduction
In Barcelona, IAAC offers an international Master program in Advanced Architecture (MAA). The MAA is oriented towards architects, engineers, and designers from all over the world, eager to imagine the future of our cities and societies and committed to building it in the present.
As the first Master in Advanced Architecture in the world, the IAAC's MAA has now reached its 19th edition. During this time, IAAC has received and been home to over 1000 students from more than 70 countries, making it an exceptionally international and multicultural place.
In the version of 9 months (MAA01) or 18 months (MAA02) the Master in Advanced Architecture is accredited by the Universidad Politècnica de Catalunya (UPC) with 75 ECTS and 130 ECTS respectively. The MAA is directed by the architect and researcher Areti Markopoulou.
The Master in Advanced Architecture program emerges as an innovative open structure, focusing on four select research lines (X-Urban Design, Self-sufficient Buildings, Digital Matter, Advanced Interaction) all led by internationally renowned experts. These areas of study bring together students and faculty from different disciplines and origins towards the creation of a networked hub of excellence. The IAAC Community dedicates itself to research and innovation for the habitability of the 21st Century.
MAA01
MAA02
Degree
Master in Advanced Architecture accredited by School of Professional and Executive Development at the Polytechnic University of Catalonia – European Higher Education Area (EHEA)
Master in Advanced Architecture accredited by School of Professional and Executive Development at the Polytechnic University of Catalonia – European Higher Education Area (EHEA)
Edition
20th edition
11th edition
Credits
75 ECTS
130 ECTS
Duration
9 Months – From October 2020 to June 2021 // Full Time
18 Months – From October 2020 to June 2022 // Full Time
Language
English
English
Tuition Fee
Non-EU: 18.750€
EU: 15.000€

Non-EU: 30.400€
EU: 24.350€

Admission
Architecture degree, Bachelor or higher degree from other related professions.
Architecture degree, Bachelor or higher degree from other related professions.
Context and Agenda
In order to ensure the highest quality of applied research, the Master in Advanced Architecture proposes a multidisciplinary and multiscalar approach. The MAA considers architecture as a transversal field, for which it is imperative to integrate all research and applications with the knowledge of specialists from a diversity of fields of expertise.
In this sense, the Advanced Architecture Agenda establishes the responsibility to confront the process of global urbanisation from a multi-scalar and operational perspective, as well as through the development of prototypes that promote environmental, economic and social sustainability.
In the early 20th century, the concept of 'dwelling' was defined as a 'machine for living', a reference to a new way of understanding the construction of inhabitable spaces that characterised the Machine Age.
Today, a century later, we face the challenge of constructing sustainable or even self-sufficient prototypes; living organisms that interact and interchange resources with their environment, and that function as entirely self-sufficient entities, similar to how trees do in a field. In this way, each action in the territory implies manipulation of multiple environmental forces, connected with numerous flows and networks such as energy, transport, logistics, and information. Together, this generates newly inhabitable and responsive nodes with the potential to use and produce resources.
Territorial and urban strategies as well as building operations, therefore, call to be coordinated processes that extend architectural knowledge to new forms of management and planning. Multi-scalar thinking also entails an understanding of shifting dynamics, energy and information transmission, and continuous adaptation.
Architecture is always facing the responsibility of responding to emergent needs, technologies and ever-changing programs. We must ask more of architecture: we as architects should be required to design inhabitable organisms that are capable of developing functions and integrating the processes of the natural world that formerly took place at a distance in other points of the surrounding territory.
The models created for the metropolis of the last century are unable to accommodate new developments linked to contemporary urban lifestyles, which are ever more discontinuous in space and time. The building-over of the global landscape requires us to project at the same time the full and the empty, the natural and the artificial, and in such a way as to make economic impetus compatible with sustainable development.
It is necessary to generate complex knowledge linked to a multi-layered reading of realities that have traditionally been thought of as separate, such as energy manipulation, nature, urban mobility, dwellings, systems of production and fabrication, the development of software, information networks, etc. This opens up the possibility of generating new prototypes, capable of engaging with complex and changing environments.
Finally, every new urban or architectural production needs to update its materiality and reinterpret construction techniques of past centuries, which are very directly based on the transformation of locally available materials. It is now time for the interaction between disciplines and technologies to engage in a vision that embraces different fields of research.
Research lines
In its perspective of multidisciplinarity and transcalarity, MAA is organised in an open academic structure that combines mandatory and elective courses around different main research lines:
Research Lines for MAA01 and MAA02 (first year)
RS1: X-URBAN DESIGN, directed by Willy Müller
RS2: SELF-SUFFICIENT BUILDINGS, directed by Enric Ruiz Geli and Mireia Luzárraga
RS3: DIGITAL MATTER, directed by Areti Markopoulou
RS4: ADVANCED INTERACTION, directed by Luis Fraguada
Thesis Studios for MAA02 (second year)
TS1: C-BIO.MA, directed by Marcos Cruz
TS2: CLIMATIC MATTER, directed by Jordi Pagés and Lluis Viu
TS3: THE CITY IN THE AGE OF HYPEROBJECTS, directed by Peter Trummer
Academic Structure
The Master in Advanced Architecture is articulated in three different programs: MAA01, MAA01+OTF and MAA02. During the first year the students enrolled in the programs will work together in a common educational platform, with a common organization and academic structure. After the completion of MAA01, students enrolled in MAA01+OTF or MAA02 will follow two different organizations and academic structures.
MAA01
With 7 day access to the IAAC Studio working space and its prototypes fabrication lab, students have the opportunity to be part of a highly international group, including faculty members, researchers and lecturers, in which they are encouraged to develop collective decision-making processes and materialize their project ideas. The aim of the Institute is to form graduates who, after the completion of the program, will be able to develop their acquired skills in a diversity of professional environments, engaging in projects that range from large-scale sustainable planning and building construction to the industrialized fabrication of architectural components. The Master in Advanced Architecture is organised in three terms and comprises the following elements:
Introductory Studios
Research Studios
Development Studios
Obligatory Seminars
Studio Support Workshop
Elective Seminars
Workshops
Lecture Series
MAA02
Combines the first year Master with the second year of investigation to develop a thesis project. During this second year, students are required to deal with a project counting on the possibility to develop it with international faculty and enterprises, highly specialized in different fields.
The second Academic year of the Master in Advanced Architecture comprises the following elements:
Research & Development Studios
Seminars Workshop
Lecture Series
Workshop
The program is organised in three phases, each one takes 3 months and ends with a final presentation.
MAA01+OTF
Combines MAA01 with a postgraduate program called Open Thesis Fabrication (OTF), which is an intensive applied research program that combines Academy and Industry and focus on developing innovative solutions in a wide range of fields.
Student profile
Candidates for the Master in Advanced Architecture are architects, engineers and designers from all over the world curious about how the world is changing and committed to driving this change.
Therefore the program is oriented at graduates who wish to commit and develop their design research skills in the context of new forms of practice within architecture and urbanism, ranging from large-scale environments to tectonic details and material properties.
Once successfully finished the master, IAAC students will join the IAAC Alumni Community. This is today is an active and dynamic network of visionary professionals distributed around the world, promoting principles and applications of Advanced Architecture, exploring new academic and research initiatives, leading award-winning practices or working for internationally acclaimed firms and institutions.
Last updated Nov 2019
About the School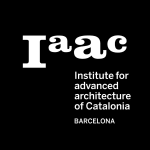 The IAAC (Institute for Advanced Architecture of Catalonia) is a center for research, education, production, and outreach, with the mission of envisioning the future habitat of our society and buildin ... Read More
The IAAC (Institute for Advanced Architecture of Catalonia) is a center for research, education, production, and outreach, with the mission of envisioning the future habitat of our society and building it in the present.
Read less