Program Description
Specialized Master Transport Logistics
This program whose implementation obeys the LMD system and the ISO program design methodological repository 9001 version 2008 is available alone or in joint-degree with Bachelor UQAC. Originality, coherence and pedagogical structure have earned accreditation African and Malagasy Council of Higher Education (CAMES) and the center of excellence of the UEMOA.
It lasts four semesters divided into specialties and offering the student a rich and varied horizon on market developments and their environments. To obtain the Master in Management Transport Logistics, beyond the validation of the student teaching units should have a memory, and support the pass.
What background for the Master
Managers who firstly are equipped with proven academic skills suitable for doctoral studies 3rd cycle through research in the specialty units of other Managers with proven professional skills Management Transport Logistics with a course leading to a qualification and a high level of employability.
THIS PROGRAM OFFERED
The Master in Management Transport Logistics offers you the opportunity to be manager with an integrated view of various aspects of international logistics and a thorough knowledge of key decision support tools used in the field. Graduates of this option will work as logistics specialists for large manufacturing companies, distribution or retail, or as analysts from consulting companies and logistics service providers.
CONDITIONS OF ADMISSION
• Bachelor • Application form • BSAT admission test • Maintenance
LANGUAGES
• English • Japanese • Chinese • Fulani and Mandinka This training business with a professional purpose is to: Train logisticians executives able to manage and optimize the entire supply chain based on both a detailed knowledge of various activities that make up and a good command of new information technologies train high-level executives capable of understanding the development of businesses in a context of economic globalization. Train professionals practices and techniques sypply chain management through theoretical and professional field experience. The training is aimed at those interested in acquiring expertise in the field of Logistics Management Transportation: by controlling international trade techniques, knowledge of international law, and understanding of its strategic challenges.
Other advantages of this Master
o A personal openness, intellectual compartmentalisation o o Mastery of cultural differences o ease of communication, o Taking initiatives o The ability to be autonomous, perseverance o A command of English Through concentrations form graduates at the African and international dimensions of business and able to support the company's growth and to master the challenges of new digital and green economies. To produce graduates of management functions to sustain their business but also allow for studies of searches in the third cycle.
• Manager Logistics Hotelera • Industrial Logistics Manager • Hospital Logistics Manager • Manager humanitarian logistics • Logistics Director • Director Supply Purchase • Department Head Production • Head of Distribution Department • Transport Head of Department • Analyst logistician • Manager of reverse (back management) • COO • Traffic Manager • Director or Head of Department integrations
Last updated Nov 2015
About the School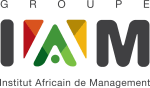 Founded in 1996, the African Institute of Management (Institute Africain de Management) is one of the leading West African private business schools. Set in Dakar, the capital of Senegal, IAM is set in ... Read More
Founded in 1996, the African Institute of Management (Institute Africain de Management) is one of the leading West African private business schools. Set in Dakar, the capital of Senegal, IAM is set in a unique and life changing learning environment. Over 2,000 students from 28 countries from all over the world populate IAM's campus ensuring that you will get to meet friends from all over the world, and will broaden your horizons to different cultural, professional and educational perspectives.
Read less