Master Political and International Studies (epi)
Home ›
Master ›
Master Political and International Studies (epi)
Program Description
Policy and International Studies (IPS) is a Master of the School of Governance (EGE) Mohammed VI Polytechnic University built through an international academic partnership with the Institute of Political Studies in Aix-en-Provence (Aix Sciences Po ).
This Master's degree lasts two years and trains professionals in the analysis of public policy, disseminate and produce intellectual knowledge and research on contemporary political, social science and international relations in a academic framework of international reference.
Morocco and the North African countries are engaged in reform complex processes of their state their level of political and public decision making in an international environment changing. Also new ideas emerge or supplement the terms of the conduct or the deployment of public action, with competing ways of involving different stakeholders, society, the public sector, the private sector, the representative body.
Political and International Studies allows students to acquire expertise on these processes, analyze, explain them, synthesize and acquire prospective capacity by mobilizing several disciplines at the crossroads of political science, sociology, anthropology, history, law and political economy. The curriculum is designed to train professional staff, excellent in their capacity for synthesis, methods of thinking and able to put into perspective and present their findings in multiple languages.
The training takes place in Rabat in the first year and then continues with a second-year international career that allows graduate with a master 2 at Sciences Po Aix-en-Provence, specialization in International Relations, Political Sociology and Public Action. This international opening is reinforced by a specific work on foreign languages ​​(French, English) and Arabic by group level and goals. These two degrees, Moroccan and French open recruitment opportunities in a wide range of occupations of executives in the political environment, the public and broader public sector, private sector, including the consulting industry or policy evaluation public (cf. professionals strengths).
Recruitment in master is open to holders of a license winners or equivalent in the different specialties of social sciences selected on the quality of their file and then through an interview.
Admission
The EPI master is open to all students with a Bachelor's degree or equivalent in the different specialties of Humanities and Social Sciences (180 ECTS credits). Applicants to the program will present an application with Mohammed VI Polytechnic University and pass an oral interview before a panel of university teachers. At the end of the interview, the jury will decide on the application from a grid of pre-established criteria for this purpose.
Targeted skills
Expertise in the public sector
Knowledge of public policy issues in the Arab world
Political dynamics analysis and content of international public policy
Evaluation of public policies
Opportunities
Sector: Public organizations (local authorities, government), private (agencies, companies), semi-public (agencies, chambers) and third sector (associations, NGOs)
Higher education and research
expertise public sector (Ministry of Foreign and European Affairs, Ministry of Defence, local authorities ...)
expertise private sector (banks, credit institutions, risk analysis centers ...)
third sector expertise (associations, NGO ...)
Parliamentary Assistant
Ministerial cabinets
Trades:
Board professions and expertise in the areas of decision-making and governance (consultant, head of research, editing and porting issues) Posts of responsibility in:
domestic and foreign enterprises,
banks and other financial institutions,
insurance companies,
the international consulting firms,
audit firms,
management control cabinets and evaluation
non-governmental organizations (NGOs),
the Research Institute for Development (IRD)
international services of local authorities,
the Ministry of Foreign Affairs,
the European Commission,
international organizations like the World Trade Organization (WTO), the World Bank, the United Nations (UN), the Organization of the United Nations Industrial Development Organization (UNIDO), the United Nations Development Programme (UNDP), the World Health Organization (WHO) ...
Languages
One of the goals of Mohammed VI Polytechnic University Masters is to train students able to express themselves fully in the languages ​​of instruction of the University: French, English, Arabic.
Last updated Mar 2020
About the School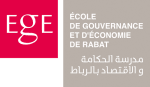 Since 2014, the School of Governance and Economics Rabat (EGE) has become the political science school at the University Mohammed VI Polytechnic. The EMA was established in 2008 by a non-profit founda ... Read More
Since 2014, the School of Governance and Economics Rabat (EGE) has become the political science school at the University Mohammed VI Polytechnic. The EMA was established in 2008 by a non-profit foundation, the Foundation for Teaching Economics, Political and Social (FESEPS) with the aim of reintroducing a high-level training in political science and economics in the Moroccan university environment.
Read less