Read more about this program on the school's website
Program Description
Introduction
The course provides students with the knowledge and techniques to enable them to produce audiovisual works in any format. Students will learn about and complete the work of the director and of the other members of the directing team in the preparation, filming and post-production processes.
They will also obtain overall knowledge of the tasks performed by the other members of a production team involved in audiovisual works: director of photography, art director, editor, sound designer, etc. All this knowledge and skills will be acquired through continued practical work in audiovisual narrative exercises. The course also includes theoretical subjects that, based on images, cover different areas of contemporary audiovisual cinema, from the most innovative trends in modern films to a historical-cultural review of Spanish cinema over the past twenty years.
Target Audience
University graduates of Audiovisual Communications, Fine Arts or other university degrees related to audiovisual work. Professionals from the film or audiovisual sector wishing to learn more about filmmaking.
Skills
Knowing and being able to use audiovisual language mechanisms to narrate stories.
Performing all the work of a director when producing audiovisual work: planning, implementing and supervising the different production processes.
Having sufficient theoretical and practical knowledge of the tasks performed by the other departments involved in producing an audiovisual work (photography directing, art directing, editing, sound, etc.)
Being capable of working in a team to produce audiovisual work, collaborating with the other members and leading a joint project.
Being mature and having strict analytical standards in self-assessing the work performed, both personally and for the team as a whole.
Course Plan
Film Analysis

Trends and aesthetics in contemporary cinema

Spanish cinema: from Almodóvar to the present day

Practice in audiovisual narrative

Audiovisual techniques I

Audiovisual techniques II

Technical training
Teaching method
The course is based on the "learning by doing" method: students undertake several practical audiovisual narrative sessions throughout the course, into which they integrate the conceptual and technical knowledge acquired. Students are distributed into workgroups of four or five people.
Each student is responsible for five practical works as a director and, furthermore, must take an active part in the roles different to that of the director while filming the practical work of their group members. In the theoretical subjects, classroom debate will be encouraged based on joint viewings in seminar format.
The purpose of these subjects is to provide students with references of contemporary audiovisual works and to help them develop their own rhetoric on the images and current cinema based on analytical work that may be either written or in the form of an oral presentation or an audiovisual video essay.
On completing the Master's degree, students can present short film projects either individually or as a group. Depending on the quality of the proposals and following selection by a jury, two of them will be produced by the school over a calendar and with the funds to adapt to the characteristics of the proposal.
ESCAC Community
This is the best time in history to work in the audiovisual sector: never have there been such a variety of screens available to so many users. These screens need contents to supply products to a global audience and, as a result, the major technology companies invest in audiovisual creation. ESCAC Talent.
Graduates with careers recognised nationally and internationally have trained at our school. Film directors, producers, photography directors, editors, VFX supervisors, etc. You will find much of the ESCAC talent in the credits of a great many films and series. Our teaching system is based on Learning-by-doing. We want you to learn while you do, accompanied by the best professionals in the sector. At ESCAC we train storytellers. We'll teach you how to tell your story, whatever speciality you have chosen.
The work by graduates and by the school's production company (ESCAC Films) has been awarded over 500 national and international awards, such as the Best International Short Film Award from the Sundance Festival (2006), or third prize in Cinefoundation- presented by Cannes Festival (2015).
International campus: Over these 25 years, more than 5,500 students of 23 different nationalities have visited our campus, which contributes towards cultural enrichment and the enhancement of the community. Ten feature films produced to establish graduates in the industry through the Ópera Prima programme. Labs for access to the industry by young professionals: an open area tutored by active professionals, aimed at graduates or former master's students in the VFX, script and Set Construction specialties.
The aim of the labs is to put into practice their knowledge and encourage their skills within the context of real productions in feature films, short films, and series by ESCAC Films, as well as collaboration with companies from the sector. Our school is recognized by CILECT (an organization formed by the best film schools in the world), and we are the only film school in Spain to be officially recognized. ESCAC trains its students based on cross-skills, providing knowledge and tools to later develop a career in any area of contents creation.
Why form part of the ESCAC Community?
You'll form part of the ESCAC Community, which will give you the chance to hone your talent in a setting that promotes creativity and interaction among students and alumni of all ages. Did you know that most graduates still shoot films with their former ESCAC classmates? ESCAC doesn't end when you graduate; the community continues into the professional world.
Last updated Oct 2020
About the School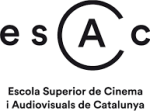 El cine no se estudia, se aprende. Centro Universitario con titulación oficial lider en la formación de cineastas. Por nuestras aulas han pasado profesionales de la talla de J.A.Bayona (Director de J ... Read More
El cine no se estudia, se aprende. Centro Universitario con titulación oficial lider en la formación de cineastas. Por nuestras aulas han pasado profesionales de la talla de J.A.Bayona (Director de Jurassic World II), Oscar Faura (DP de Imitation Game), Bernat Vilaplana ( Montador de Hellboy II), Oriol Tarrago (Diseñador de sonido de Jurassic World 2), Kike Maillo (Diretor de EVA), Marc Coll (Directora de 3 días con la Familia) y más de 40 premios Goya, Gaudi, Bafta y Ariel entre otros.
Read less